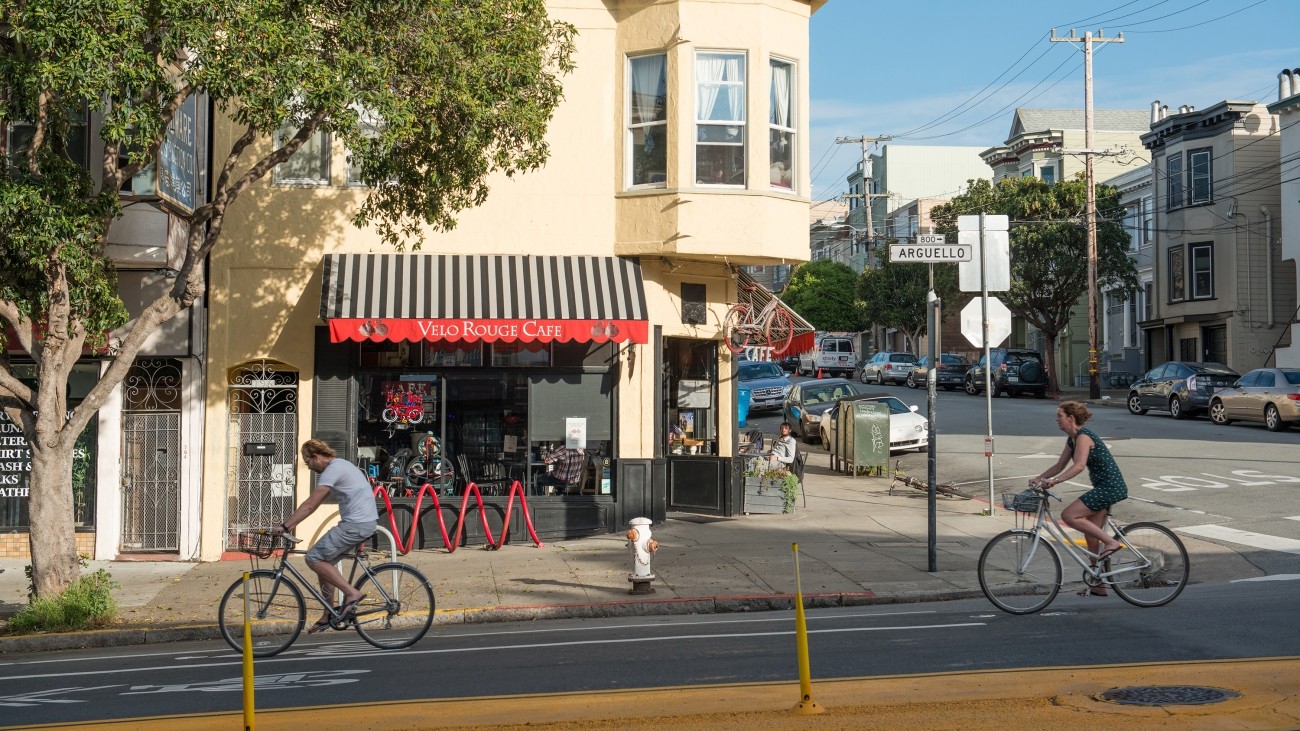 The Transportation Authority's Neighborhood Program supports neighborhood-scale transportation projects in each supervisorial district.
All Neighborhood Program projects must address one or more of the following priorities:
Improve pedestrian and/or bicycle safety
Encourage walking and/or biking
Improve transit accessibility
Improve mobility for Equity Priority Communities or other underserved neighborhoods and vulnerable populations
The Neighborhood Program was developed in response to mobility and equity analysis findings from the San Francisco Transportation Plan and the Transportation Authority Board's desire to increase our focus on neighborhoods, especially Equity Priority Communities and other underserved neighborhoods. The San Francisco Transportation Plan found that walking, biking and transit reliability initiatives are important ways to address socio-economic and geographic disparities.
Selecting Projects
Transportation Authority Board members will contact Transportation Authority staff when they are interested in exploring project ideas. Our agency in turn coordinates with relevant planning and project implementation agencies. Board members may already have an idea in mind, seek help from agency staff in generating ideas, or solicit input from constituents and other stakeholders
Contact your district supervisor to propose an idea.
Neighborhood Program Planning Guidelines (PDF)
Funding
The Neighborhood Program was established by the Transportation Authority Board in 2014, with $100,000 in planning funds and $600,000 in capital (e.g. design and construction) funds for each supervisorial district to use over a five-year period. This funding comes from San Francisco's Prop K half-cent sales tax for transportation. In 2018 the Board approved a second five-year funding cycle for the Neighborhood Program, which began in July 2019. District supervisors, acting as Transportation Authority Board members, determine which projects are funded.
Planning funds can be used to support neighborhood-scale efforts that identify a community's top transportation needs, identify and evaluate potential solutions, and recommend next steps for meeting the identified needs. Planning efforts should lead toward prioritization of community-supported, neighborhood-scale capital improvements that can be funded by the Transportation Authority's Prop K sales tax for transportation and/or other sources.
Planning Projects
| Project Name | District | Agency Lead | Allocation |
| --- | --- | --- | --- |
| District 1 NTIP Planning Project | 1 | SFMTA | $100,000 |
| Golden Gate Park Stakeholder Working Group and Action Framework | 1 | Transportation Authority | $61,525 |
| District 1 Multimodal Transportation Study | 1 | Transportation Authority | $300,000 |
| Managing Access to the "Crooked Street" (1000 Block of Lombard Street) | 2 | Transportation Authority | $100,000 |
| District 3 Pedestrian Safety Improvements  | 3 | SFMTA | $100,000 |
| 66 Quintara Connectivity Study | 4 | SFMTA | $100,000 |
| District 4 Mobility Improvements Study (Cycle 2) | 4 | Transportation Authority | $100,000 |
| District 4 Microtransit Business Plan | 4 | Transportation Authority | $310,000 |
| Western Addition Community-Based Transportation Plan | 5 | SFMTA | $100,000 |
| Octavia Improvements Study (Cycle 2) | 5 | Transportation Authority | $100,000 |
| Pedestrian Safety in SOMA Youth and Family Zone - Folsom-Howard Streetscape Project | 6 | SFMTA | $48,000 |
| Pedestrian Safety in SOMA Youth and Family Zone - Vision Zero Ramp Intersection Study | 6 | Transportation Authority | $52,000 |
| Tenderloin Traffic Safety Improvements | 6 | SFMTA | $177,693 |
| Treasure Island Supplemental Transportation Study | 6 | Transportation Authority | $100,000 |
| Balboa Area TDM Study | 7 | SF Planning | $100,000 |
| Ocean Avenue Mobility Action Plan | 7 | Transportation Authority | $275,000 |
| Jane Warner Plaza Renovation Project | 8 | SF Public Works | $100,000 |
| Valencia Street Bikeway Implementation Plan | 8 | SFMTA | $50,000 |
| Slow Duboce Triangle Study | 8 | Transportation Authority | $7,000 |
| Alemany Interchange Improvement Study | 9 | Transportation Authority | $100,000 |
| Alemany Realignment Study (Cycle 2) | 9 | Transportation Authority | $100,000 |
| District 10 Mobility Management Study | 10 | Transportation Authority | $100,000 |
| District 10 15 Third Street Bus Study (Cycle 2) | 10 | Transportation Authority | $30,000 |
| Geneva-San Jose Intersection Study | 11 | SFMTA | $100,000 |
| Alemany Safety Project (Cycle 2) | 11 | SFMTA | $100,000 |
| Total Neighborhood Program Planning |   |   | $2,711,218 |
Capital Projects
| Project Name | District | Agency Lead | Allocation |
| --- | --- | --- | --- |
| Arguello Blvd Improvements | 1 | SFMTA | $188,931 |
| Fulton Street Safety Project (Cycle 1) | 1 | SFMTA | $82,521 |
| Fulton Street Safety Project (Cycle 2) | 1 | SFMTA | $236,215 |
| Anza Bike Lanes (Cycle 2) | 1 | SFMTA | $220,000 |
| Lombard Street US-101 Corridor | 2 | SFMTA | $400,000 |
| Lombard Crooked Street Reservation and Pricing System Development | 2 | Transportation Authority | $200,000 |
| Portsmouth Square Community Based Transportation Plan | 3 | Transportation Authority | $50,000 |
| Jefferson Street Improvements Phase 2 | 3 | SF Public Works | $200,000 |
| Battery and Sansome Bicycle Connections | 3 | SFMTA | $200,000 |
| District 3 Pedestrian Safety Improvements (Cycle 2) | 3 | SFMTA | $819,800 |
| Sloat/Skyline Intersection Alternatives Analysis | 4 | SFMTA | $250,000 |
| Lower Great Highway Pedestrian Improvements | 4 | SFMTA | $250,000 |
| Frederick/Clayton Traffic Calming | 5 | SFMTA | $175,000 |
| Divisadero Intersection Improvements | 5 | SFMTA | $273,500 |
| Buchanan Mall Bulbouts - Golden Gate and Turk | 5 | SF Public Works | $300,000 |
| Golden Gate Avenue Buffered Bike Lane | 6 | SFMTA | $50,000 |
| Howard Street - Embarcadero to 3rd Street | 6 | SFMTA | $75,000 |
| Bessie Carmichael Crosswalk | 6 | SFMTA | $28,000 |
| South Park Traffic Calming | 6 | SFMTA | $30,000 |
| 7th and 8th Streets Freeway Ramp Intersections Near Term Improvements | 6 | SFMTA | $160,000 |
| Lake Merced Bikeway Feasibility | 7 | SFMTA | $150,000 |
| Lake Merced Quick-Build | 7 | SFMTA | $250,000 |
| District 7 FY19 Participatory Budgeting Priorities (Cycle 1) | 7 | SFMTA | $255,000 |
| District 7 FY20 Participatory Budgeting Priorities (Cycle 2) | 7 | SFMTA | $132,600 |
| Elk Street at Sussex Street Pedestrian Safety Improvements | 8 | SFMTA | $405,000 |
| Upper Market Street Safety Improvements | 8 | SFMTA | $500,000 |
| 14th Street Road Diet | 8 | SFMTA | $60,700 |
| Alemany Interchange Improvements | 9 | SFMTA / SF Public Works | $399,995 |
| Bayshore Blvd/Cesar Chavez St/Potrero Ave Intersection (The Hairball - Segments F & G) | 9 & 10 | SF Public Works | $400,000 |
| Hairball Segments F & G - Additional Funds | 9 & 10 | SF Public Works | $150,000 |
| Vision Zero Proactive Traffic Calming — Visitacion Valley and Portola Neighborhoods | 9 & 10 | SFMTA | $150,000 |
| District 9 Traffic Calming | 9 | SFMTA | $165,000 |
| Minnesota and 25th St Intersection Improvements | 10 | SF Public Works | $400,000 |
| Bayshore Blvd/Cesar Chavez St/Potrero Ave Intersection Improvements | 10 | SFMTA | $100,000 |
| Potrero Hill Pedestrian Safety and Transit Stop Improvements | 10 | SFMTA | $60,000 |
| District 11 Near-Term Traffic Calming | 11 | SFMTA | $600,000 |
| District 11 Traffic Calming (Cycle 2) | 11 | SFMTA | $600,000 |
| Total Neighborhood Program Capital |   |   | $8,967,262 |
Contact
propk@sfcta.org
Related Project & Studies