Overview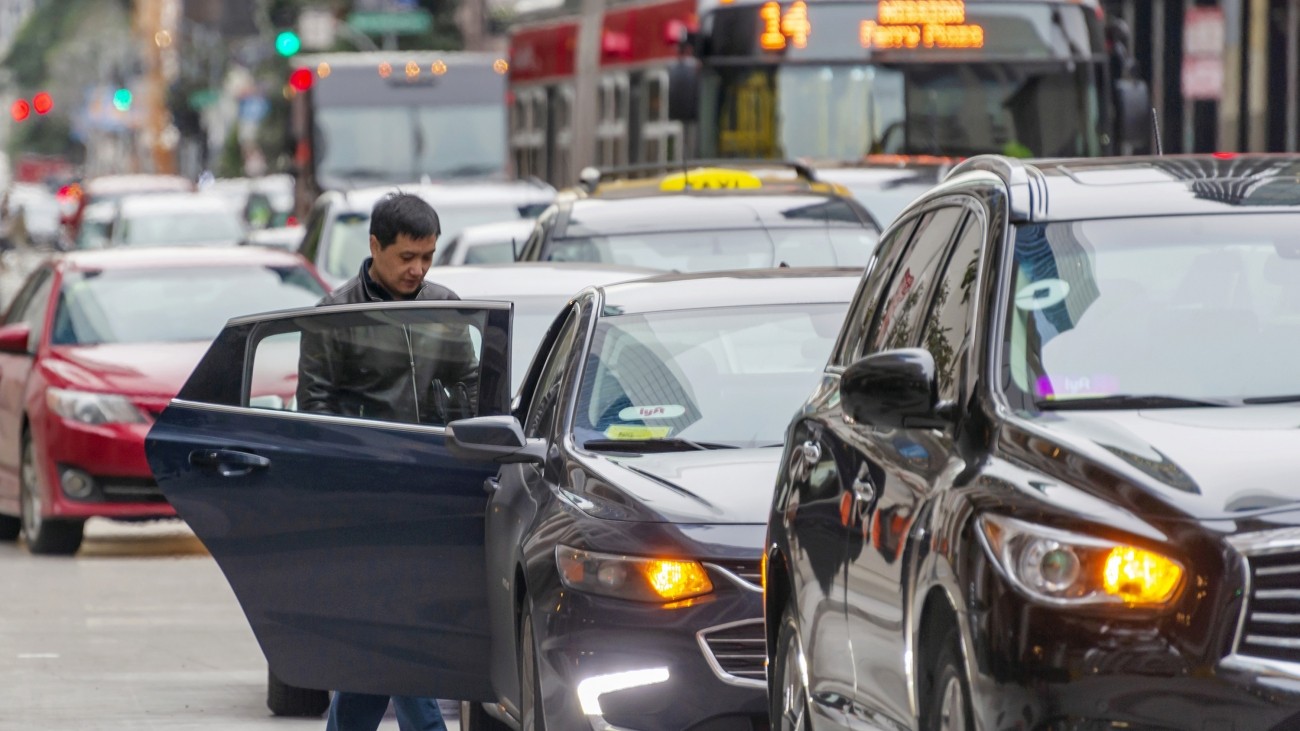 Introduction
In November 2019, San Francisco voters approved a tax on rides provided by commercial ride-hail companies (e.g. Uber, Lyft), private transit services, and autonomous vehicles to support transit and safer streets. The TNC Tax was expected to generate about $30 million annually, before the COVID-19 pandemic. The Controller's Office now estimates revenue to be $15 million for Fiscal Year (FY) 2020/21. Half of the revenue goes to the SFMTA for transit improvements. The Transportation Authority administers the other half of the funds for street safety improvements. Revenue collection began on January 1, 2020.
The tax imposes a 3.25% surcharge on all individual rides and a 1.5% surcharge on shared rides that originate in San Francisco. Trips are taxed for the portion of the ride that happens in San Francisco. Rides in electric vehicles will be taxed at 1.5% for five years, regardless of whether they are individual or shared, in order to encourage adoption of electric vehicles. Future autonomous vehicle Transportation Network Company services will also be subject to the tax. The tax will be in effect for 25 years.
Eligible Transportation Improvements
The Transportation Authority can fund capital improvements that promote safety. Projects may include:
Pedestrian safety
Bicycle safety
Traffic calming
Traffic signal upgrades and re-timing
On April 25, 2023, the Transportation Authority Board adopted the TNC Tax Program Guidelines and programmed $21.3 million in TNC revenues expected to be collected through Fiscal Year 2023/24 to SFMTA's FY23 Vision Zero Quick-Build program, FY24 Vision Zero Quick-Build program, FY24 Application-Based Residential Traffic Calming Program and FY24 & FY25 Application-Based Residential Traffic Calming Program (New Rolling Program). More details are available in the TNC Tax Program Guidelines and the materials for the April 25, 2023 Board meeting, both linked below.
TNC Tax Program Guidelines (adopted April 25, 2023) (PDF)
April 25, 2023 Board Meeting Materials
TNC Tax Program Guidelines (adopted October 27, 2020) (PDF)
October 27, 2020 Board Meeting Materials
TNC Tax Allocation Request Procedures (PDF)
TNC Tax Ordinance (PDF)
TNC Tax Ballot Information (PDF)
Standard Grant Agreement Sample (PDF) (Updated October 26, 2020)
Contact