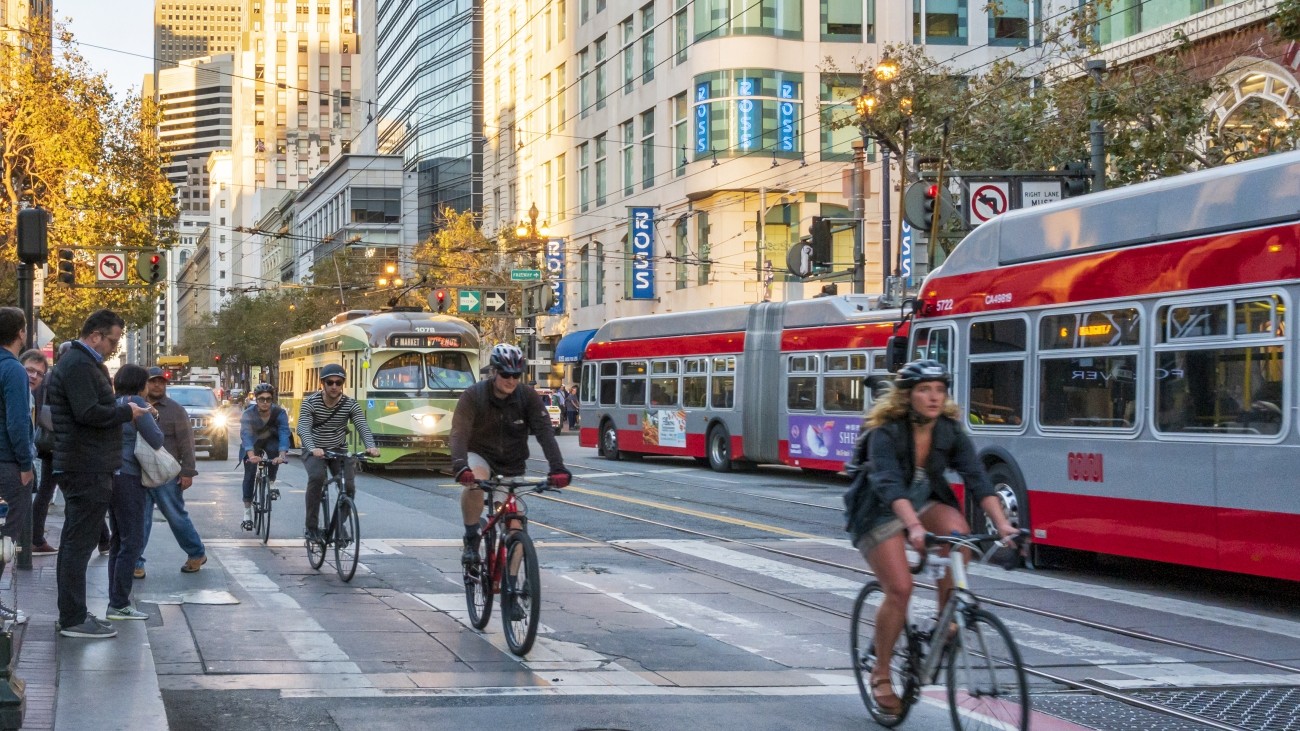 Introduction
Transportation Demand Management is a set of programs and policies that seeks to reduce solo-occupancy car trips by encouraging people to travel by transit, bicycling, walking, carpooling/vanpooling, or telecommuting. Transportation Demand Management encompasses a range of strategies to reduce drive-alone trips, from land use policies and design, to pricing and incentives, to education and enforcement.
The Transportation Authority partners with the SFMTA, SF Planning and SF Environment to coordinate the city's transportation demand management strategies. We also fund and implement Transportation Demand Management projects such as the BART Perks Test Program and San Francisco's Transportation Sustainability Program Evaluation Tool. 
Transportation Demand Management Strategies Include:
Programs to Provide More Transportation Options
Incentives to use shared services (bike, scooter)
Ride sharing (carpool, vanpool) programs
Emergency/guaranteed ride home programs
Policies
Vehicle trip reduction ordinances/trip caps
Commuter Benefits Ordinances
San Francisco Transportation Sustainability Program
Guiding Principles for Emerging Mobility Services and Technology
Parking maximums
Parking and Pricing
Unbundled parking (the practice of selling or leasing parking spaces separate from the purchase or lease of commercial or residential space)
Express lanes
Congestion pricing, parking pricing
Peak-period pricing for bridge tolls
Marketing, Outreach, and Education
Household and business travel counseling programs
Safe Routes to School
Wayfinding
Employer-based trip reduction outreach and education
Local and Regional Transportation Demand Management Programs
SF Environment: Emergency Ride Home Program 
SF Environment: San Francisco Commuter Benefits Ordinance
511: Bay Area Commuter Benefits Program 
Vanpools: find a vanpool or get a subsidy for your vanpool
SF Planning: Transportation Sustainability Program
Resources
San Francisco Transportation Demand Management Plan, 2017-2020 (PDF)
SF Planning Commission: Standards for the Transportation Demand Management Program, 2016 (PDF)
Perspective Paper: Toward a shared future: strategies to manage travel demand, 2018 (PDF), Association of Bay Area Governments/Metropolitan Transportation Commission.
Related Project & Studies
Replacing car travel with more sustainable modes will reduce greenhouse gas emissions and create a healthier environment for San Francisco residents, workers, and visitors. 

San Francisco's voter-approved Transit-First Policy states that decisions regarding the use of our public streets and sidewalks shall prioritize public rights of way for pedestrians, bicyclists, and public transit.
San Francisco has vowed to eliminate all traffic-related deaths by 2024 through education, enforcement, and road infrastructure redesign.