Overview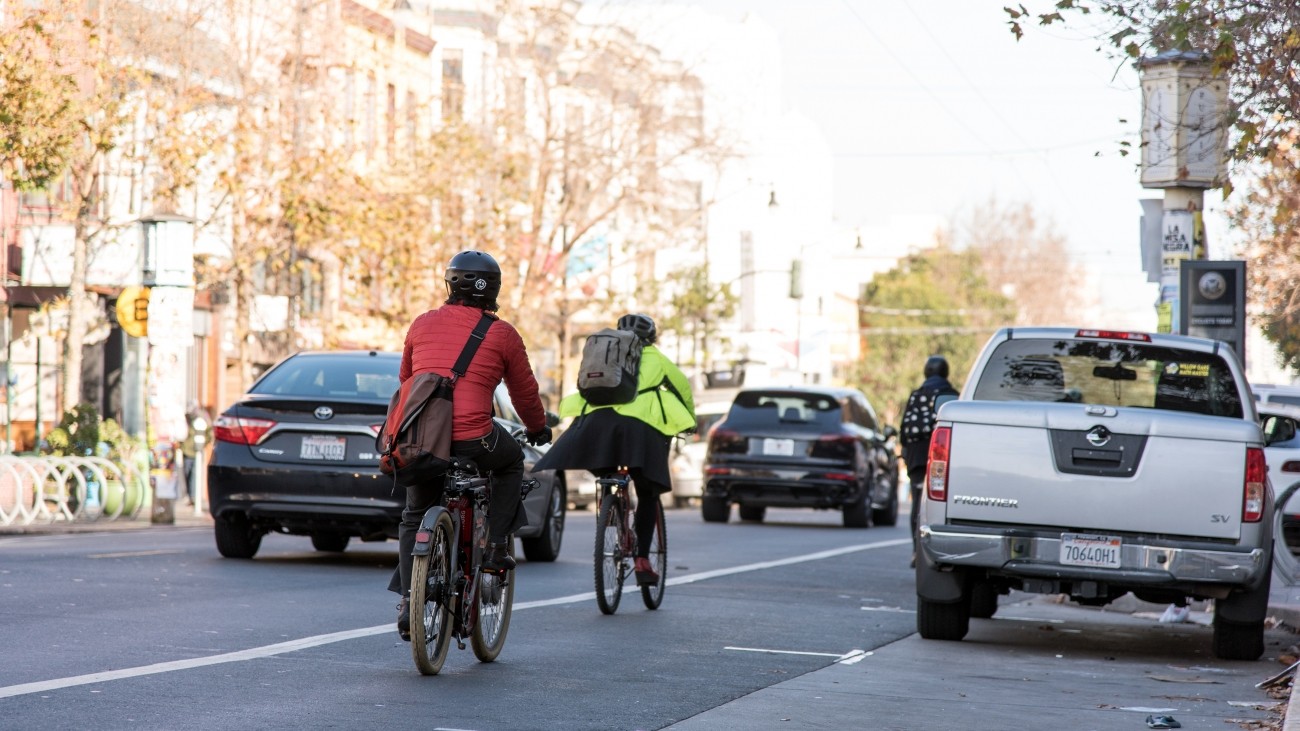 Introduction
Valencia Street is a vibrant commercial corridor with a diverse set of restaurants, shops, bars, and services. Valencia is also one of San Francisco's most heavily used biking corridors. The City has heard increasing community concern about traffic safety and congestion on Valencia. Ride-hailing services and commercial vehicles frequently double-park in the bike lane, posing safety concerns.
The SFMTA is working with the community to assess and recommend safety improvements for Valencia Street between Market and Mission streets. The Valencia Bikeway Improvements project identified bikeway design options to upgrade the existing bike lanes given the high volume of cyclists on Valencia Street, history of bicycle-motor vehicle crashes, and evidence suggesting that illegal parking and loading within the bike lane is prevalent. The public engagement process included door-to-door outreach to local businesses, stakeholder meetings, public workshops, and outreach at neighborhood events. 
In September 2018, Mayor London Breed directed the SFMTA to expedite the Valencia Bikeway Improvements project. As a result, the SFMTA designed and is implementing a pilot parking-protected bikeway on Valencia, between Market and 15th streets. 
The planning process resulted in:
Proposed designs to upgrade the existing bike lanes
An evaluation of enforcement and curb management needs
Traffic flow and safety recommendations
Following the pilot implementation, the SFMTA will evaluate the design to help inform the long-term, corridor-wide project. Additional outreach and community outreach will be held in 2019. 
Goals 
Improve safety for all who travel on Valencia Street
Provide an improved bikeway along the corridor
Improve passenger loading, commercial loading, and curb management
Reduce the number of conflicts between those who walk, bike, and drive on the corridor 
 
Cost & Funding 
The Transportation Authority's Neighborhood Program supported the Valencia Street Bikeway Improvement project with $145,000 in Prop K half-cent sales tax funds at the request of former District 8 Supervisor and Transportation Authority Board Member Jeff Sheehy and with the support of District 9 Supervisor and Transportation Authority Board Member Hillary Ronen.
Resources
SFMTA Valencia Bikeway Improvements webpage
Final Report: Valencia Bikeway Implementation Project, 2019 (PDF)
Prop K Transportation Sales Tax Funding Request (PDF)
Contact 
Kimberly Leung, SFMTA: kimberly.leung@sfmta.com
Our Neighborhood Program supports neighborhood-scale planning efforts and project implementation in each supervisorial district.
San Francisco has vowed to eliminate all traffic-related deaths by 2024 through education, enforcement, and road infrastructure redesign.