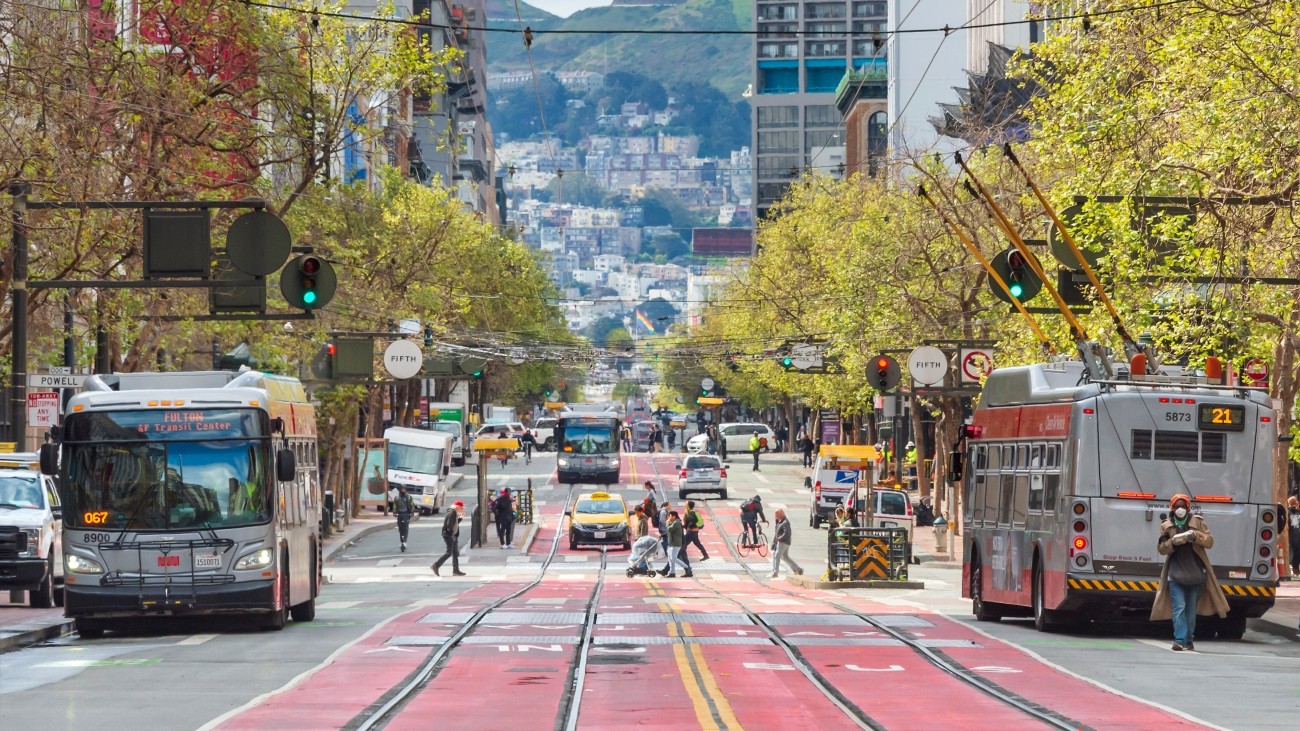 Updated November 23, 2021
The Transportation Authority is preparing to ask San Francisco voters in November 2022 to continue the existing half-cent transportation sales tax and approve a new 30-year investment plan, known as the Expenditure Plan. The Transportation Authority administers the half-cent transportation sales tax and provides funding for agencies such as SFMTA and SF Public Works to complete projects that improve transportation all around San Francisco.
The existing half-cent transportation sales tax has provided funding for major projects such as the Presidio Parkway and the Central Subway, and smaller projects like protected bike lanes and paratransit services. Learn more about how the sales tax has improved transportation for San Franciscans. All but one of the major capital projects are done or are under construction, and several programs have advanced funds to enable early benefits and are now running out of money, such as Caltrain maintenance programs.
By establishing a new Expenditure Plan, we can replenish funding for ongoing programs, meet emerging transportation priorities being developed through the San Francisco Transportation Plan 2050, compete for new state and federal grants by having adequate local matching funds, and support the city's economic recovery through infrastructure investment. 
A 27 member Expenditure Plan Advisory Committee, also known as EPAC, is guiding this effort. Community members and representatives from businesses and advocacy groups participate on this committee to develop recommendations for the new expenditure plan. Meetings will be held regularly through the end of 2021 and are open for the public to attend and provide feedback.
To ensure the development of an equitable program, the EPAC has representatives from every district and a variety of communities, including San Francisco's Equity Priority Communities, to highlight different perspectives. See the full EPAC roster here (PDF). Our equity-focused engagement plan includes targeted outreach to historically underinvested communities and communities of color. The Racial Equity Toolkit (PDF) guides us in operationalizing equity throughout the process, and our Equity Assessment Report (PDF) provides recommendations to help us address transportation disparities. 

Ways to get involved
Learn more
Visit the New Transportation Sales Tax Expenditure Plan webpage
Come to a virtual town hall
Share your feedback
Get a virtual presentation
Sign up to have our project team present to your community group
Get email updates
Sign up for our "New Transportation Sales Tax Expenditure Plan" email list to receive future updates
Resources
Preliminary Draft New Expenditure Plan Summary revised 10/4/2021 (PDF)
Visit MyStreet to view projects we have funded