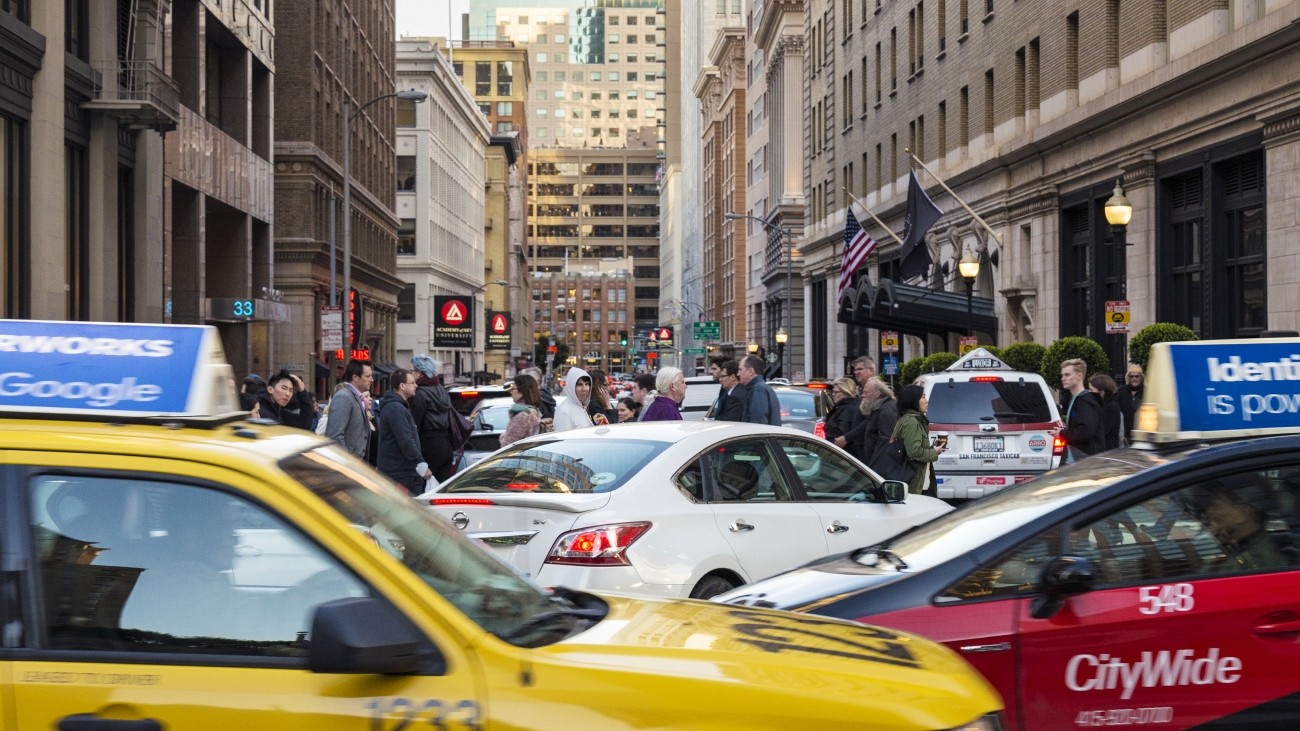 Congestion Management Update 
The Transportation Authority has released the latest data on congestion in San Francisco. As San Francisco's Congestion Management Agency, we monitor traffic congestion on San Francisco streets and issue a report on the latest data every two years. 
Key findings
City streets: Auto speeds during peak periods have slowed by about 30 percent over the past decade. Just over the past two years, average auto speeds have dropped by about 5 percent. Bus speeds have remained steady since we started tracking transit speeds in 2011. 
Downtown: Cars currently average about 11 miles per hour — and buses at about 6 miles per hour — during the evening commute period. 
Freeways: Speeds on freeways have declined by over 25 percent over the past decade, with average speeds of 13 mph and 26 mph on northbound US 101 and I-80 in the afternoon peak, respectively.
While traffic congestion is on the rise, average speeds for buses have been holding steady, likely thanks to recent transit improvements like transit priority lanes. However, the data show that Muni reliability continues to face challenges, as growing traffic congestion is contributing to less predictable Muni travel times. 
Traffic Congestion Reaches Record Highs
A growing economy and population, combined with increasing numbers of ride-hail vehicles on the streets, are the primary drivers of today's record high congestion. Over the past decade, San Francisco added 80,000 new residents, bringing the population to 880,000. San Francisco employment grew by over 200,000 jobs since 2009, reaching a total of 741,000 jobs. Meanwhile, in 2016, ride-hail vehicles made more than 170,000 weekday trips within the city, representing about 15 percent of all intra-San Francisco vehicle trips and an estimated 6.5 percent of vehicle miles traveled. Earlier this year, Uber and Lyft estimated that ride-hail trips comprise approximately 13 percent of all vehicle miles traveled in San Francisco, reflecting 2 years of growth and accounting for regional trips.
Explore traffic congestion in our interactive map: 
Strategies to Manage Congestion
San Francisco is taking concrete steps to address rising congestion:
San Francisco's major public transit providers—Muni, Caltrain and BART—are all putting new vehicles, facilities and train control systems into service, which will boost capacity.
Major projects are underway to provide more efficient service and better connections. These include Central Subway, Caltrain electrification, Van Ness Improvement Project, Better Market Street, Geary Bus Rapid Transit, and installing protected bike lanes, among others.
The Transportation Authority is exploring how charging a fee to drive into downtown during rush hour could help reduce congestion and generate funding for public transit, walking, and biking improvements. We're also studying how carpool and express lanes could help reduce congestion on San Francisco's freeways. 
Get Involved 
The Transportation Authority wants to know how congestion affects San Francisco residents, workers, and visitors. Take this 10-minute survey to share your travel experiences in San Francisco for a chance to win one of 10 Cal Academy memberships or $110 Safeway gift cards.
Watch our staff present the latest congestion data to the Transportation Authority Board on December 10th at 10:00 a.m. You can also tune in to SFGovTV. 
Resources
Presentation to Transportation Authority Citizens Advisory Committee (PDF)
Final Report: Congestion Management Program 2019 (PDF) and Executive Summary (PDF)