Overview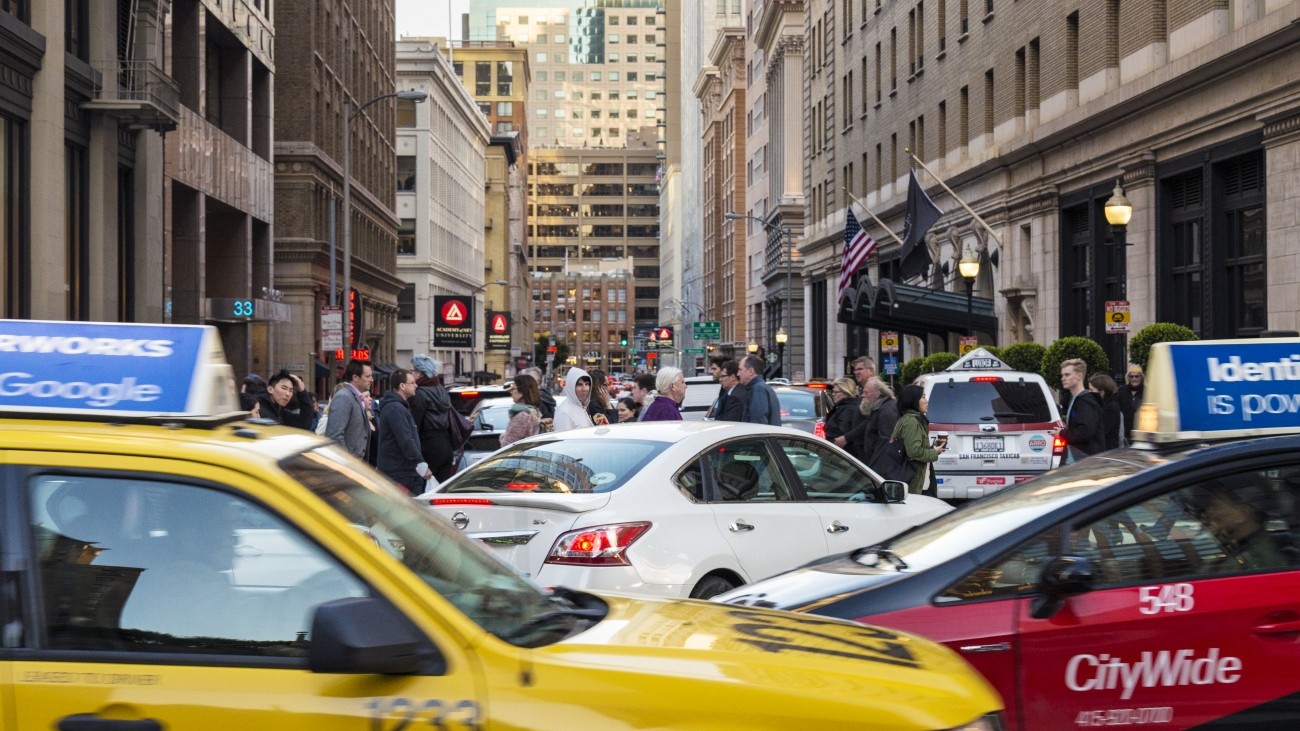 Introduction
Congestion in San Francisco has reached record levels. A rising population and job growth—combined with a growing presence of ride-hail vehicles—has resulted in clogged streets, particularly downtown and in SoMa.
San Francisco has made concerted efforts to reduce congestion: from adding transit-only lanes to our streets, to implementing street safety measures that make it easier to walk and bike, to a forthcoming ballot measure that will tax ride-hail trips to fund transit. These efforts are crucial pieces of the puzzle, but we must do more if we want to make a substantial dent in congestion.
Without action, gridlock is projected to get worse: Between now and 2040, the city is expected to add another 200,000 new residents and 150,000 new jobs.
Congestion Pricing
Congestion pricing involves charging drivers a fee to drive in specific congested areas in order to keep traffic and transit moving. Downtown congestion pricing is one of the most effective tools we can use to reduce congestion. The best practice is to combine the fee with discounts, subsidies, and incentives to make the system more fair and encourage the use of sustainable transportation modes like transit, walking, and biking. 
Downtown congestion pricing would make Muni faster and more reliable, reduce greenhouse gas emissions, and generate revenue for transit and pedestrian, bicycle, and street improvements. London, Stockholm, and others have demonstrated how revenues from congestion pricing can be used to improve alternatives to driving.
Numerous city and regional plans have recommended downtown congestion pricing, including the City's Climate Action Strategy, past San Francisco Transportation Plans, and Plan Bay Area 2040. 
Timeline and Status
In winter 2018, the Transportation Authority Board directed our staff to take a fresh look at the idea of congestion pricing with updated data and analysis and a full community engagement process. We are currently gearing up for a large public outreach effort which will launch in early 2020. We'll use public feedback to shape and test various scenarios for what a downtown congestion pricing program could look like. We expect to bring a final recommendation to our board for approval at the end of 2020.
Resources
Presentation: Cordon pricing incentives strategies, October 23, 2018 (PDF). Watch on SFGovTV (starts at 18:35)
Contact
Background
Policies & Plans that Recommend Downtown Congestion Pricing
SF Vision Zero Action Strategy, 2019 (PDF)
Transportation Task Force 2045 Report, 2018 (PDF)
Emerging Mobility Evaluation Report, 2018 (PDF) 
SF Transportation Demand Management Plan, 2017 (PDF)
SF Transportation Plan, 2017 (PDF)
Plan Bay Area 2040, 2017 (PDF)
SF Climate Action Strategy, 2013 (PDF)
Transit Center District Plan, 2012 (PDF)
2010 Mobility, Access and Pricing Study
The aim of our 2010 Mobility, Access and Pricing Study (PDF) was to assess whether implementing a congestion pricing program in San Francisco makes sense. Through the study's technical feasibility assessment and a public input process, the Transportation Authority determined that feasible congestion pricing options exist and would deliver significant benefits to the city.
Our analysis found that a feasible program can be designed for San Francisco that reduces congestion and speeds up transit while improving air quality and pedestrian safety.
Public engagement
Public Engagement
As the Transportation Authority takes a fresh look at the idea of congestion pricing, we will engage the public to gather ideas from community stakeholders and better understand the issues we should consider in our study. Please sign up for email updates on this page to get information on future outreach and engagement activities. 
Get email updates on this project