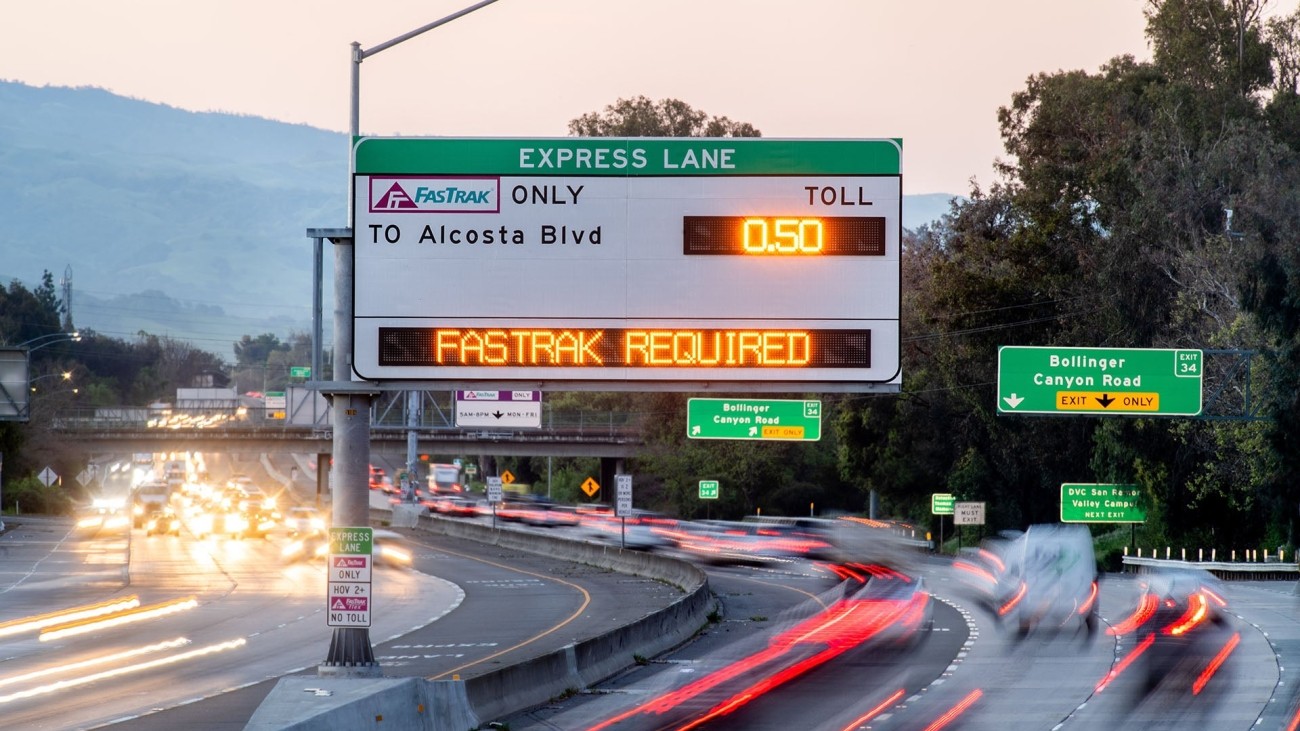 During the March 21 Transportation Authority Board meeting, staff from the Transportation Authority, the Metropolitan Transportation Commission, Caltrans, and San Mateo Joint Powers Authority gave a presentation about the evolution of express lanes in the Bay Area. 
Express lanes are used to manage congestion by providing priority for transit and high-occupancy vehicles on freeways and a reliable option for non-HOV motorists for a fee. Express lanes usually coexist with general purpose lanes on highways to provide drivers with options for their commutes.Transit and carpools may travel in the express lane for free for a faster, more reliable transit trip, while single occupant vehicles must pay a variable toll that is set to maintain traffic flow at about 45 mph. Agencies can ensure equitable benefits for low income travelers by using the toll revenue to add more transit services, pay for other needs in the communities the freeway passes through, or offer toll discounts.  
As freeway congestion has returned to pre-pandemic levels, the Transportation Authority Board expressed interest in resuming study of what it takes to build out the regional express lane network within San Francisco, in a way that supports equity and reduces greenhouse gas emissions, while managing congestion. 
During the meeting, Transportation Authority staff received presentations from our partners on the expanding  regional express lane network in the Bay Area. Highlights include:
Express lanes are a key component of Plan Bay Area 2050 which identifies a path to make the Bay Area more equitable for all residents and more resilient in the face of unexpected challenges. The MTC's Express Lanes Network 2021 Strategic Plan (PDF), explores achieving goals, building a network, and planning for change. 
The Express Lanes START program addresses cost barriers for low-income drivers by offering toll discounts to expand mobility and access. Express Lanes START would leverage the existing Clipper START transit fare discount. This pilot program is expected to launch in April 2023 on I-880 Express Lanes. 
Caltrans convenes a roadway pricing working group to identify, discuss, and provide recommendations for equitable roadway pricing implementation pathways that can manage and reduce vehicle miles traveled.
The San Mateo Joint Powers Authority is leading the U.S. 101 Express Lanes Project which aims to reduce traffic congestion and encourage carpooling and transit use by creating 22 miles of express lanes spanning from San Mateo County/Santa Clara County line to the I-380 in South San Francisco.;
Our agency is working on the 101/280N Express Lanes and Bus Project, which builds on our 2018 Freeway Corridor Management Study (PDF) including exploring multiple alternatives for San Francisco's managed lane network along the US 101 and I-280N extension to connect to express lanes in San Mateo. 
Review the presentation (PDF) to learn more about the programs or watch the recording from the meeting.
Plan Bay Area is a 25-year plan that establishes the nine-county Bay Area region's vision for land use and transportation.
Express and carpool lanes on the 101 and I-280 freeways could help move more people in fewer vehicles.