Overview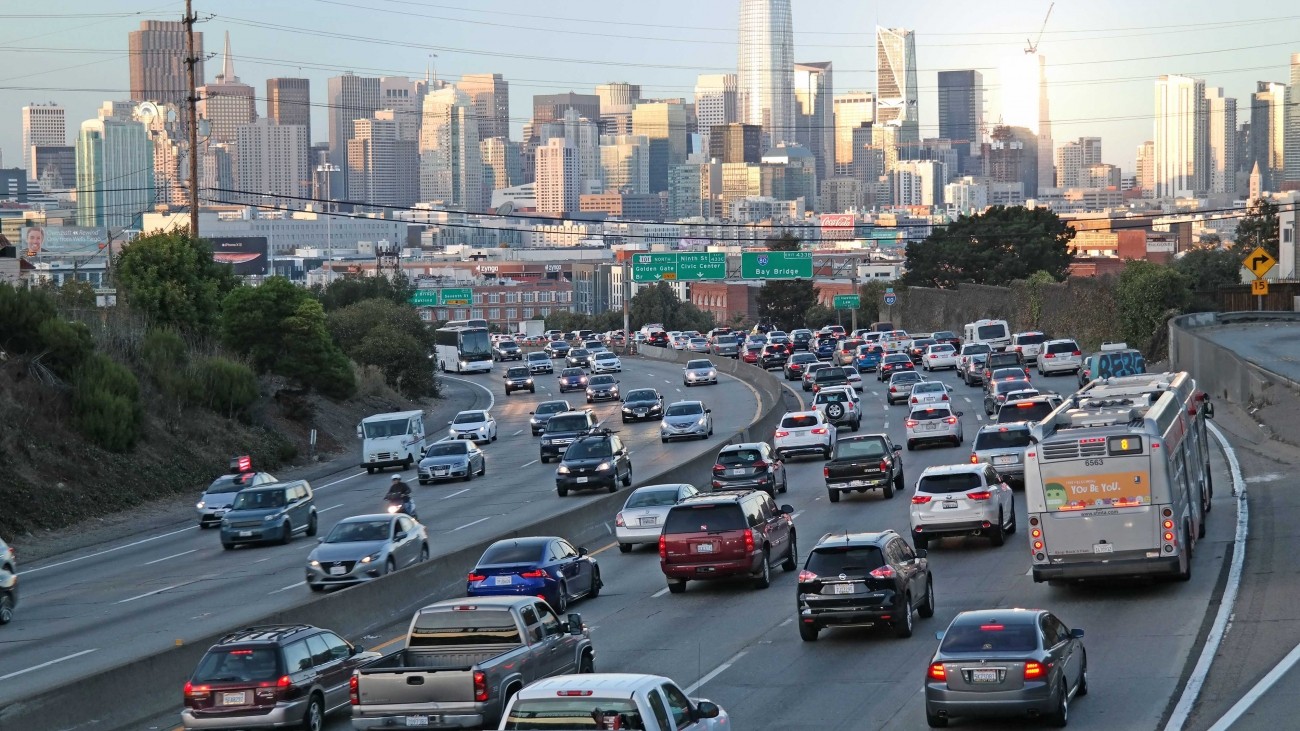 Introduction
San Francisco's transportation system faces a critical problem: more people than ever are trying to travel to, from, and through the city. The freeways in San Francisco—US 101 and I-280—play an important role in this network, connecting San Francisco and the Peninsula.
While parts of San Francisco's freeways are critically congested, there are many empty seats in cars, vans, and buses. And demand is expected to increase: By 2040, there will be more than 100,000 additional daily trips between San Francisco and the South Bay.
The Transportation Authority is studying how we can address this growing challenge. Our 2018 Freeway Corridor Management Study found that express lanes with a three-person minimum carpool requirement could help move more people in fewer vehicles along the 101 corridor. Our project team is taking this recommendation, as well as other options and an equity analysis, into subsequent study phases.
Project Goals
Move people efficiently: We need to get more travelers to their destinations as quickly and reliably as possible in the existing freeway footprint.
Increase trip reliability: More reliable travel times will help everyone, from parents picking up their children from school to commuters who need to get to work on time.
Enhance travel choices: Better transit and incentives to carpool to give commuters convenient new travel options.
Contribute to a regional network: San Francisco's freeway management strategies will be coordinated with similar projects in San Mateo and across the region.
Reduce emissions: Moving more people in the same or fewer vehicles will help achieve our climate goals as our population grows.
Support community well-being: We must ensure that any changes to freeway operations support equity and safety in nearby neighborhoods.
Timeline and Status 
The Project Initiation Document was approved by Caltrans in October of 2019 and project work is anticipated to move into the environmental clearance phase in 2021. The team spent 2020 studying equitable strategies for managed lanes in the corridor.
Resources
Contact
Yana Waldman, Assistant Deputy Director for Capital Projects
Key features
2018 Freeway Corridor Management Study Report Findings
The 2018 Freeway Corridor Management Study (PDF) focused on implementation of managed lanes, broadly referred to as any lanes on a freeway reserved for carpools or vehicles that are charged for access (these lanes are often known as "express lanes").
Without any changes to the current operation of the freeways in San Francisco, buses and carpools will continue to be stuck in the same traffic as all other vehicles, providing travelers with no incentive to ride transit or carpool. Carpool or express lanes could give transit and carpools a faster ride, incentivizing more efficient trips.
Lane Configuration 
Given the existing configuration of our freeways, the study found that carpool or express lanes could be implemented in the below segments:
Southbound lanes
The existing configuration of the I-280 and US 101 freeways allows for the creation of a continuous lane by converting the left-most existing general purpose lane into a managed lane. A carpool or Express Lane could operate along I-280 between the intersection of 5th and King Streets and US 101, continuing through the interchange to US 101 into San Mateo County, covering a distance of about five miles in San Francisco proper. This extension would be the northern end of a 65-mile managed lane from San Francisco to Morgan Hill.
Northbound lanes
Because I-280 exits from the right side of northbound US 101, any carpool or Express lanes entering San Francisco from San Mateo county will likely end at or near the county line. However, the study identified an opportunity to provide priority for northbound carpools and buses for approximately one mile along I-280N headed into South of Market, from about 18th Street to 5th Street.
The 2018 study evaluated four managed lane options:
No Build: The configuration of freeways remains as it is today.

The study found that under this scenario, congestion continues to get worse, with some bottlenecks resulting in an additional 2 to 5 minutes of travel time over existing conditions. Despite this, there remains no incentive to use transit or carpool in the corridor, as both buses and carpools remain subject to these increasing delays.

HOV2+: High Occupancy Vehicle (carpool) with a two-person minimum requirement.

The study found that this option is not expected to provide travel time savings to transit riders and carpools and should not advance to further study.

HOV3+: High Occupancy Vehicle (carpool) with a three-person minimum requirement.

The study found that this option creates substantial additional congestion in the corridor, reduces person throughput, and should not advance to further study.

HOT3+: Express Lane with a three-person minimum carpool requirement.

In this scenario, transit and carpools of three or more can access the lane at no cost. A demand-based, variable toll will be available to others who may pay to access the lane. The study found that this option could advance the goals of this study and warrants more detailed evaluation in subsequent study phases. In addition, important public policy concerns related to the equity impacts of express lanes should be considered, studied further, and mitigated.
Get email updates on this project
One of the best tools to manage the volume of traffic on our streets is charging a fair price to use our roads.
The Transportation Authority has been studying how to improve safety at 15 SoMa intersections where freeway on- and off-ramps meet city streets.