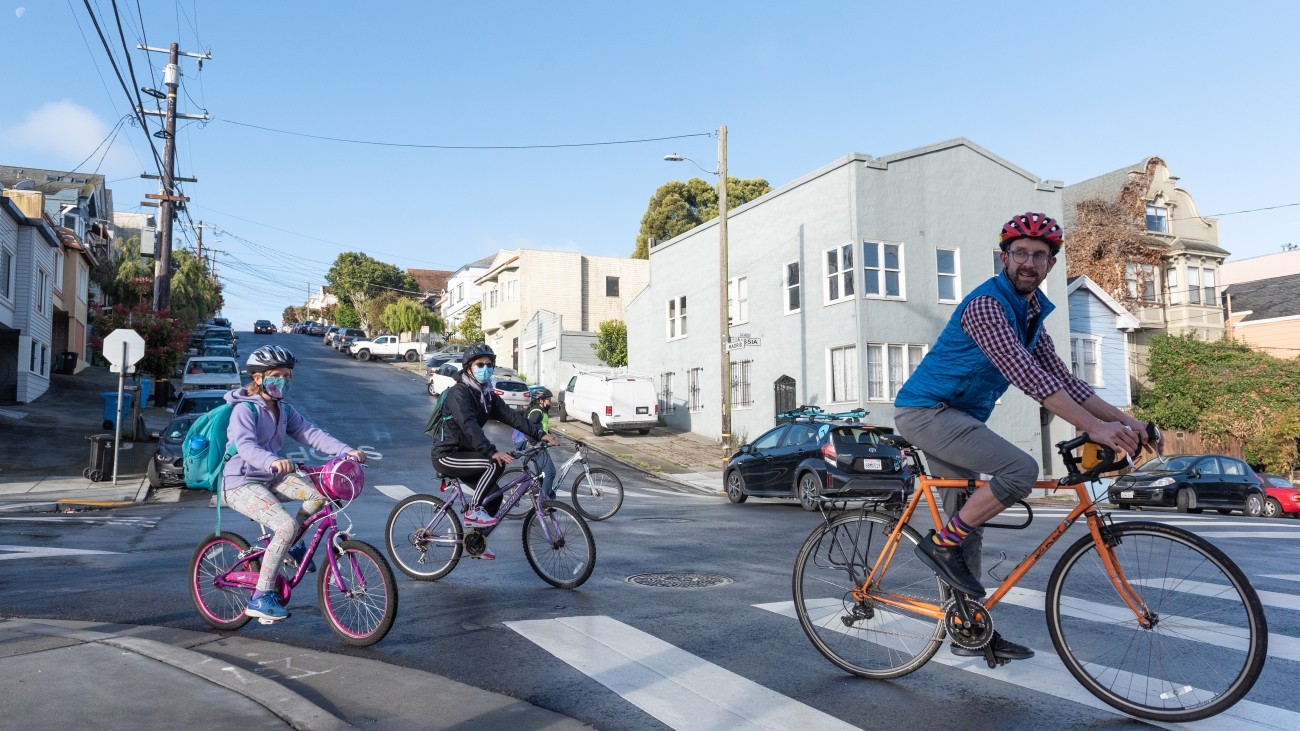 May is national bike month and celebrates a chance to showcase the many benefits of biking and to encourage people to give biking a try.
Biking can provide an alternative to driving and is a healthy way to explore the community. Health benefits of biking include improved heart health, stronger muscles, greater coordination and mobility, and reduced body fat. Biking can also help improve mental health by lowering stress and stimulating feel-good endorphins.
Whether you bike every day or not, you can celebrate bike month by going for a ride. Here are three destinations to consider exploring on a bike: 
Twin Peaks. A tourist attraction with several trails for people to enjoy the natural area. The Twin Peaks Connectivity Project repurposed a portion of the existing roadway from vehicle use to pedestrian and bicycle use. It also created safer connections to Twin Peaks Trail System, improved pedestrian and bicycle access, and provided a defined connection to the Bay Area Ridge Trail. The project was sponsored by the San Francisco Recreation and Parks Department in partnership with the SFMTA and San Francisco Public Works. The Transportation Authority allocated $23,000 to this project from San Francisco's voter-approved half-cent sales tax for transportation.
Vista Point on Yerba Buena Island. A scenic rest stop on Yerba Buena Island at the end of the Bay Bridge East Span Path. Featuring restrooms, benches, a hydration station, and bike racks, Vista Point offers sweeping views of the East Span of the Bay Bridge, San Francisco Bay, and Oakland. The Transportation Authority and Bay Area Toll Authority each contributed $1 million to design, build, and maintain Vista Point on Yerba Buena Island.
The Presidio's Battery Bluff and Tunnel Tops Park. Built atop the Presidio Parkway tunnels, these parks offer views of the Golden Gate Bridge, Angel Island, and Alcatraz and feature playgrounds, plants, picnic areas, benches, food trucks, and multi-use trails to explore. Caltrans and the Transportation Authority jointly led the effort to replace Doyle Drive with the Presidio Parkway. The Transportation Authority provided over $170 million in half-cent sales tax and other funds in a unique federal-state-local and private partnership to fund the Presidio Parkway effort which helped make Battery Bluff and Tunnel Tops Park possible. 

Resources
New Research Indicates Cycling To Work Has Extraordinary Health Benefits
 
Vista Point is a scenic rest stop on Yerba Buena Island near the Bay Bridge east span bicycle/pedestrian path.