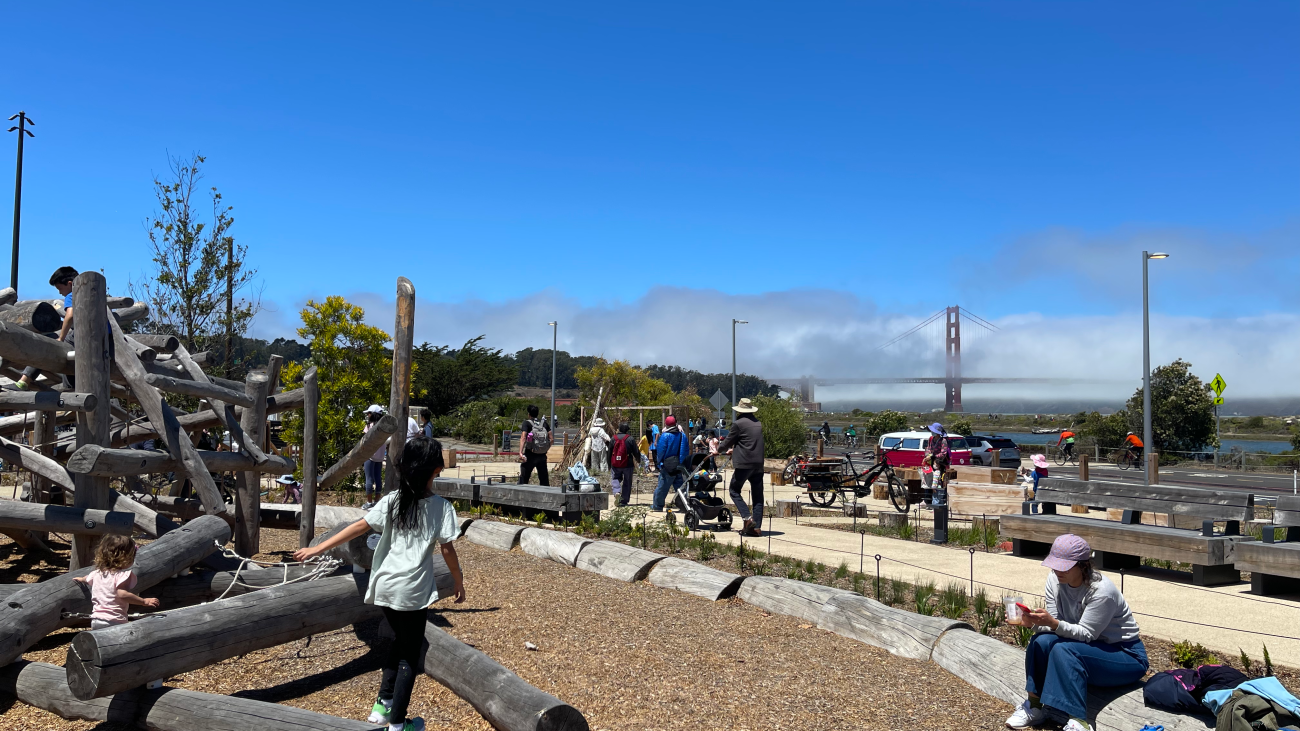 On July 16, Transportation Authority Board Chair Rafael Mandelman and our former Executive Director José Luis Moscovich joined Speaker Nancy Pelosi, Mayor London Breed, officials from the Presidio Trust, and community leaders to celebrate the opening of the Presidio's newest park, Presidio Tunnel Tops.
A 14-acre urban oasis, Presidio Tunnel Tops features trails, gardens, playgrounds, and panoramic views of the Golden Gate for visitors to discover and enjoy. The park offers a wide range of experiences for kids, families, and anyone who seeks a scenic respite or gathering place. You can find events for arts, culture, food, and music; reserve grills and tables for a picnic; or explore the site with a self-guided adventure.
The Transportation Authority played a key role in enabling the Tunnel Tops project to be built, as a co-sponsor with Caltrans of the Presidio Parkway project, which runs beneath the new park and replaced the seismically deficient Doyle Drive in 2015. The Presidio Parkway was carefully designed to improve traffic safety and reconnect the Presidio and Golden Gate National Recreation Area, including Crissy Field, through a ten-year planning and environmental review effort led by the Transportation Authority. The Transportation Authority also directed over $200 million in local sales tax and other funds to the project, which matched major investments from the state, federal government, regional agencies, and the private sector in this unique public-private partnership effort.
 
 Source: Jean Wei, Golden Gate National Parks Conservancy
Getting to Presidio Tunnel Tops
Muni Lines 43 and 30 offer direct service to the park
Presidio Go Shuttle is free and runs seven days a week from Downtown and loops through the Presidio
Bike racks and lockers are available, and you can find Bay Wheels Bike Share stations
Parking is available near the Presidio Visitor Center
 
SF's newest gem, Presidio Tunnel Tops park is here! Transportation Authority Board Chair @rafaelmandelman & our former Executive Director José Luis Moscovich joined with @SpeakerPelosi, Mayor @LondonBreed, and officials from the @Presidiosf + @CaltransHQ to celebrate the opening! pic.twitter.com/SKxGBcB35m

— San Francisco County Transportation Authority (@sfcta) July 16, 2022
The Presidio Parkway serves as a regional gateway between the Golden Gate Bridge and the city of San Francisco.