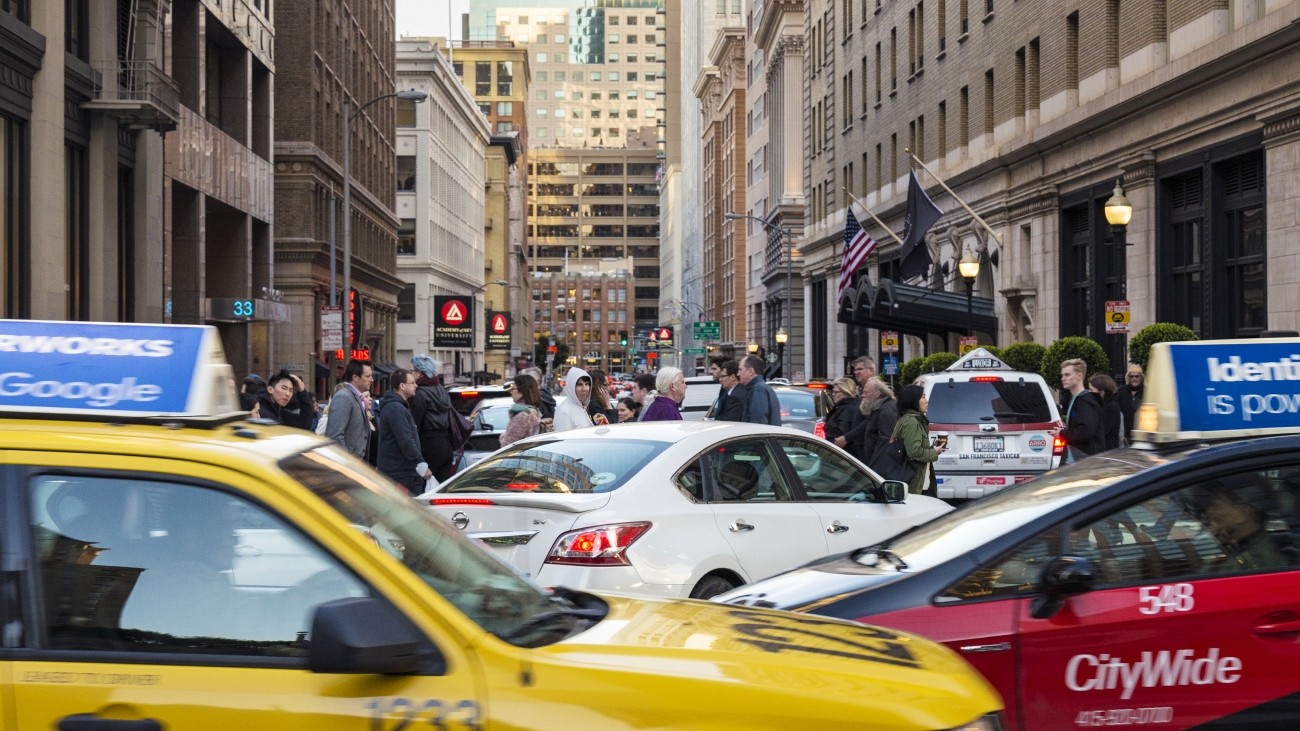 Amid the global pandemic and economic slowdown, congestion has declined significantly and transit service has been curtailed and prioritized for essential trips. 
What does coronavirus mean for our Downtown Congestion Pricing Study? The future is uncertain, but as we move toward economic recovery, we expect to see the return of congestion, possibly at greater levels than before. There is already evidence of traffic building up at key downtown hotspots as we enter the re-opening phase.
We must strive to manage our transportation system to support economic recovery and toward healthier, more equitable outcomes. This means keeping buses moving swiftly and avoiding bunching (which can cause groups of passengers to congregate at bus stops), as well as keeping people safe as they walk and bike in greater numbers than ever. The use of pricing and incentives can support these objectives flexibly as warranted by rising traffic levels. To learn more, read on for study updates and ways to get involved.
Spring 2020 Updates
Policy Advisory Committee 
Our Policy Advisory Committee adopted the Downtown Congestion Pricing Study Goals and Metrics at its April meeting. The study goals are: 
Get traffic moving so people and goods get where they need to go 
Increase safety for people walking, biking, and driving 
Clean the air to support public health and fight climate change
Advance equity by improving health and transportation for disadvantaged communities
Read the full Goals and Metrics document (PDF). 
 
We are holding Policy Advisory Committee meetings virtually during shelter-in-place. Join us at our next meeting on Thursday, June 25. 
Technical Work 
We are analyzing how well various congestion pricing program scenarios would meet the study's goals and effectiveness metrics. We are aiming for a 15% reduction in peak vehicle trips to get traffic moving, increase safety, clean the air, and advance equity. 
Program features we're considering in our initial analysis include: 
Basic design elements such as geography, fee amount, and hours of operation
How we can invest program revenue for improvements to transit, biking, walking, and more. 
Discounts and exemptions to make sure a congestion pricing program helps -- and not harms -- disadvantaged populations.
We will present initial program scenarios at our June 25 Policy Advisory Committee meeting and to the public for feedback this summer to help us develop more detailed program options and policies.
Public Engagement 
Before the pandemic, our project team held workshops in partnership with community organizations in the Tenderloin, Bayview, and Excelsior. With the public health order to shelter-in-place, we paused in-person outreach and are coordinating with community organizations to develop a socially-distanced outreach strategy rooted in equity. We will adjust our approach on a community-by-community basis with tools such as in-language phone calls, mailed materials, surveys, videos, digital town halls, and web conferencing.
Watch our project manager Colin Dentel-Post provide an overview of the study. If your community group is interested in learning more about downtown congestion pricing, our project team is available to present to your organization virtually. You can request a presentation and we will be in touch. Additional resources on how congestion pricing works and where it has been tried in other cities are available on our project webpage.
Sign up for the Downtown Congestion Pricing Study email list to receive updates on how to get involved. You can also reach our project team at congestion-pricing@sfcta.org with any questions or to provide feedback.