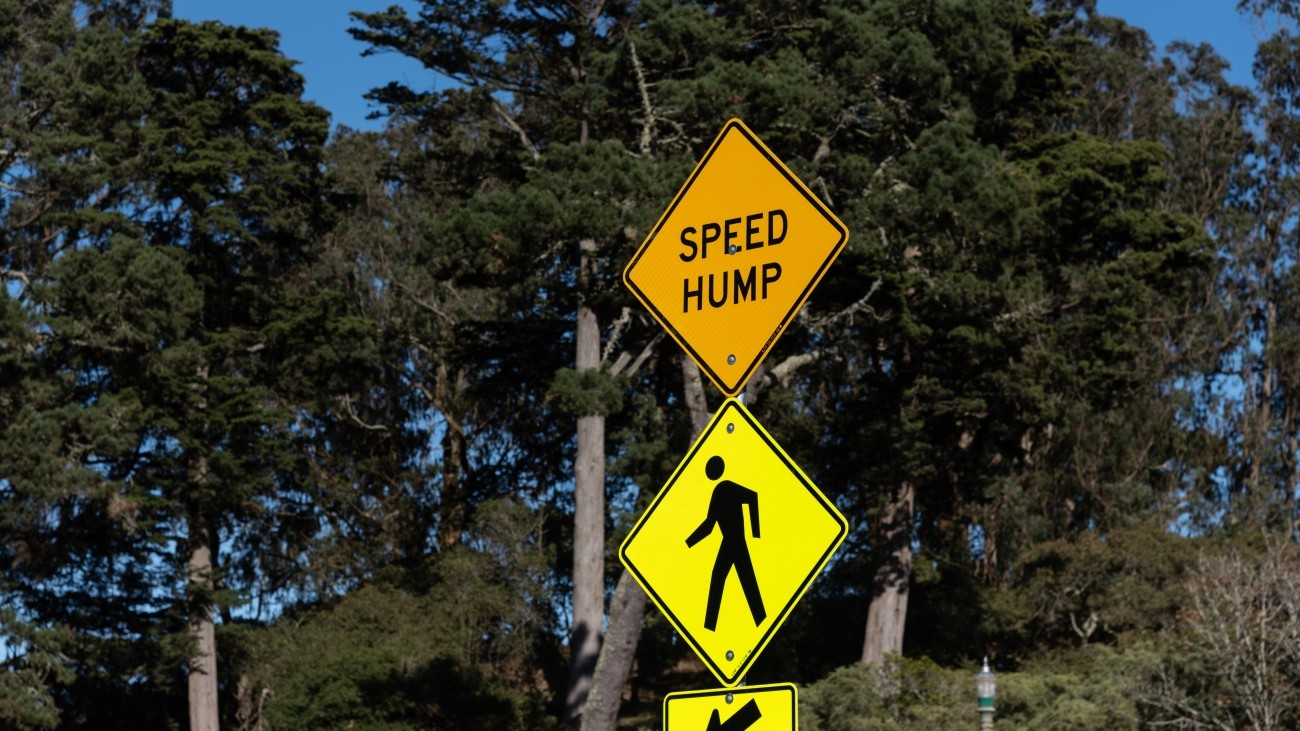 On February 9, our board advanced a number of requests allocating funds to support street safety improvements in the Sunset and Tenderloin. The requests were approved by the board during the final vote on February 23.
Outer Sunset Traffic Calming
Our board approved $424,971 in half-cent sales tax funds to support SFMTA's traffic calming strategy for the Outer Sunset. With the repurposing of the Great Highway as a temporary car-free space during shelter-in-place, some Outer Sunset residents have voiced concerns around speeding and reckless driving on neighboring streets. At Transportation Authority Board Member Gordon Mar's (District 4) request, SFMTA will install traffic calming measures on Lower Great Highway and adjacent areas. The Great Highway Traffic Management project includes 25 speed cushions, one speed table, 12 stop signs, and six changeable message signs to reduce speeds and divert traffic away from residential streets. SFMTA is expected to implement these traffic calming measures by March 2021.
District 4 Mobility Study
The board also approved $60,000 in half-cent sales tax funds to the District 4 Mobility Study which is exploring long-term options for the Great Highway, as well as sustainable travel improvements throughout the District. The study was requested by Board Member Mar to explore ways to increase access by transit, walking, and cycling in the Outer Sunset and Parkside neighborhoods. The project team will continue outreach this spring to gather community input on proposed solutions that include a "neighborway" (a network of streets with traffic calming measures) and transportation improvements for commercial corridors.
Traffic Calming in the Tenderloin
For the Tenderloin, $177,693 in Neighborhood Program funds was approved to install 395 signs to support the reduction of the neighborhood speed limit from 25 to 20 mph and to implement "no turn on red" prohibitions at 54 intersections. The Tenderloin is disproportionately impacted by traffic crashes primarily caused by excessive vehicle speed. As noted by Transportation Authority Board Member Matt Haney (District 6) who requested and prioritized the improvements, lowering speed limits in the neighborhood can support improved safety for all road users. These installations are scheduled to be complete by April 2021.
Resources
Great Highway Planning and Temporary Car-Free Great Highway FAQ (PDF)
Great Highway and Outer Sunset Traffic Management Project (SFMTA)
Proposed Great Highway Traffic Calming Strategy (SFMTA)
Tenderloin Traffic Safety Improvements (SFMTA)
Watch the February 9 Transportation Authority Board meeting (12:36)
View the February 9 presentation to the board (PDF)
 
The District 4 Mobility Study will explore ways to increase the use of non-automobile modes in the Outer Sunset and Parkside neighborhoods.
Our Neighborhood Program supports neighborhood-scale planning efforts and project implementation in each supervisorial district.