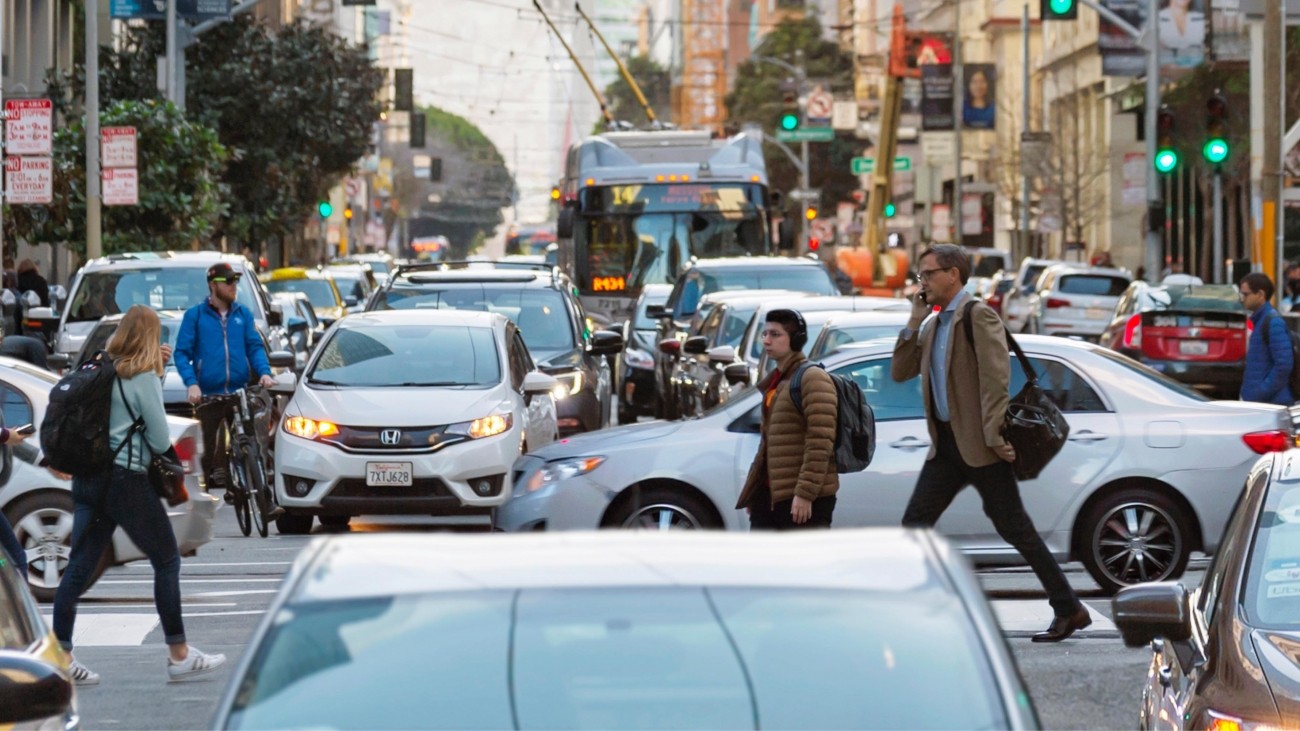 Picture this: It's the year 2024 and San Francisco's economy is rebounding. The pandemic has subsided but gridlock has returned, ensnaring drivers and buses in bumper-to-bumper traffic. Though the congestion affects everyone, low-income communities and communities of color are impacted the most because they are more likely to take the bus, live in areas with higher rates of traffic collisions and polluted air, and spend more of their income on transportation. 
Flash back to 2020 and the San Francisco County Transportation Authority is investigating how charging a fee to drive downtown during busy hours could help prevent this unwanted and inequitable future. Used to keep traffic moving in cities like London and Stockholm, congestion pricing could increase safety, clean the air, and advance equity in San Francisco. 
But what should the policy look like? What should the fee be? Should certain groups receive discounts or exemptions? Where should the revenue go? 
Here's how you can get involved: 
Play Unclog Fog City 
Play a digital game that lets you design your own congestion pricing program.
Watch a Video
Project manager Colin Dentel-Post gives a study overview in this 15-minute video.
Participate in an Upcoming Event
Join us August 26th for a town hall with Manny's or September 1st for a workshop with SPUR and the SF Bicycle Coalition. 
Complete a Text Survey
For English: Text TRAFFIC  to 415-449-4214
For Spanish: Text TRAFICO  to 415-449-4214 
For Chinese: Text 交通  to 415-449-4214
For Filipino: Text TRAPIK  to 415-449-4214
Get a Virtual Presentation
Sign up to have our project team present to your community group.
Visit the Study Webpage 
Visit the Downtown Congestion Pricing Study webpage to learn more about the study and sign up to receive email updates.
Share with your Friends
Share these opportunities to get involved on Twitter, Facebook, and LinkedIn.
Contact Us
You can contact the project team at congestion-pricing@sfcta.org 
About the Study
The pandemic led to congestion largely disappearing in spring 2020 — but we are already starting to see it increase again. The future is uncertain, but San Francisco has been resilient in the past and without intervention we expect to see a return of congestion and its negative impacts. The work we do now can help us plan and prepare for the recovery. 
The Transportation Authority is exploring how a fee to drive downtown during busy hours — a strategy called congestion pricing — could get traffic moving and achieve goals around street safety, clean air and equity when the economy recovers.
The Downtown Congestion Pricing Study is focusing on involvement from historically underinvested communities with guidance from a Policy Advisory Committee comprised of neighborhood, business, advocacy, and community representatives. 
Goals of a Congestion Pricing Program for San Francisco
To significantly reduce congestion, we estimate a congestion pricing program would need to reduce downtown car trips during rush hour by at least 15% from 2019 levels. This could help achieve four key goals: 
Get traffic moving so people and goods get where they need to go 
Increase safety for people walking, biking, and driving 
Clean the air to support public health and fight climate change
Advance equity by improving health and transportation for historically underinvested communities
The best practice is to combine the congestion fee with discounts, subsidies, and incentives to make the system fair and encourage the use of sustainable transportation modes like transit, walking, and biking. Income-based discounts and exemptions could protect low-income travelers, maintaining or even reducing their transportation costs.
Revenue from the program would be reinvested into safer streets and better transit, particularly for low-income communities and communities of color.
Study Findings To Date
The congestion pricing zone under consideration is in northeastern San Francisco, including the Downtown and SoMa neighborhoods.
The study team has conducted analysis to understand what scenarios will meet our goals. One of the best-performing options defined so far would include a fee exemption for very low-income drivers, a 50% discount for low-income drivers, and a fee of $10-$12 to drive into the congestion pricing zone during rush hours. Under this scenario, vehicles would not be charged when drivers exit the congestion pricing zone. This option would include a 20-25% increase in bus service to downtown.
The study team continues to look at other options that include a lower fee that would apply both when entering and leaving the congestion pricing zone as well as further discounts, such as for people with disabilities, zone residents, bridge toll payers, and a daily fee cap. Public input will continue to help shape those other scenarios.
What's Next
Based on outreach and technical work, staff will identify options that meet the goals for a congestion pricing program. The study team will share these tradeoffs in congestion pricing program design with the public in fall / winter 2020.
A study recommendation is scheduled to be presented to the Transportation Authority Board in spring 2021. Once this study is complete, it would take at least two more years before any congestion pricing program could be implemented. 
Additional work would include securing local and state legislative approval, completing policy and system design and additional community outreach, and program funding and implementation plans.
Visit the study webpage to learn more.