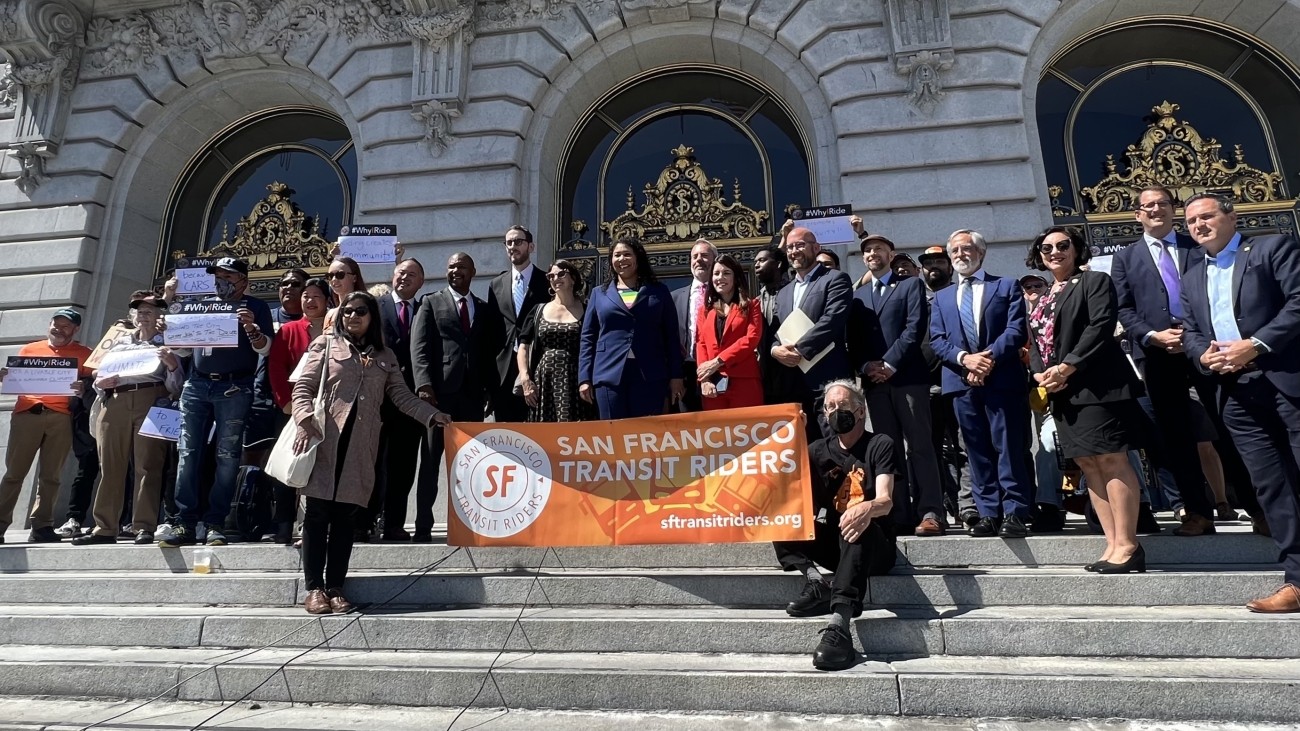 Transportation Authority Chair Rafael Mandelman and board members joined San Francisco Transit Riders, State Senator Scott Wiener, and Assemblymember Phil Ting at the kick-off rally in September to celebrate the start of Transit Month.
Transportation Authority staff spoke at various events and the agency sponsored various program activities that took place in San Francisco and throughout the region, including on the following topics:
Travel Demand Management and Climate Action Planning in the Region
Rachel Hiatt, Deputy Director for Planning, joined Stanford Director of Policy and Travel Demand Management Jessica Alba, speakers from California Air Resources Board, and SF Environment to discuss Travel Demand Management measures. TDM refers to promoting and incentivizing travelers to choose sustainable and efficient mobility options like transit, carpooling, cycling, and walking. The Transportation Authority is undertaking market analysis to better understand post-pandemic travel patterns in San Francisco.
Deputy Director Hiatt spoke about the role of TDM in our San Francisco Transportation Plan 2050 long-range transportation blueprint as a cost-effective method to meet climate, access, and equity goals, and identifying next-generation TDM efforts with Bay Area partners in a landscape where travel choices are less predictable and increasingly varied. 
Driverless Autonomous Vehicle Experience in San Francisco
At the On-Demand Transit and Autonomous Shared Mobility Policymaking session, Jean Paul Velez, Principal Transportation Planner, Technology Policy, addressed the driverless autonomous vehicle experience in San Francisco and the principles for emerging mobility services and technologies which include:
Equity
Economic Vitality 
Environmental sustainability
Safety and liability
Accountability and engagement
He described the autonomous vehicle regulatory framework at the federal, state and local levels:
Federal
 The National Highway Traffic Safety Administration - Focuses on vehicle equipment and establishes vehicle safety standards 
State 
Department of Motor Vehicles - Permits drivers and vehicles to operate on state roadways
California Public Utilities Commission - Permits commercial passenger services
Local
The Transportation Authority and SFMTA - Do not have specific authority over AVs
He also spoke about the Treasure Island AV shuttle pilot, the "Loop," one of California's first demonstrations of AV shuttles operating entirely on public roads. The Loop is a free autonomous shuttle that operates daily from 9 a.m. to 6 p.m. on a fixed route and has an attendant on the vehicle at all times. 
On October 13, we also celebrated the Rider First Awards to close out Transit Month to honor transit super-riders and people who have gone above and beyond to improve the transit experience. Keep riding everyone!
The Treasure Island Mobility Management Agency is preparing to pilot an autonomous shuttle service on Treasure Island to better understand how such a service could meet the needs of people traveling around the neighborhood.
Updated every four years, the San Francisco Transportation Plan is the blueprint for the city's transportation system development and investment over the next 30 years.