Overview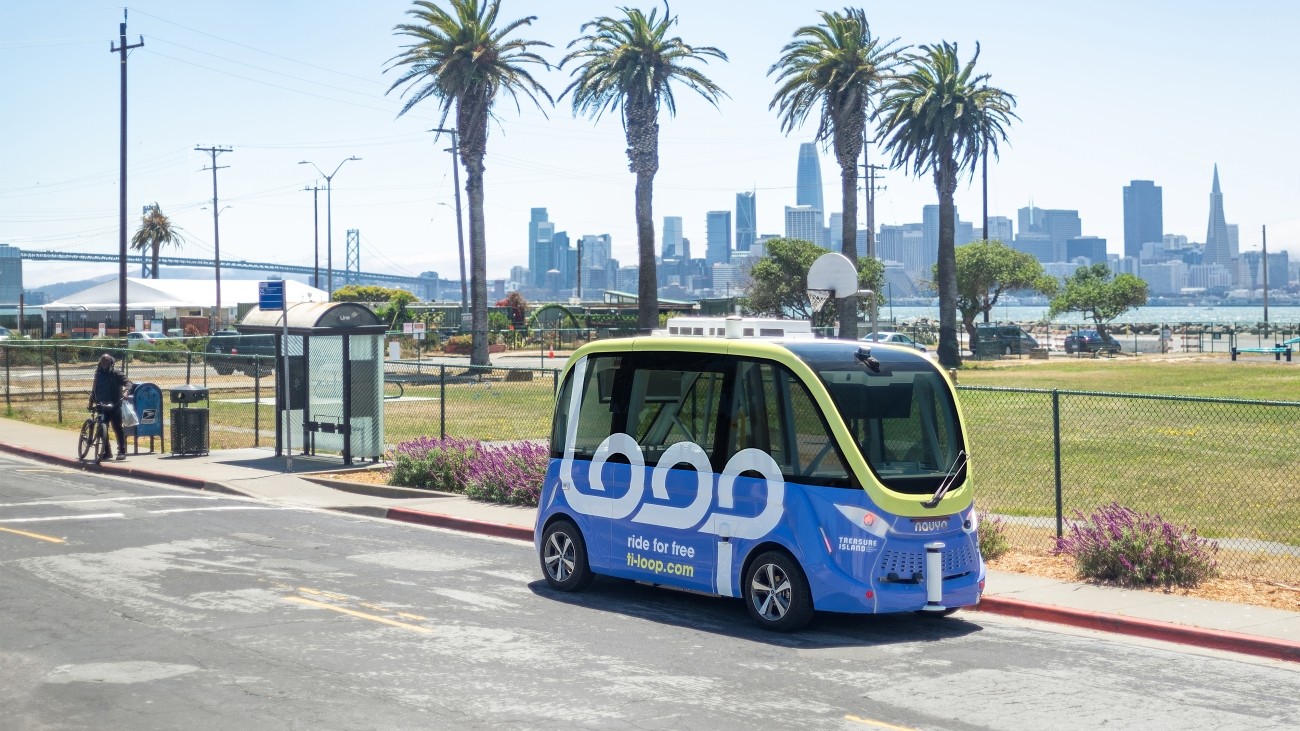 Overview
The Treasure Island Mobility Management Agency is preparing to pilot an autonomous shuttle service on Treasure Island to better understand how such a service could meet the needs of people traveling around the neighborhood and to provide the community with opportunities to learn about driverless technology. (An autonomous vehicle—also known as a self-driving vehicle, driver-less vehicle, or robotic vehicle—can drive itself with little or no human involvement. Learn more about autonomous vehicle technology.) 
The fully electric autonomous shuttle - called the Loop - will be among the first demonstrations of AV shuttles transporting members of the public on public roadways in California, and will operate for nine months along a fixed route on Treasure Island. The rides will complement Muni's 25-Treasure Island line, be free to the public, and will have an attendant on the vehicle at all times. 
There will be ongoing efforts to engage with the community to collect feedback on the pilot. We will also work to establish partnerships to support local workforce, labor, and businesses throughout the pilot period. 
Learn more about riding the Loop shuttle.
Goals
The goals of the autonomous shuttle pilot are:
Safety: Understand the public safety implications of an AV shuttle.
Mobility: Understand if/how AV shuttle technology can support mobility on Treasure Island. 
Operations: Understand organizational and infrastructure needs to operate an AV shuttle.
Research: Gather insights from the public and AV technology during pilot and share lessons learned. 
Schedule
Fall 2022

Select autonomous shuttle operator

June-August 2023

On-street vehicle testing (with no passengers)
Throughout: Community outreach and engagement
Funding  
This pilot is funded by grants for new mobility technology and community partnerships from the Federal Highway Administration, Metropolitan Transportation Commission and Transportation Authority's half-cent transportation sales tax program.
Partners
SFMTA
Treasure Island Development Authority
Contact
Public engagement
Public Outreach
October 25, 2022 Virtual Town Hall for the Treasure Island Autonomous Shuttle Pilot
During the Virtual Town Hall on October 25, 2022 we discussed how the Transportation Authority is preparing to pilot an autonomous shuttle service on Treasure Island to better understand how such a service could meet the needs of people traveling around the neighborhood and to provide the community with opportunities to learn about driverless technology.
25 de octubre de 2022 reunión virtual para el Piloto de Transbordador Autónomo de Treasure Island
Durante la reunión virtual del 25 de octubre de 2022, discutimos cómo la Autoridad de Transporte se está preparando para poner a prueba un servicio de transporte autónomo en Treasure Island para comprender mejor cómo dicho servicio podría satisfacer las necesidades de las personas que viajan por el vecindario y brindar oportunidades a la comunidad. para aprender sobre la tecnología sin conductor. 
2022 年 10 月 25 日 金银岛自动穿梭机测试的虚拟市政厅
在 2022 年 10 月 25 日的虚拟市政厅期间,我们讨论了交通管理局如何准备在金银岛测试自动班车服务,以更好地了解这种服务如何满足在附近旅行的人们的需求,并为社区提供 学习无人驾驶技术的机会。
Get email updates on this project
The Treasure Island Transportation Program will address the island's growing transportation needs with a goal to have at least 50 percent of trips made by transit instead of private vehicles.