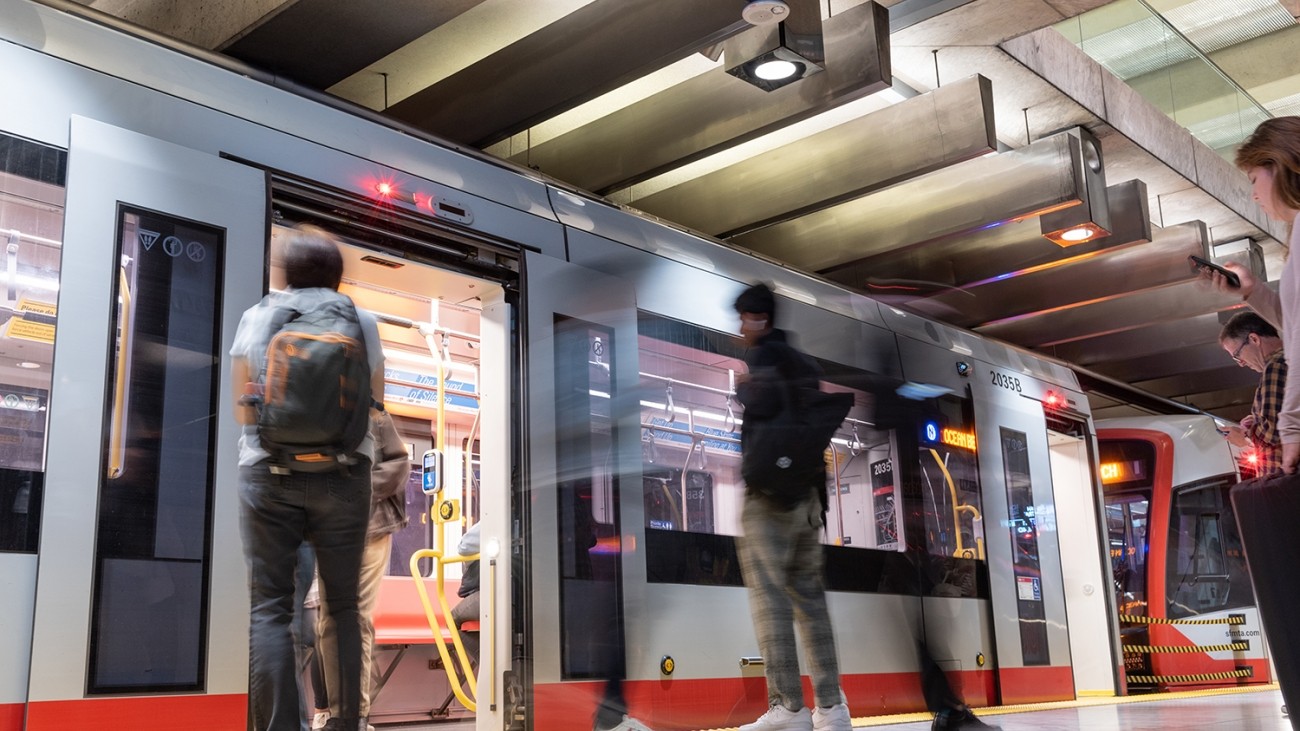 Transit agencies are ramping up service as businesses and activities reopen—along with some discounts to encourage travelers to get back on transit. Here's what to know about your transit options and please remember to keep your masks on while riding public transportation.
Muni Metro Subway Stations Reopened on May 15
Muni welcomed riders back to all its Muni Metro subway stations on May 15, with the return of rail service on the N Judah and KT Ingleside-Third routes. SFMTA will also be relaunching the F Market and Wharves historic streetcar line and has rolled out a new route, the 36/52 Special, to serve the hilltop neighborhoods of Forest Hill, Miraloma, and Sunnyside. SFMTA Director of Transportation Julie Kirschbaum also shared other planned service changes and increases at the May 25 Transportation Authority board meeting (view the presentation slide deck (PDF) and video (starts at 1:05:58).
Note that not all Muni Metro lines will operate. The J Church will remain a surface-only route from Balboa Park to Church and Market streets. For subway service, customers may transfer at Market Street to any train downtown, or the KT outbound, at the Church Street Station. The L Taraval and M Ocean View buses will continue to operate in lieu of rail service.
Muni riders will experience smoother service and improved reliability, with crucial maintenance work completed, WiFi in stations, and cellular antennas in the tunnels. Director Kirschbaum also noted that Muni continues to training and hire operators, supervisors and maintenance crews to support service restoration plans, and that social distancing requirements will be lifted on June 15 with the state's re-opening plans, which will help add back bus passenger carrying capacity. 
TODAY | @sfmta_muni reopens all subway Muni transits. Street cars are also now back and running starting this morning @KTVU pic.twitter.com/x40UK2Mntn

— James Torrez (@JamesTorrezNews) May 15, 2021
Learn more about Muni subway reopenings and service updates on SFMTA's website. 
Caltrain Offering Discounted Monthly Pass
Caltrain is offering 20% off the Caltrain Monthly Pass until September. A monthly pass provides unlimited rides between a rider's selected zones on weekdays, and allows the passholder to ride any distance on weekends and holidays.
Monthly passes are only available through Clipper, allowing for touchless payments, while also providing additional discounts for transfers to or from other transit systems, including VTA, SamTrans, SFMTA and Dumbarton Express.
Learn more on Caltrain's website.
SF Bay Ferry to Offer Temporary Lower Fares and Enhanced Schedules in July
The San Francisco Bay Ferry will be phasing in increased ferry service on most routes beginning in July and will be offering lower fares from July 1, 2021 until June 30, 2022. 
The WETA Board of Directors just unanimously approved lower ferry fares and more flexible schedules beginning in July.

This is not a joke. This is not a prank. Lower fares, more service, let's go! 🎉

— San Francisco Bay Ferry (@SFBayFerry) April 1, 2021
Learn more on the San Francisco Bay Ferry website. 
BART to Offer Fare Discounts and Increased Service Frequency in September
BART will return to near pre-pandemic service levels and hours in September. Wait times for trains will be reduced, with train frequency picking back up to every 15 minutes and service hours will be extended to midnight.
A special discount will be offered for the entire month of September, with 50% off all fares on Clipper. The discount will apply to already discounted Clipper cards such as Youth, Senior, Regional Transportation Connection, Clipper Start, and the Gator Pass.
BART will also be hiring dozens more cleaners to clean train cars, seats, restrooms, and stations more often to ensure trains are deep cleaned and disinfected. Additionally, trains will be equipped with upgraded air filters to improve circulation this summer.
Learn more on BART's website. 
SF Environment Emergency Ride Home 
If you walk, bike, take transit, carpool or take bikeshare, scooter share, or a shared moped to work in San Francisco, you're eligible for a free, guaranteed ride home (up to $150) via official taxi or public transit in case of an emergency.  
The Transportation Authority supports this program with funding from Transportation Fund for Clean Air. 
We're here to provide you a FREE RIDE in unexpected times! If you walk, bike, carpool, or take transit to work, San Francisco will guarantee your free taxi ride home in case of emergency up to $150. RT to spread the word!https://t.co/4OEyrM5d5E

— SF Environment ♻️💚 (@SFEnvironment) March 14, 2020
Learn more about the program on SF Environment's website. 
SFMTA Essential Trip Card for Seniors and People with Disabilities
The Essential Trip Card is available to help seniors and people with disabilities get around by taxi to take essential trips like going to the grocery store, pharmacy, or a necessary medical trip during the shelter-in-place period. The program subsidizes two to three round trips by taxi per month for seniors and people with disabilities. Eligible participants will pay 20% of the cost of a regular taxi fare for essential trips. For example, customers who pay $12 will receive $60 value for taxi trips on a debit card. 
To help seniors and people with disabilities get to COVID-19 vaccine appointments, an additional one-time $60 allotment is available to help pay for taxi trips to and from the vaccine appointments.
The Transportation Authority supports this program with funding from San Francisco's half-cent sales tax for transportation. 
Learn more on SFMTA's website. 
MTC SHIFT Partnership Program for Major Employers
To help major employers manage their employees' return to the workplace and improve peak-period traffic flows, the Metropolitan Transportation Commission announced a second round of its MTC SHIFT partnership program.
MTC will fund up to $900,000 in grants to help equip employers with software to manage commute-benefit incentives, parking-management strategies, carpool and vanpool programs, and other congestion-relief tools. The deadline to apply for MTC SHIFT funding is July 15. 
Large employers interested in learning more can contact Edward Phillips, Contracts Specialist, of the MTC staff at ephillips@bayareametro.gov. 
Learn more about the SHIFT Partnership Program on MTC's website.