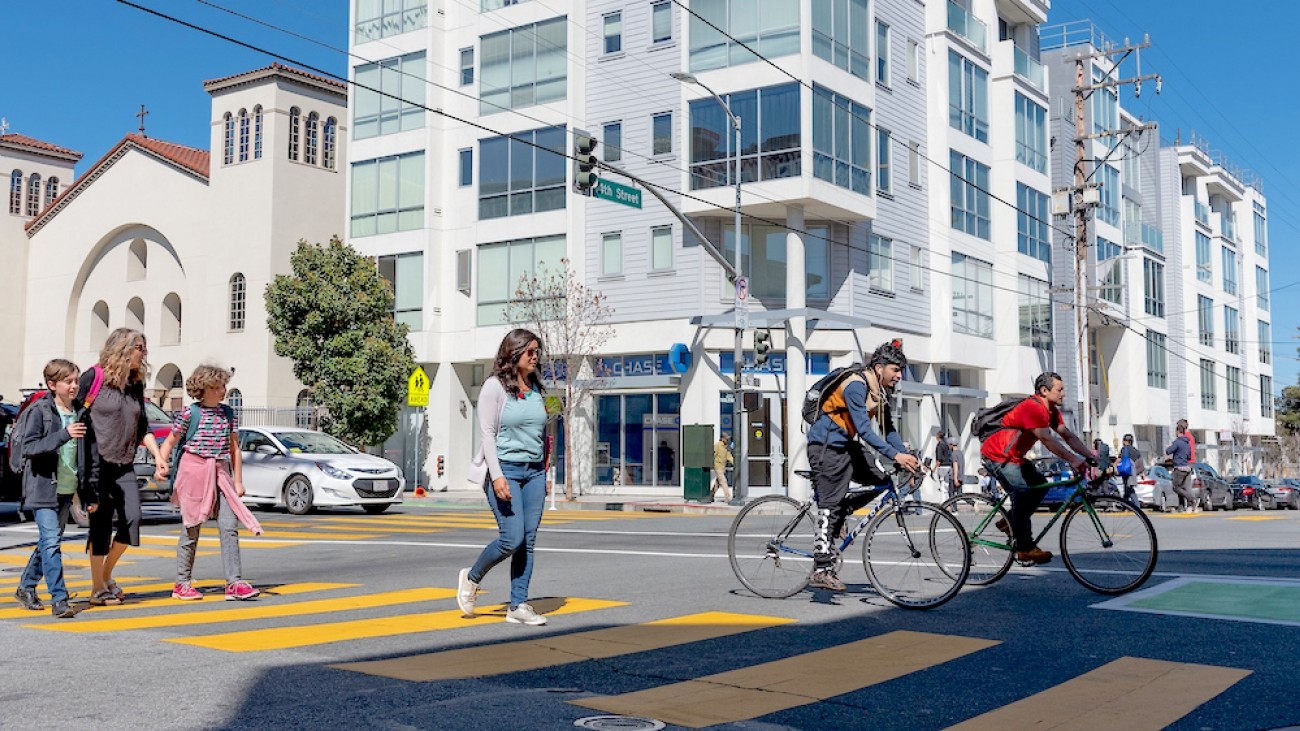 Transportation Authority Vision Zero Chair and District 7 Supervisor Norman Yee today introduced a Vision Zero resolution to expedite safer streets in San Francisco. Commissioner Yee's resolution calls for expediting street safety projects and designing street improvements that prioritize traffic safety over traffic flow and parking.
"This is a crisis and we must do everything in our power to stop these injuries and fatalities, which are 100% preventable," said Commissioner Yee, who also chairs the Transportation Authority Vision Zero Committee.
Vision Zero is San Francisco's road safety policy to eliminate all traffic-related deaths by 2024 through education, enforcement, and road infrastructure redesign. Thirteen pedestrians and bicyclists have died on San Francisco streets this year.
Tom Maguire, Director of Sustainable Streets at SFMTA, said the agency is looking to quickly build projects in San Francisco's Vision Zero High Injury Network, which represents the 13% of streets where more than 75% of severe and fatal traffic injuries occur.
Maguire presented a list of 10 projects on the agency's priority list:
Howard Street between 3rd and 6th (complete)
Townsend Street between 3rd and 8th
6th Street between Market and Folsom
5th Street between Market and Townsend
Brannan Street between the Embarcadero and 9th 
Taylor Street between Market and Sutter
Alemany Boulevard near Bayshore
California Street between Arguello and 18th
Indiana Street between 24th and Cesar Chavez
Terry Francois Boulevard between Mariposa and Mission Bay Boulevard
Commissioner Yee's resolution states that local agencies responsible for implementing street safety projects including the SFMTA should expedite project delivery on the Vision Zero High Injury Network through:
Efficient planning, design, and piloting implementation of project concepts to support timely completion of safety improvements
Robust and timely community outreach and engagement, as part of the planning, design, and piloting processes
Streamlined project approval processes as necessary (e.g., Transportation Code amendments or other modifications to the legislative process)
Identifying necessary resources for staffing and funding
The Transportation Authority will work with the SFMTA to identify funding, as necessary, to ensure that resources for expedited project delivery are available. Our board recently prioritized five years of funding for street safety improvements and we will continue to dedicate funds from sources like the Prop K transportation sales tax and Prop AA vehicle registration fee. 
The Transportation Authority Board unanimously passed the vision zero resolution at its first reading today, and will vote on final approval at its next meeting.
Resources 
Vision Zero Resolution, Transportation Authority Board, May 14, 2019 (PDF)
Watch the board meeting item (starts at 33:50)
Press release: Mayor London Breed Announces Expansion of Bike Lanes and Increased Enforcement to Protect Bicyclist Safety
San Francisco has vowed to eliminate all traffic-related deaths by 2024 through education, enforcement, and road infrastructure redesign.
San Francisco's voter-approved Transit-First Policy states that decisions regarding the use of our public streets and sidewalks shall prioritize public rights of way for pedestrians, bicyclists, and public transit.