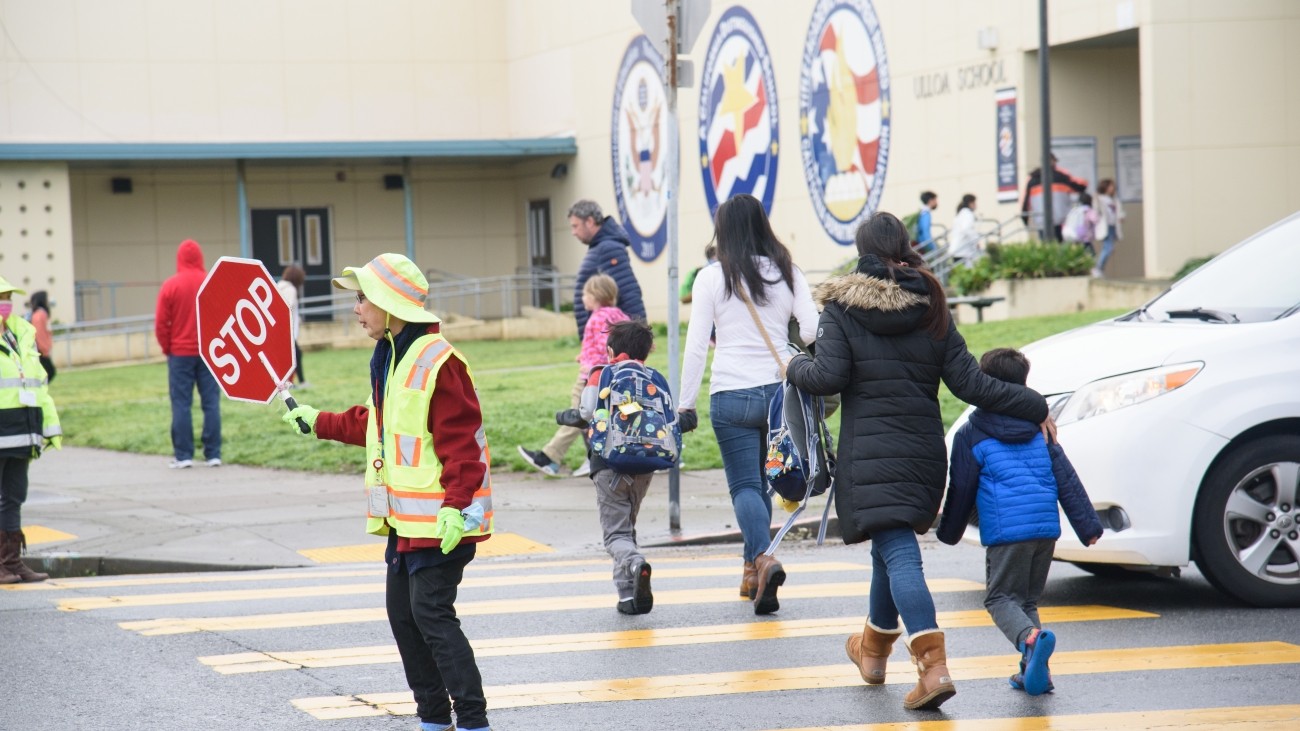 During the May 23 Transportation Authority Board meeting, the Transportation Authority Board approved the School Access Plan final report. 
The School Access Plan was requested by former District 4 Transportation Authority Board Member Gordon Mar to explore ways to improve transportation options for kindergarten to fifth-grade youth and their caregivers. The School Access Plan recommends strategies and policies which San Francisco city agencies and SFUSD can implement to support safe, convenient, and sustainable transportation, particularly for students from Equity Priority Communities. 
The School Access Plan complements San Francisco's existing Safe Routes to Schools programming by focusing on youth who must take long school trips beyond easy biking or walking distance. 
Through a review of school commute data, existing transportation programs, peer city experiences, and community outreach, the School Access Plan recommends six core strategies to improve the safety, availability, and sustainability of school transportation for K-5 youth and their caregivers. Community outreach included focus groups and workshops with caregivers in multiple languages, virtual town halls, and pop-up events. 
The six core strategies include: 
Infrastructure Safety. San Francisco should expand investments in safe transportation infrastructure at school sites by expanding SFMTA's existing School Walk Audit program.
Transit Trainings. SFMTA, together with SFUSD, should conduct hands-on transit trainings for K–5 youth to familiarize students with the process of taking transit and how to do so safely.
Loading Zone Guidance. Pickup and drop-off management plans are currently developed and implemented by individual school sites. The SFMTA should develop, or update as necessary, guidance for school administrators about best practices for loading zone management and informational materials for caregivers about expected behaviors and norms.
Transportation Coordinators. SFUSD, SFMTA, and the Department of Children, Youth, and their Families should consider identifying individuals who can help caregivers navigate available transportation options. SFMTA should work with SFUSD to ensure counselors are aware of transportation resources. At the school site, SFUSD and DCYF should consider piloting a transportation coordinator role through staff at one of San Francisco's Beacon schools.
Discounted Fare Program Awareness. SFUSD and SFMTA should coordinate to ensure that caregivers enrolling students in school receive information about SFMTA's existing Lifeline Pass1 for discounted Muni service.
Shuttles — Yellow School Buses and Non-Profit Solutions: San Francisco's city and county transportation agencies should look for opportunities to support SFUSD's existing yellow school bus program. The Department of Children, Youth, and their Families should consider including transportation programs in their standard grantmaking cycle to ensure equitable access and safe passage for youth attending afterschool programs.
The School Access Plan also identified strategies specific to youth in foster care and homeless youth who can experience unique transportation challenges. An implementation plan, funding strategy, and key next steps are identified for each strategy. The Plan also recommends a set of policy changes for San Francisco and regional agencies which would build capacity for youth-focused transportation planning and align ongoing planning and programming efforts to Plan findings. 
The Transportation Authority is creating a School Access Plan for San Francisco to recommend transportation solutions for K-5 students and their families.