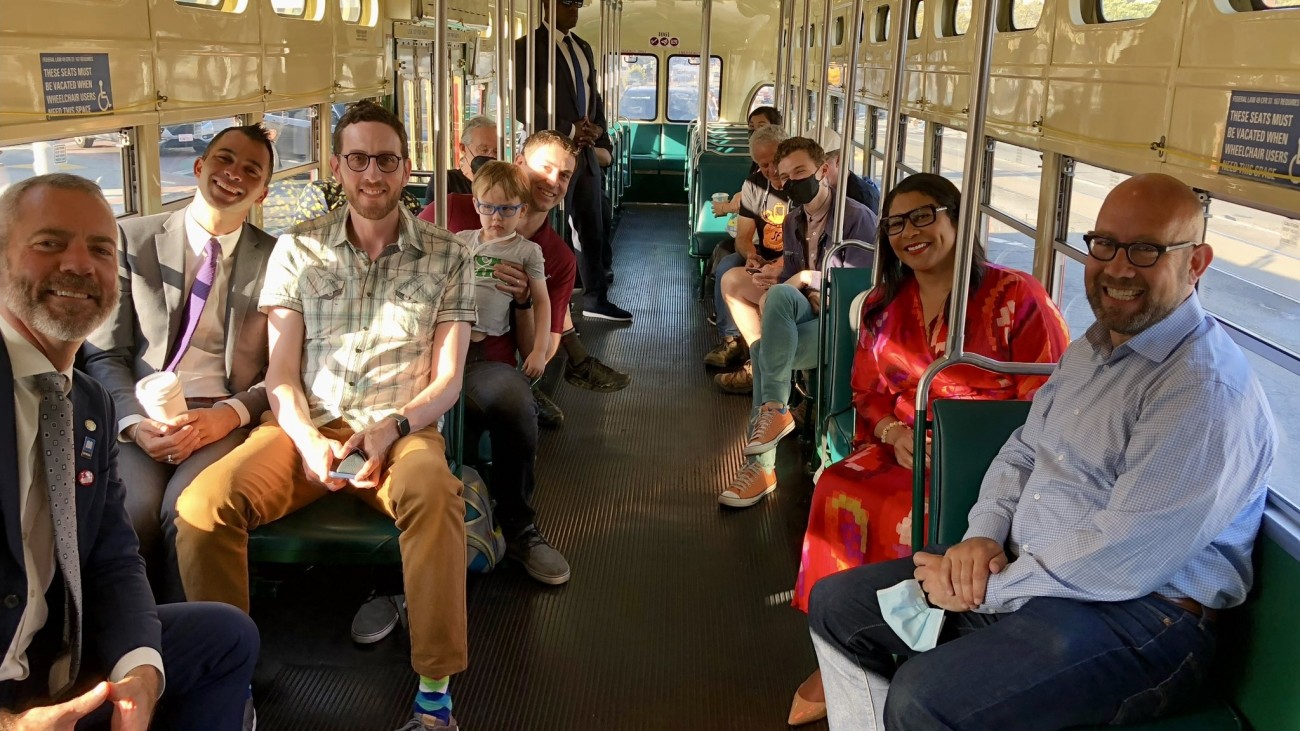 On September 7, we joined Transportation Authority Board Chair Rafael Mandelman, Mayor London Breed, city officials, San Francisco Transit Rider members, and the community to kick off Transit Month with Ride Alongs and a Rally at City Hall.
The event began at Muni stops around San Francisco where city officials and transit enthusiasts rode together to City Hall to celebrate transit. Speakers addressed the current state of transportation, including transit equity and affordability, and thanked our transit operators for keeping our buses and subways moving.
City leaders also spoke about the progress made this year on several transit priorities, including free Muni for youth, restoring Muni lines shut during the pandemic, and transit only lanes. The opening of Van Ness Bus Rapid Transit in April marks the first ever center-lane bus corridor in San Francisco. The Transportation Authority helped lay the groundwork for this major corridor transformation by providing nearly $45 million to support every phase of the project – from planning and environmental review, to design and construction. 
We also celebrated the future of train travel later in the month on September 24 as Caltrain unveiled its first electric trains to transit leaders, employees and the media at San Francisco's 4th and King Street Caltrain Station. Officials noted the importance of Caltrain's Electrification, how clean energy transit contributes to reducing greenhouse gas emissions and improving regional air quality, putting California ahead of the nation in addressing climate change. The project also generates over 33,000 jobs locally and across the country.
John Putnam, general counsel for the Department of Transportation addressed the importance of supporting these kinds of critical processes, adding "This is exactly the kind of transit the Department is seeking." 
In addition to transforming the way people travel between San Francisco and the South Bay with faster, quieter, greener and more efficient service, Caltrain Electrification is pivotal to providing equitable transit access for all communities and essential workers along the Peninsula. 
Multiple partners were involved in making these electric trains possible, including transportation agencies, elected officials, businesses as well as transit and environmental advocates. The Transportation Authority has contributed $41 million to support Caltrain electrification from San Francisco's half-cent sales tax for transportation and the One Bay Area Grant program. As California State Assemblymember Kevin Mullin  stated,  "Transportation is the team sport." 
Other Transit Month events have included forums discussing the challenges, plans and policies around the Bay Area's transportation projects, community bike rides, museum tours, and ferry pub crawls. 

Join the Transit Month culminating event at the Rider First Awards Ceremony on October 7. San Francisco Transit Riders, Seamless Bay Area and TWU Local 250a will close out Transit Month by celebrating some of the people who have gone above and beyond to improve transit in the past year. We'll honor bus operators, transit planners, and advocates alike who help us build a more equitable, growing and accessible public transit system and culture for all. Register here!
 
The Caltrain Electrification project will bring fully electrified service to Caltrain.