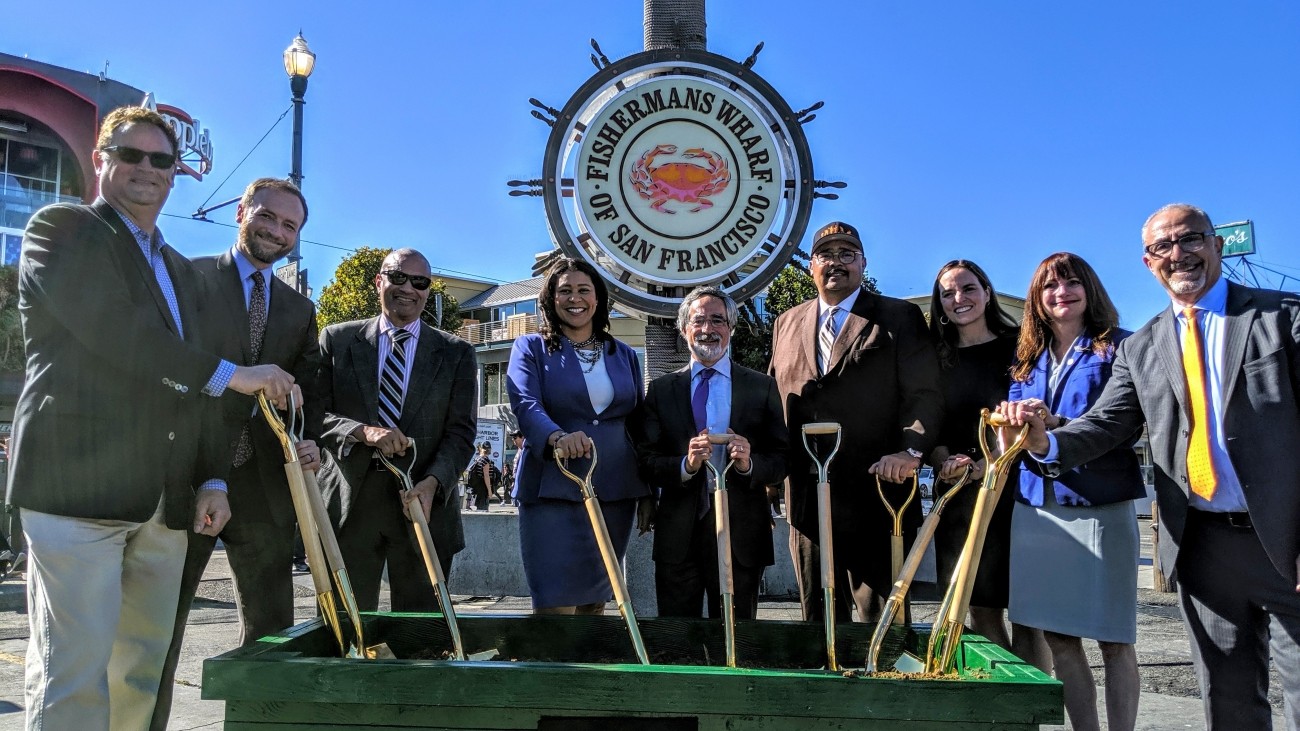 This week we joined Mayor Breed, our board chair and District 3 Supervisor Aaron Peskin, community members, and local agencies to celebrate transportation improvements coming to Jefferson Street between Jones and Powell in Fisherman's Wharf. 
Project Highlights
Street narrowing combined with geometric pattern pavement to help reduce motor vehicle speed
Widened sidewalks with new street trees and plants
Pedestrian scale lighting for added safety during the nighttime
Enhanced sidewalks with new pattern paving and railings
Furnishings such as seating and bike racks
Construction of the project is managed by SF Public Works and is anticipated to be completed by fall 2020.
The Jefferson Streetscape Improvement Project aims to improve the vibrancy and travel within Fisherman's Wharf, one of the most visited destinations in the city. More than 18 million visitors came to the Wharf last year, many by foot, transit, walking, and biking. Construction of the first phase of this project, two blocks from Hyde Street to Jones Street, was completed in June 2013.
We are proud to support this project with over $1 million in funding from San Francisco's half-cent sales tax for transportation. This includes $200,000 in funding from our Neighborhood Program.
Today, under sunny blue skies, we held a ceremonial groundbreaking for Phase 2 of the Jefferson Streetscape Improvements Project in Fisherman's Wharf, which will create a safer and more inviting corridor in this popular neighborhood. Learn more: https://t.co/RBfRVWAgO9 pic.twitter.com/9lSeCHzRf7

— SF Public Works (@sfpublicworks) October 21, 2019
Resources 
SF Public Works project webpage