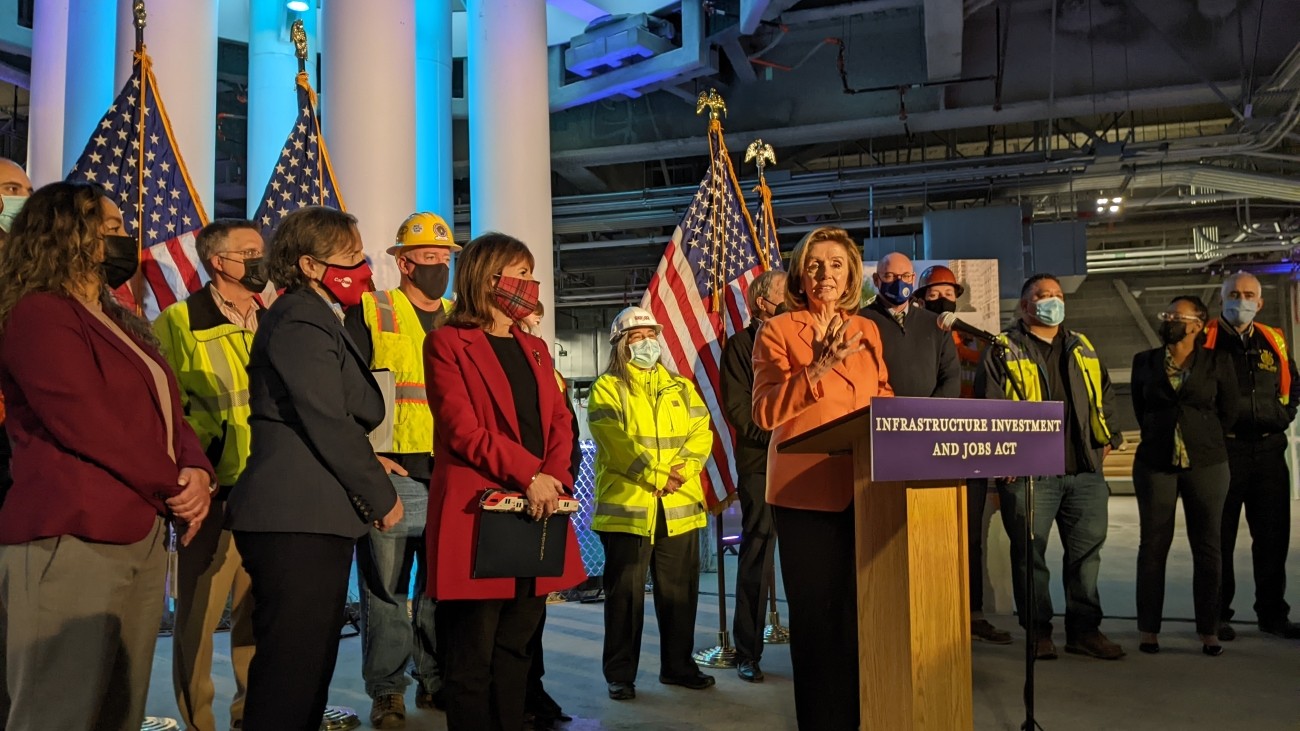 The Transportation Authority joined House Speaker Nancy Pelosi, Representatives Jackie Speier and Mark DeSaulnier as well as transit and labor leaders from the Bay Area to celebrate the passage of the historic Bipartisan Infrastructure Law, also known as the Infrastructure Investment and Jobs Act during a press event at Salesforce Transit Center on December 11. Transportation Authority Board Chair Rafael Mandelman (District 8), Transportation Authority Board Member Myrna Melgar (District 7), and Transportation Authority Director Tilly Chang participated in the event which included officials from host Transbay Joint Powers Authority, BART, Caltrain, California High-Speed Rail Authority, and SF Building and Construction Trades.
Speaker Pelosi spoke about how the Bipartisan Infrastructure Law, signed by President Biden last November, will benefit our region and nation. All speakers underscored the importance of this bill in maintaining and enhancing our transportation infrastructure and in particular increasing the opportunity to increase the connectivity and performance of the region's rail transit systems. Many also noted the creation of well-paying jobs, locally and nationally, that results from making these major investments.  
The event took place in the trainbox of Salesforce Transit Center, facilities that were constructed with $400 million in prior American Recovery and Reinvestment Act federal funding that Speaker Pelosi helped secure during the Obama Administration. With the TJPA's planned Downtown Rail Extension, this rail terminus will receive future electrified Caltrain and California High-Speed Rail service, connecting rail passengers with 11 regional and local bus transit services. This investment expands housing and job accessibility across the state and mega-region and potentially sets up the western approach to the standard-gauge transbay rail component of BART/Capitol Corridor's Link21 program. Speaker Pelosi thanked all of the participants for their work and collaboration on developing other regional rail investments across the region and expressed her belief that this work would boost economic recovery, equitable access, and environmental protection in the coming years. 
The Bipartisan Infrastructure Law includes $23 billion over five years for the U.S. Department of Transportation's New Starts Capital Investment Grants program. The Transbay Joint Powers Authority, which operates the Salesforce Transit Center, announced the Downtown Rail Extension was granted entry into the project development phase of the CIG program. The acceptance of DTX into the CIG program marks a major milestone which will set the project up to apply for federal funds in 2023 with potential completion of the project by 2032. 
Joining Bay Area community @TransitCenterSF to thank @SpeakerPelosi @RepDeSaulnier @RepSpeier Congress + @POTUS for Cares Act relief funds, the historic Bi-partisan Infrastructure Bill and Build Back Better Act, protecting and growing our transit systems for generations to come. pic.twitter.com/IKIQwQEoZs

— San Francisco County Transportation Authority (@sfcta) December 11, 2021
Join @RepSpeier, @RepDeSaulnier, Bay Area public transit and rail leaders and me at the Salesforce Transit Center for an event celebrating the Bipartisan Infrastructure Law, which invests $4.5 billion in Bay Area rail, highway and public transit. https://t.co/zCwRWFtfZ1

— Nancy Pelosi (@SpeakerPelosi) December 11, 2021
Resources
Transbay Joint Powers Authority press release
Here's how the bipartisan infrastructure deal will boost Bay Area transit (SF Chronicle)
The Downtown Extension is a plan to extend Caltrain and future California High-Speed Rail service from 4th and King rail yard to the newly-constructed Salesforce Transit Center.