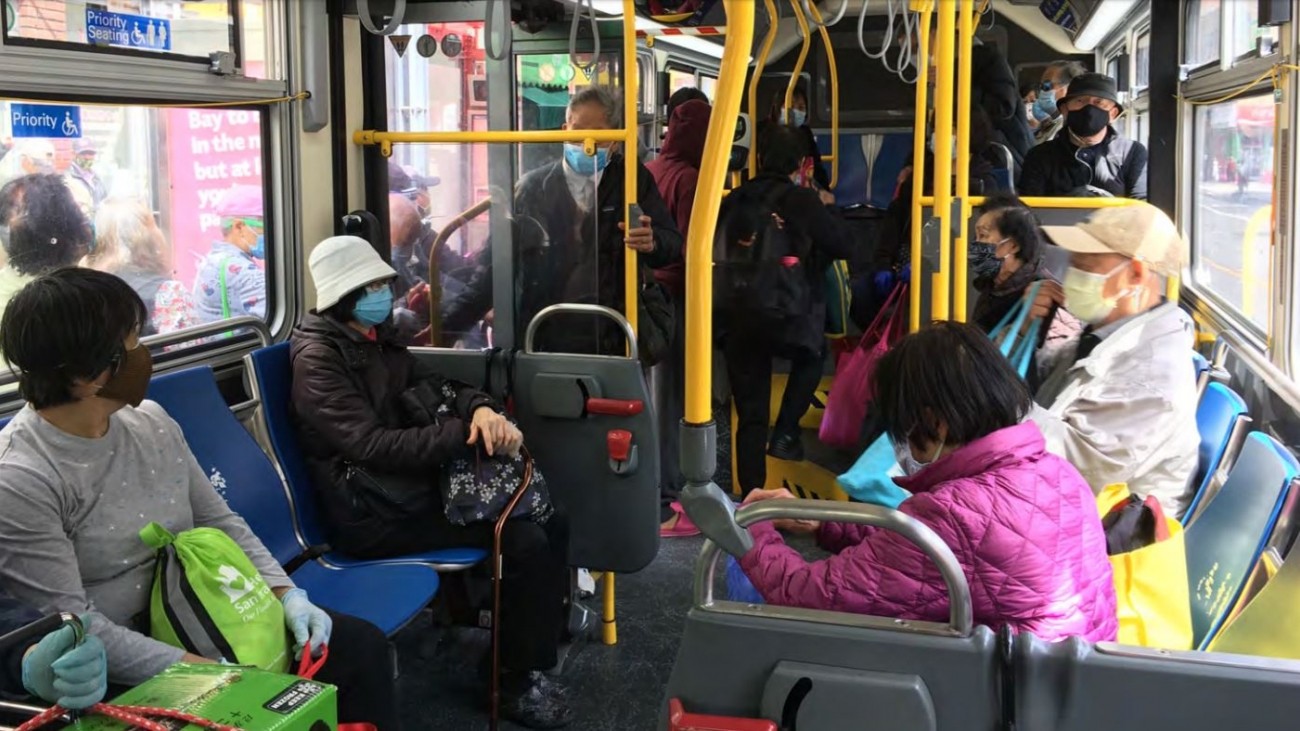 When shelter-in-place began in mid-March, SFMTA implemented various programs to reduce risks for San Franciscans making essential trips using various modes of transit. For example, they launched a COVID-19 Muni Core Service Plan to prioritize available resources where they were most needed when facing staffing shortages as a result of COVID. They also created an Essential Trip Card that provides for up to $60/month in taxi rides for qualified seniors and people with disabilities.
Since then, public health orders have adjusted and more businesses are beginning to open. SFMTA has launched a Transportation Recovery Plan to strategically increase transit service to respond to crowding and public feedback, and they also plan to install permanent and temporary infrastructure to best serve riders given constrained resources and to minimize health risks. This week, SFMTA's Executive Director Jeffrey Tumlin gave an overview of the agency's new Transportation Recovery Plan to the Transportation Authority Board. Watch the presentation here (35:27).
During the presentation, Director Tumlin stated that "The people who have the worst mobility choices are the essential workers who are out there today taking Muni. It's the folks who don't have the option to telecommute and don't have the wealth to buy their way out of their congestion problems that are most impacted. So, we're here today to talk about our transportation recovery plan and how it affects ordinary people."
The Transportation Recovery Plan is SFMTA's blueprint for meeting travel demand with a focus on equity while balancing staffing shortages and budget constraints and providing for operator health and public safety. SFMTA is currently in Level 3A (orange column in recovery plan) which focuses on the expansion of trips to neighborhood commercial corridors and to large institutional employers.
As part of Level 3A (the current phase of the recovery plan), SFMTA is partnering with SF Public Works, SF Planning, and the Office of Economic and Workforce Development on the Shared Spaces program which began accepting applications last week for Shared Streets, permits to use sidewalk, curb or parking lane areas for seating and circulation to support business re-openings. The SFMTA is also working to create temporary emergency transit lanes to help protect customers' health by improving Muni travel times and reducing crowding. Transit lanes allow buses to complete their routes in less time and turn around back into service more quickly, picking up customers more frequently to reduce crowding and provide more space on board to maintain distance. The temporary lanes will automatically be removed 120 days after the emergency order is lifted unless they are otherwise approved through a public process.
SFMTA also seeks to expand and connect Slow Streets and install new bike lanes to increase walking and biking opportunities.
As public health orders and school officials plan for the fall, SFMTA is planning to add back rail service to support those decisions.
Resources