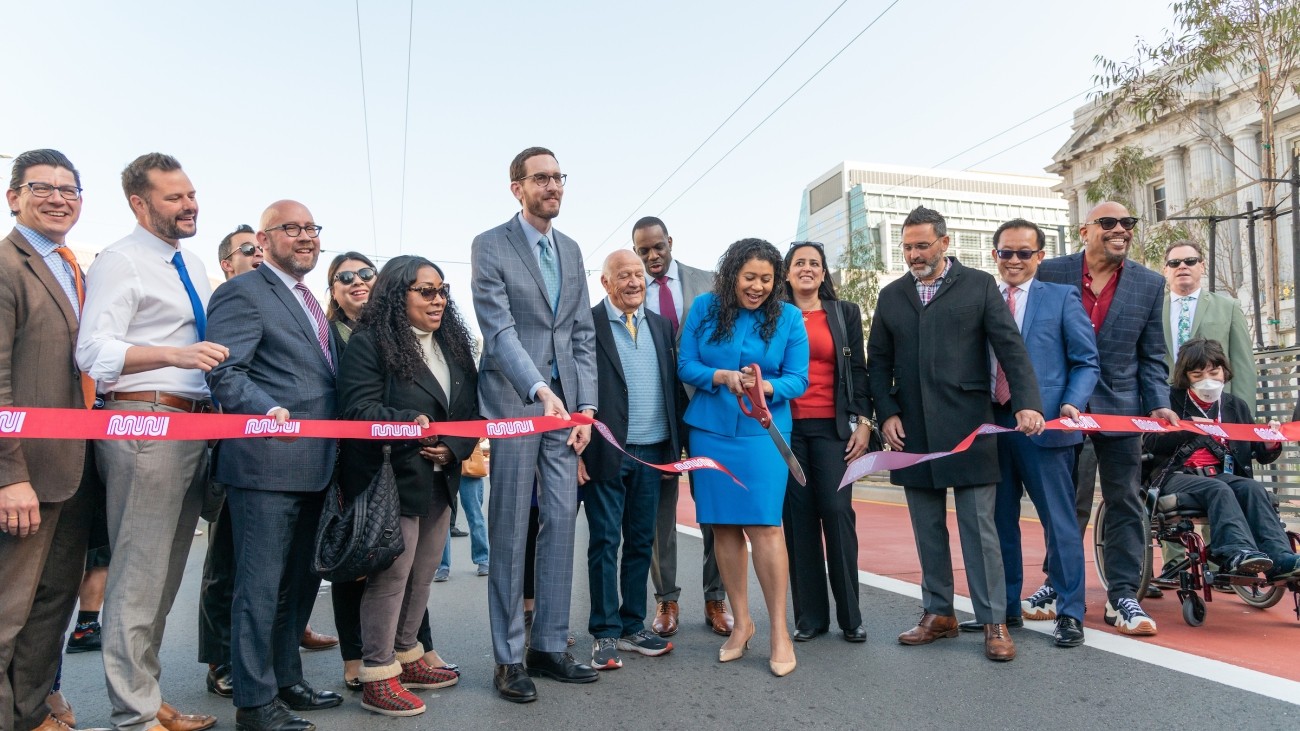 This month we joined Mayor London Breed, Transportation Authority Chair Rafael Mandelman and Board Members, and city, state, and federal officials to celebrate the long-awaited opening of SFMTA's Van Ness Improvement Project. 
The completion of this project marks the first center-lane Bus Rapid Transit corridor in San Francisco. The $346 million project features two miles of red transit-only lanes and transit signal priority to allow Muni and Golden Gate Transit buses to breeze past vehicle traffic along Van Ness Avenue. Passengers can also board buses more easily with new high-quality transit-boarding islands.
The project features many safety enhancements for pedestrians including new sidewalks and corner bulbs, high visibility crosswalks, and audible countdown signals. Boarding platforms are fully equipped with transit shelters and seating, and upgraded displays with bus predictions at key transfer locations. Extensive utility work included sewer and water line replacements, while new traffic lane pavement, signals, street lights, and trees completed the 3D makeover. Travel times on transit are expected to be more reliable and 30% faster.
The Transportation Authority helped lay the groundwork for this major corridor upgrade by leading the planning and environmental review phases of the project, as well as providing nearly $45 million to support every phase of the project – from planning and environmental review, to design and construction work. Other funding partners include the Federal Transit Administration and Caltrans. 
Experience the new Van Ness Avenue Bus Rapid Transit for yourself by riding Muni's 49 Van Ness/Mission line or Golden Gate Transit's 101, 130, and 150 lines.
The Van Ness Improvement Project is bringing San Francisco its first Bus Rapid Transit system.