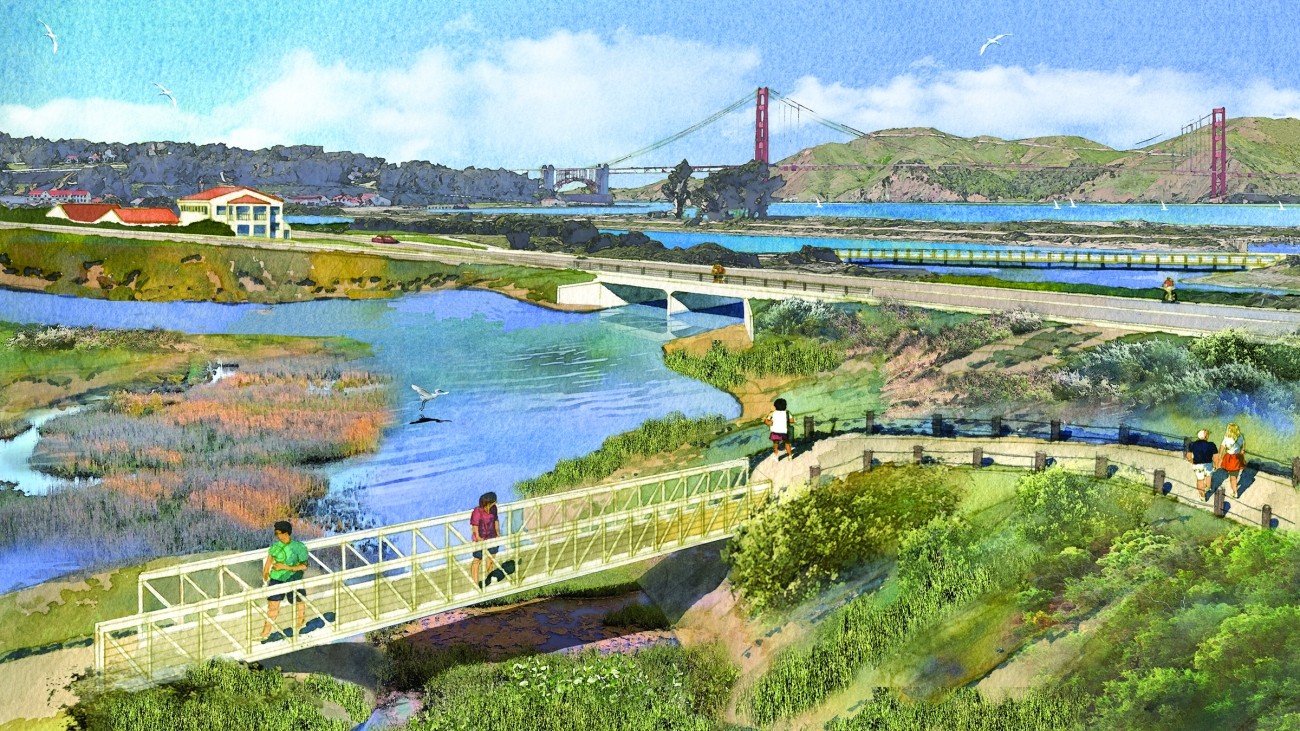 The Presidio's newly restored Quartermaster Reach marshland and trail is now open. The Quartermaster Reach opened in December and is a natural resource that the Presidio Parkway project led by Caltrans and the Transportation Authority helped make possible. A major goal of the Presidio Parkway project was to improve access and enhance pedestrian connections to the Presidio and the Golden Gate National Recreation Area, allowing visitors to experience the park's diverse ecology and trails connecting to Crissy Field.
The Quartermaster Reach marshland was previously divided by Doyle Drive but now flows under the Presidio Parkway into a newly restored wetland ecosystem and recreation area. The Transportation Authority and Caltrans project team were closely involved in the planning, design review, and funding of the project.  
The restoration of the marsh also supports the revitalization of the Tennessee Hollow Watershed, the largest of its kind in Presidio that also flows through the new marshland. The Presidio's project team is currently planting some 23,000 salt marsh and dune plants of more than 40 different species of plants to create a new habitat for migrating shorebirds and water animals. Restoration was sponsored by The Presidio Trust, the National Park Service, and the Golden Gate National Parks Conservancy. 
Visitors can enjoy an up-close experience of nature along an elevated pedestrian bridge and trail that winds through the Quartermaster Reach marsh. The site is named for the U.S. Army's Quartermaster Corps, which operated in the area when the Presidio was a military post. 
 
The Transportation Authority provided $70 million in half-cent transportation sales tax funding, and coordinated other regional, state, and federal funds to replace the aging Doyle Drive with the over $1 billion Presidio Parkway project. The Presidio Parkway opened in 2015 and serves as the regional gateway between the Golden Gate Bridge and San Francisco.
Resources
About the Quartermaster Reach (The Presidio)
About the Tennessee Hollow Watershed (The Presidio)
The Presidio Parkway serves as a regional gateway between the Golden Gate Bridge and the city of San Francisco.