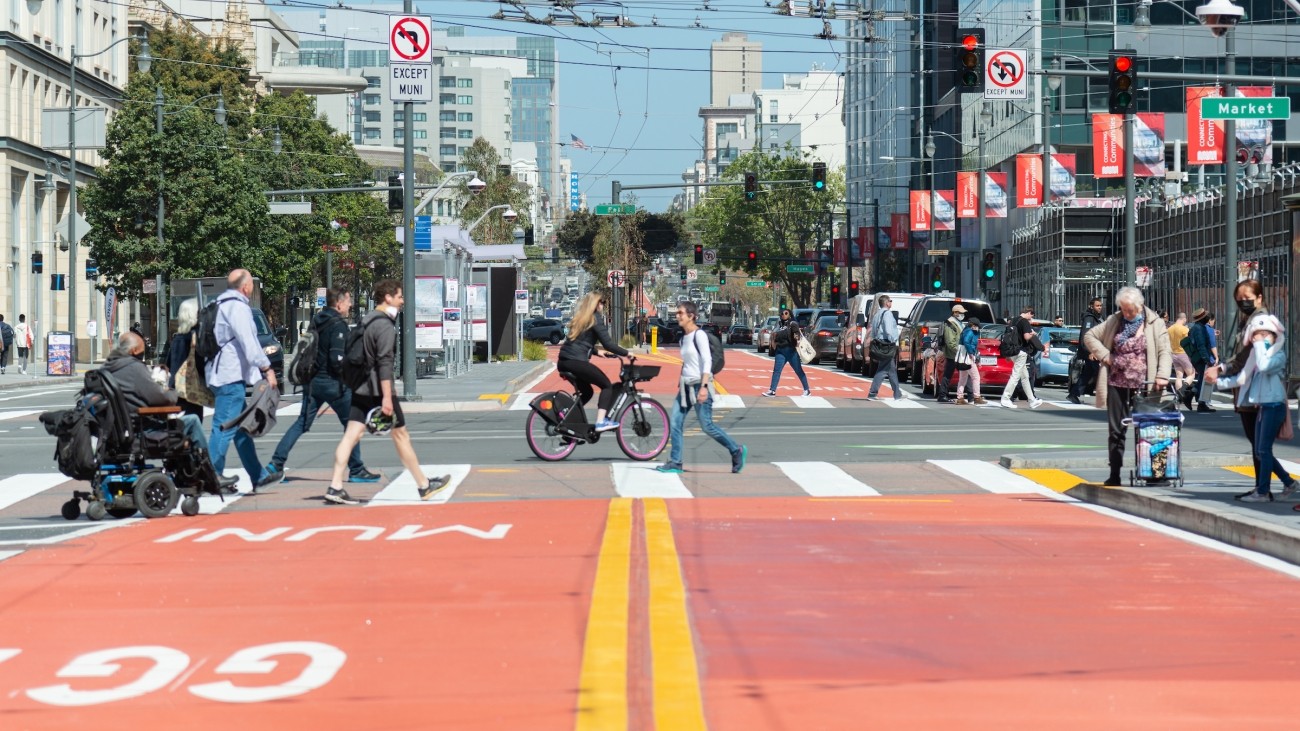 At the Transportation Authority, our mission is to make travel safer, healthier, and easier for all. We plan neighborhood-level and street improvements, advance traffic safety, climate action and equity goals, and fund and approve major transportation infrastructure investments. A major part of our work is rooted in engagement from the community. Ever wondered how you can engage in our work? 
Here are four ways you can get involved:
Watch or attend our board meetings and our Community Advisory Committee meetings and give public comment.
Our Transportation Authority Board is governed by the 11 members of the Board of Supervisors, sitting as Transportation Authority Board members. Our board provides oversight and ensures the public interest is represented. Board meetings can be viewed on SF Cable Channel 26 or 99 (depending on your provider) and are live streamed at SFGovTV.org. Members of the public may give comments either by attending board meetings in person, via email to clerk@sfcta.org or mail to 1455 Market Street, 22nd Floor, San Francisco, CA 94103, or by calling in.
Our Community Advisory Committee is comprised of 11 members of the public, each representing a supervisorial district in San Francisco. The committee includes representatives from various segments of the community, such as public policy organizations, labor, businesses, seniors, people with disabilities, environmentalists, and neighborhoods, and reflects broad transportation interests. The committee is also intended to reflect the racial and gender diversity of San Francisco residents. The committee provides the Transportation Authority with feedback on transportation projects and communicates about these projects to the community. Committee members are appointed by the Transportation Authority Board. Members of the public may give comments by calling into the meetings or via email to clerk@sfcta.org or mail to 1455 Market Street, 22nd Floor, San Francisco, CA 94103. We're currently looking for new members to join as our District 8 and 10 representatives. If you live in District 8 or 10, submit an application to be a member of our CAC. 
Check our events calendar for agenda and materials for upcoming Board and CAC meetings.
Sign up for email updates for "Transportation Authority Board and Committee Meeting Agendas (Board, CAC)" and "Treasure Island Mobility Management Agency Board and Committee meeting agendas" to be notified. 
Stay connected by signing up for emails.
We have various email lists dedicated to sharing updates and information about projects, studies, and opportunities, as well as a monthly newsletter that features highlights from each month. We share information about surveys, town halls, workshops, and other opportunities to get involved.
Choose from over 20 different email lists and sign up for updates. 
Follow us on social media. 
We share updates about projects, studies, surveys, town halls, job opportunities, and more on our social media channels. Follow us to stay connected.
We're on Twitter, Instagram, Linkedin, Facebook, and Youtube. 
Apply to join our team. 
If you're interested in helping to shape the future of transportation in San Francisco, apply to join our team. We have multiple openings at all levels, across our agency. When you join our team, you'll have an opportunity to work with many of our partners, consultants, and staff to help impact San Francisco's transportation system.
Check out all our job and internship openings.