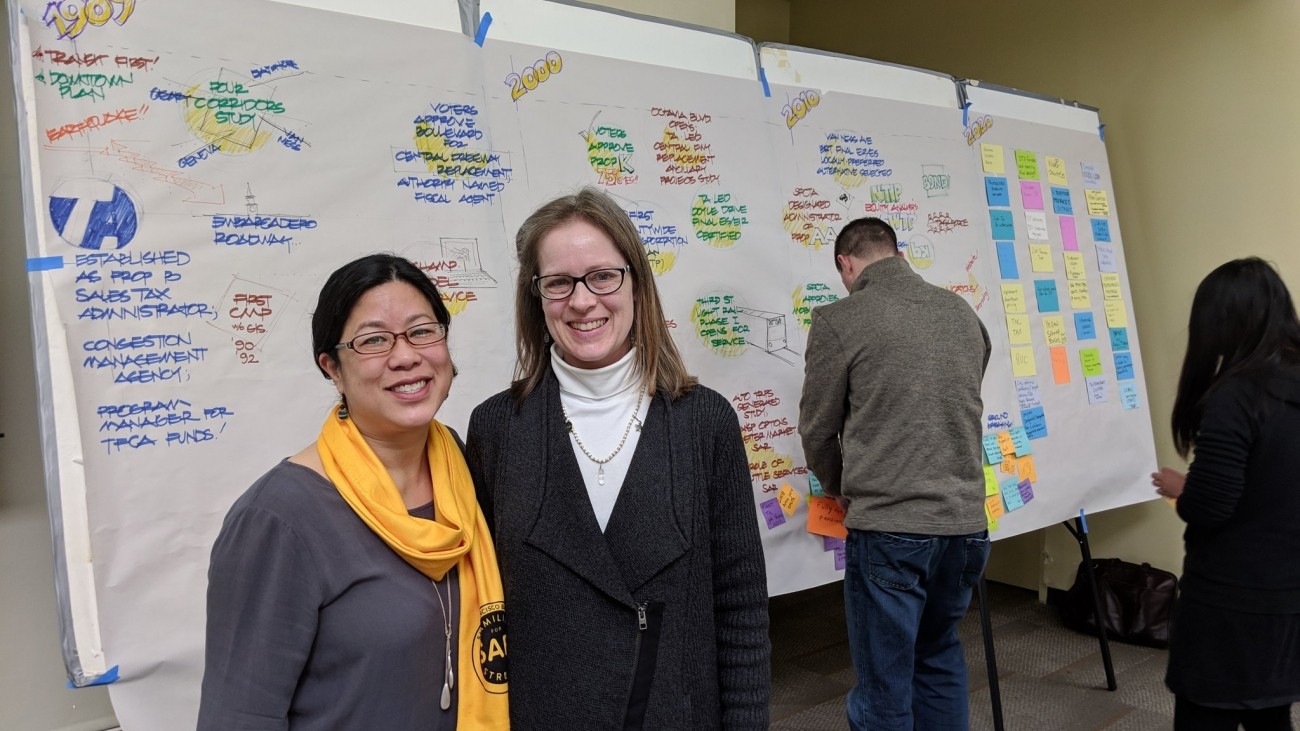 Women comprise only 15% of the nation's 14.8 million-person transportation workforce, and even less at the executive level. This leaves women's voices underrepresented and suggests challenges associated with attracting and retaining women in the transportation field. Some literature suggests that perception of the industry and lack of female role models drives women away from the transportation field.
To help bridge the gap, we are supporting MobilityXX, a partnership of the Intelligent Transportation Society of America, The Ray, and WTS International Foundation, to engage the broader transportation industry to increase the number of women from all backgrounds in the transportation workforce by 10% over the next 10 years.
At the Transportation Authority, women make up over half of our agency personnel and comprise 66% of our management team. Our workforce is our most valuable asset and through our Racial Equity Working Group, we are committed to advancing equity by ensuring we are creating a diverse workforce, providing opportunities for upward mobility, and cultivating a culture of inclusion and belonging for all. We are also working to advance racial equity and inclusion through our work by promoting contracting opportunities with Disadvantaged Business Enterprises including women, LGBTQ, and minority-owned businesses. 
Empowering women to join the transportation field creates diverse and equitable perspectives in the workplace and supports better decision-making, which is important to promote innovation and creativity to solve unique challenges.
To uplift the voices of women in transportation, we interviewed some key female leaders at our agency to share their backgrounds, experiences, and advice for women interested in transportation. 
Sign up for our "Get all employment updates" email list to receive notifications about job opportunities at the Transportation Authority. 
Featured staff:
Tilly Chang
Executive Director
Maria Lombardo
Chief Deputy Director
Anna LaForte
Deputy Director for Policy & Programming
What do you think is the most important skill for women to advance their careers in the transportation field?
Tilly: Building a network is especially important for women in this field. There are a lot of great women leaders in transportation and there are a lot of resources available if you look for them. Participate in groups like Women's Transportation Seminar, Transportation Research Board, Conference on Minority Transportation Officials, Young Professionals in Transportation, and other professional and civic groups. Learn how you can tap into these networks, find encouragement through others, support other women, and use your network to share and seek opportunities in leadership. Also, find your voice and practice using it in a professional setting.
Maria: The transportation field is incredibly diverse and wide, yet few people are aware of what it has to offer due to a lack of exposure in school and the media. You can work in transportation in many different respects, from communications, to planning, to engineering, financing, and more. Find opportunities to be in the room, learn from others, and find a mentor.  I watched and learned from my first boss and former Executive Director at the Transportation Authority, Jose Luis Moscovich.  From giving difficult presentations, to writing, to navigating the political context in which the agency operates, I learned more from him and other leaders at our agency than I ever could have learned in school.
Anna: In transportation as in any field, I think an important skill is having confidence and knowing that you really can add value to projects by bringing your perspective and knowledge to the discussion. Share your ideas at the table and don't underestimate what you have to offer.
What can employers or supervisors do to promote the advancement of women in the transportation field?
Tilly: Having informal and formal opportunities for mentorship, providing opportunities to lead, encouraging women and staff to apply for speaking opportunities and attend conferences, offering funding for professional development opportunities, and ensuring flexibility to do work effectively.
Maria: Creating a culture of acknowledging that life happens and allowing flexibility and understanding when it comes to work because many women still have the primary responsibility of caring for children and family members. In doing so, you generate a great deal of loyalty to the organization and you benefit from the important perspectives that working parents and women bring to the workforce.
Anna: Encouraging professional development and mentorship opportunities, and providing opportunities to develop and showcase leadership skills as well as public speaking skills, both of which can require time and support to help develop. 
What advice or resources would you share with women aspiring to join the transportation field?
Tilly: Learn about the history, players, and issues of your field, whether through school or researching on your own. Attend industry events, webinars, and conferences. Introduce yourself and ask people you admire to meet up for coffee or a short informational call. Seek internships and volunteer. Read books about your discipline or from authors like "Boots on the Ground, Flats in the Boardroom: Transportation Women Tell Their Stories" by Grace Crunican and Elizabeth Levin and "The Memo: What Women of Color Need to Know to Secure a Seat at the Table" by Minda Harts. 
Maria: Find ways to get exposed to the industry early on, talk to people to understand what they do, and learn more about what opportunities are available. There are many niches in the transportation profession and the best way to discover the possibilities is by talking to folks in the industry. I wasn't even aware of transportation planning as a career option until I stumbled upon it in my graduate school program.  
Anna: Seek out opportunities to learn from women who have been in the transportation industry for years, as there are many women who have helped break the glass ceiling so that the next generations have even more opportunities.  
Why did you get into the transportation field?
Tilly: I took a geography class in urban economics and it exposed me to the relationship transportation played in shaping cities and peoples' access to opportunities. I was excited to learn more about transportation because of this class and it revealed this whole field that I didn't know existed until college. I decided to pursue a minor in planning and continued learning about transportation from there through a series of internships. 
Maria: I got into transportation purely by accident. I was studying at UCLA in the urban planning program and learning about environmental cleanup. I had a wonderful mentor at the time, Martin Wachs, who got me interested in transportation.  He later shared a WTS advertisement with me for a position at the Transportation Authority. I applied, got the position, and that was the pivotal step that helped me to get where I am today.
Anna: My parents have been working in the transportation industry for a long time. I grew up having dinner conversations about carpooling and rail alignments, how investing in infrastructure was a good thing, and how public transportation could promote access to community assets and create vibrant corridors where people live, shop, and work. Having that early exposure to their work in the field helped cultivate my interest in transportation.
What is your favorite or most memorable experience working in transportation?
Tilly: Some of my most memorable experiences have been working on innovative and transformative projects, like seeing the Presidio Parkway completed and enabling the Tunnel Tops project in the Presidio National Park, and Van Ness BRT taking shape. Since many capital projects take years to complete, it's a rare and rewarding experience to be able to see the full cycle of a project come to fruition. I've also enjoyed helping to shape the city's response and leadership in new mobility policy, during the rise of exciting new services and technology.
Maria: I was one of the early staff members at the Transportation Authority, but in between my time here, I also spent a year working at BART where I got the opportunity to tour the Transbay Tube. The Transbay Tube is an underwater rail tunnel that carries BART's trains under the San Francisco Bay. It was quite memorable exploring this part of the transportation network that you can't ever see when you're on the train. Learning about its construction was like watching a documentary – yes, I am a transit geek!
Anna: One experience that stands out for me was when we took a tour of the tunnels for the Central Subway. Everything was just so big and we were able to see the large boring machines that created the underground tunnels. The Central Subway is a project that the local half-cent sales tax for transportation helped fund and it was a cool and humbling experience to see the results of all the work that was going into it.