Overview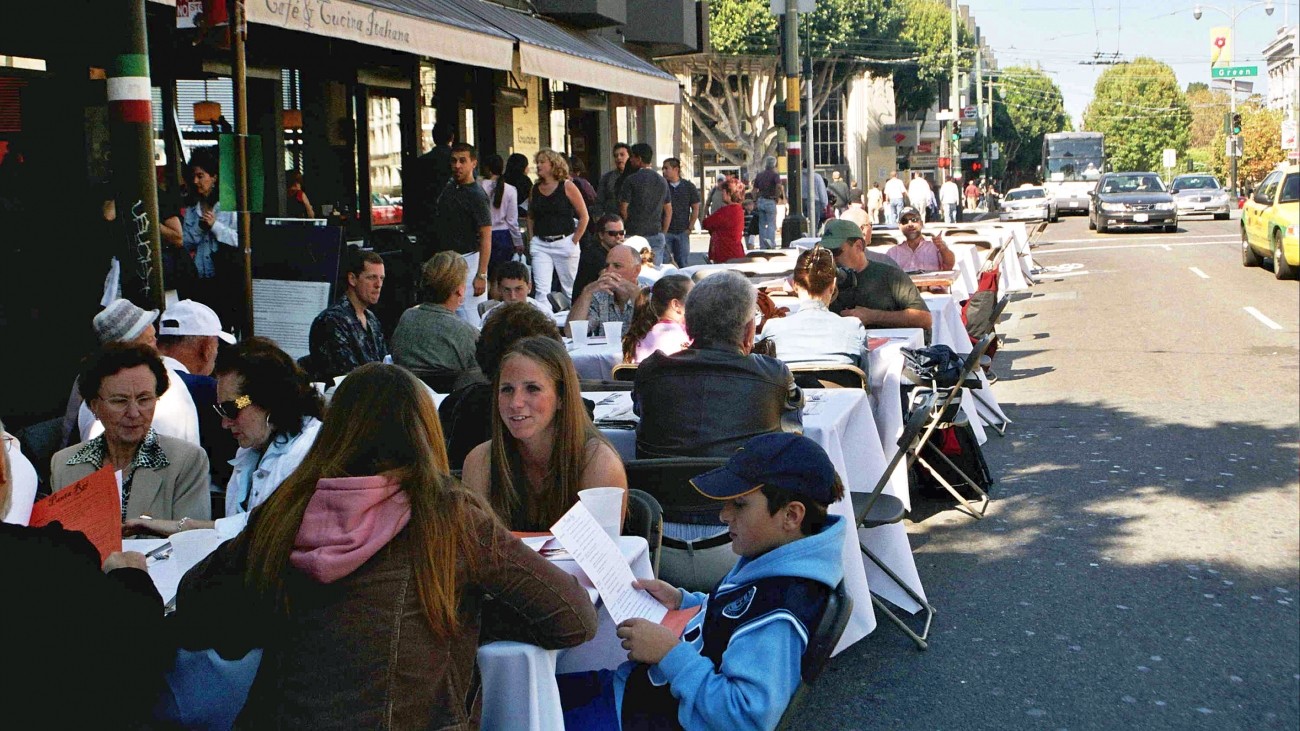 Introduction
The objective of the 2010 Columbus Avenue Neighborhood Transportation Study was to identify changes to transportation infrastructure and policies that could enhance the livability and economic viability of the Columbus Avenue corridor. The study area included Columbus Avenue between the Transamerica Pyramid and Ghirardelli Square. 
Project/Study Partners
The Transportation Authority and Revitalize and Energize the Northeast and Waterfront of San Francisco (RENEW SF) co-led the plan.
The study was guided by an interagency technical advisory committee including community representatives, Muni, Department of Parking and Traffic, Department of Public Works, SF Planning, SF Public Utilities Commission, Mayor's Office, and the Transportation Authority. The comittee met periodically to review technical materials and help coordinate inter-agency efforts.
Cost and Funding
This study was supported by the Prop K half-cent sales tax for transportation and a Caltrans Planning Grant. 
Resources
Final Report: Columbus Avenue Neighborhood Transportation Study, 2010 (PDF)
Appendix (PDF)
Contact
Key features
Identified Priorities
RENEW SF and the Transportation Authority conducted technical analysis and community outreach to identify the top priorities for transportation improvements along Columbus Avenue. Stakeholders identified the following issues as top transportation priorities for Columbus Avenue:
Pedestrian conditions
Streetscape vitality
Transit service efficiency
Coordination with the planning for Central Subway
Parking management
Based on community input and technical analysis, the locations along Columbus identified as most in need are:
Intersection of Columbus with Green and Stockton
Intersection of Columbus with Union and Powell
Columbus Avenue between Broadway and Filbert
Stockton and Green Streets, existing and proposed
The study team conducted a scientific survey of pedestrians using Columbus Avenue during the weekday and weekend peak visitor periods.  We learned that transit and walking are the main modes used by both visitors and residents of the area, regardless of income.  Respondents' top dislikes include street congestion, slow transit, and parking availability, and their most preferred new investment would be in faster and more reliable transit service. 
The study team conducted a parking study which found that about 40% of drivers to Columbus Avenue pay nothing for parking, however, about 30% pay more than $10 to park.  This indicates that parking supply is bifurcated into under-priced on-street parking and relatively expensive off-street parking, which encourages drivers to circle for a free space. 
Design Alternatives
Alternative 1: Four-lane with "flex lane"
Does not widen the sidewalks
Improves pedestrian crossings with bulb-outs
Retains four-travel lanes
Improves transit with bus bulbs
Allows use of the parking lane for cafe seating (a "flex lane")
Alternative 2: Two-lane with "flex lane"
Permanently widens sidewalk to 12-14'
Reduces number of travel lanes from two to one in each direction ("road diet")
Retains parallel parking
Improves pedestrian crossings with corner bulbs
Diagonal crosswalks at Stockton / Green enhance pedestrian connectivity
Alternative 3: Two-lane with "flex space"
Permanently widens sidewalk to 20' - 22'
Outer sidewalk zones serves pedestrians and loading ("flex space")
Removes parallel parking for passenger vehicles
Creates plaza at Stockton / Green 
The Study Team evaluated the benefits and impacts of each Alternative based on technical assessment and community feedback. Alternative 3 provides the greatest benefits for pedestrians and to the Columbus Avenue street atmosphere.
About Flex Lanes and Flex Space
Flex lanes: A Near-Term Approach to Sidewalk Widening
This concept is recommended in the City's Better Streets Plan. Café or restaurant owners may apply to the City for a permit to place tables and chairs in curbside parking spaces in front of their businesses, and the seating areas are kept separate from adjacent spaces and travel lanes using planters or other semi-permanent fixtures. Spaces may be used for parking part of the time, and café seating at other times. As each curbside parking space is approximately 160 square feet, several tables might fit into the space typically occupied by a single car, benefiting business owners as well as pedestrians, who gain additional space on sidewalks where seating is removed or relocated. There are approximately 72 curbside parking and loading spaces along Columbus between Broadway and Filbert.
Flex Space: Gaining Sidewalk and Managing Parking
Permanently widening the Columbus Avenue sidewalks enough to accommodate tables and chairs would require removing parallel parking, and accommodating deliveries through a flex space arrangement. A flex space is a sidewalk that allows trucks to park to load and unload. Flex space implementation should be paired with parking management improvements to avoid worsening community frustrations with parking availability.
Public engagement
The study included two rounds of public outreach, extensive data collection, and the development and evaluation of three conceptual design alternatives. A key objective of the study was to identify and prioritize transportation needs from the community's perspective, and work with community partners to develop transportation improvements.
RENEW SF served as the primary liaison between the Transportation Authority and the many stakeholders with an interest in transportation issues in the study area by helping with publicity efforts, conducting event logistics, and co-hosting outreach events. The Chinatown Community Development Center provided a link to the Chinese-speaking stakeholders of Columbus Avenue, providing translation services and organizing outreach events for Chinese speakers.