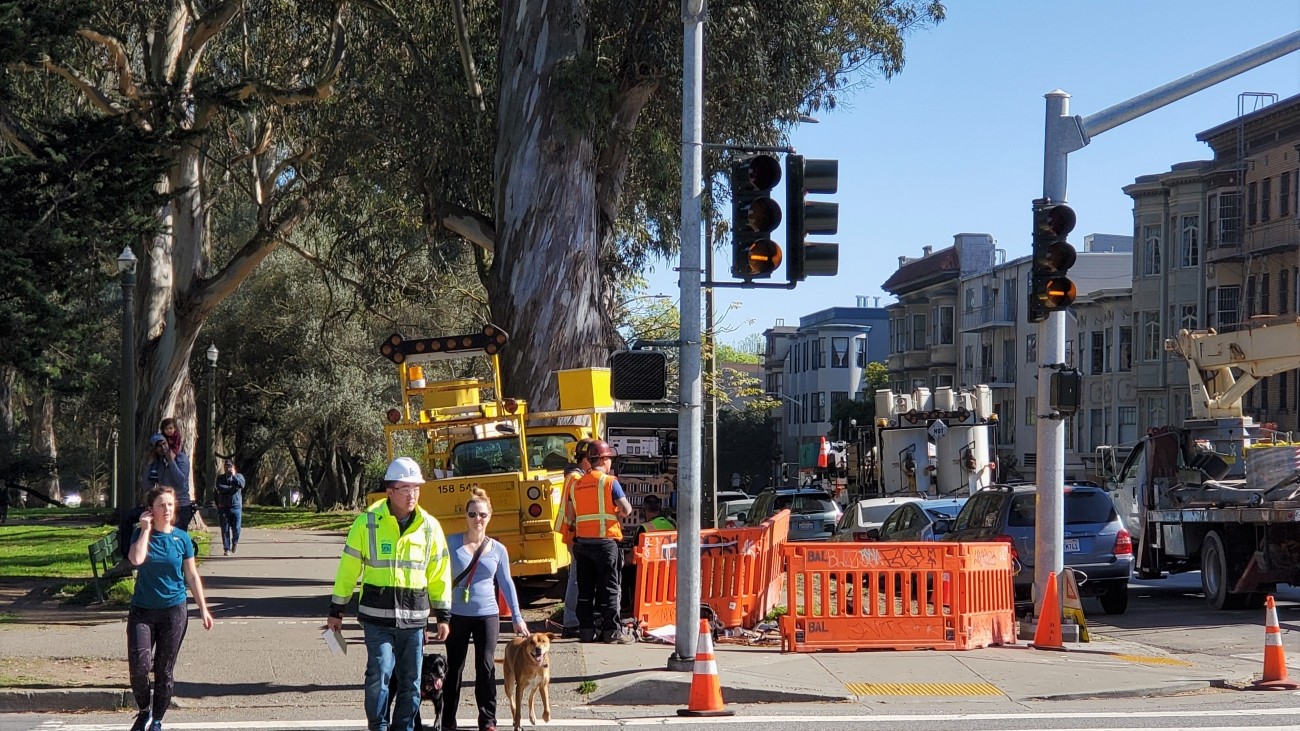 The SFMTA installed new traffic signals at the intersection of Oak Street and Masonic Avenue this month to improve safety for people walking and biking. The upgraded traffic signals feature a new leading pedestrian interval to provide more protection for people walking on the north side crosswalk, smart pedestrian/vehicle signal timing, and larger vehicle signal heads facing all directions. The Transportation Authority funded this project with San Francisco's half-cent sales tax for transportation.
The new traffic signals were revealed at a press event near the intersection. Transportation Authority Board Member Dean Preston (District 5) and representatives from the SFMTA, San Francisco Bicycle Coalition, Senior Disability Action, and WalkSF were present, along with Julie Nicholson, a resident who was hit while crossing on foot at Oak Street and Masonic Avenue on January 4. The safety improvements will make the intersection safer for pedestrians and bicyclists who travel through the intersection.
Construction workers added finishing touches to the signals and then turned them on for the first time at the event.
Today @sfmta_muni unveiled upgraded traffic lights at the intersection of Masonic and Oak with our D5 board member @DeanPreston. The new traffic lights feature smart signaling that will increase pedestrian safety. We funded this project with the 1/2¢ #sftransportationtax. pic.twitter.com/AlYOnhfUYz

— San Francisco County Transportation Authority (@sfcta) February 13, 2020
Just back from unveiling of much-needed safety improvement @ Oak & Masonic. THANK YOU, @sfmta_muni for bringing this new #pedestrianfirst light technology to SF. Let's bring more fixes like this to ALL the most dangerous intersections! #SlowOurStreets #IWalkSF pic.twitter.com/dK8unVvyQa

— Walk San Francisco (@walksf) February 12, 2020