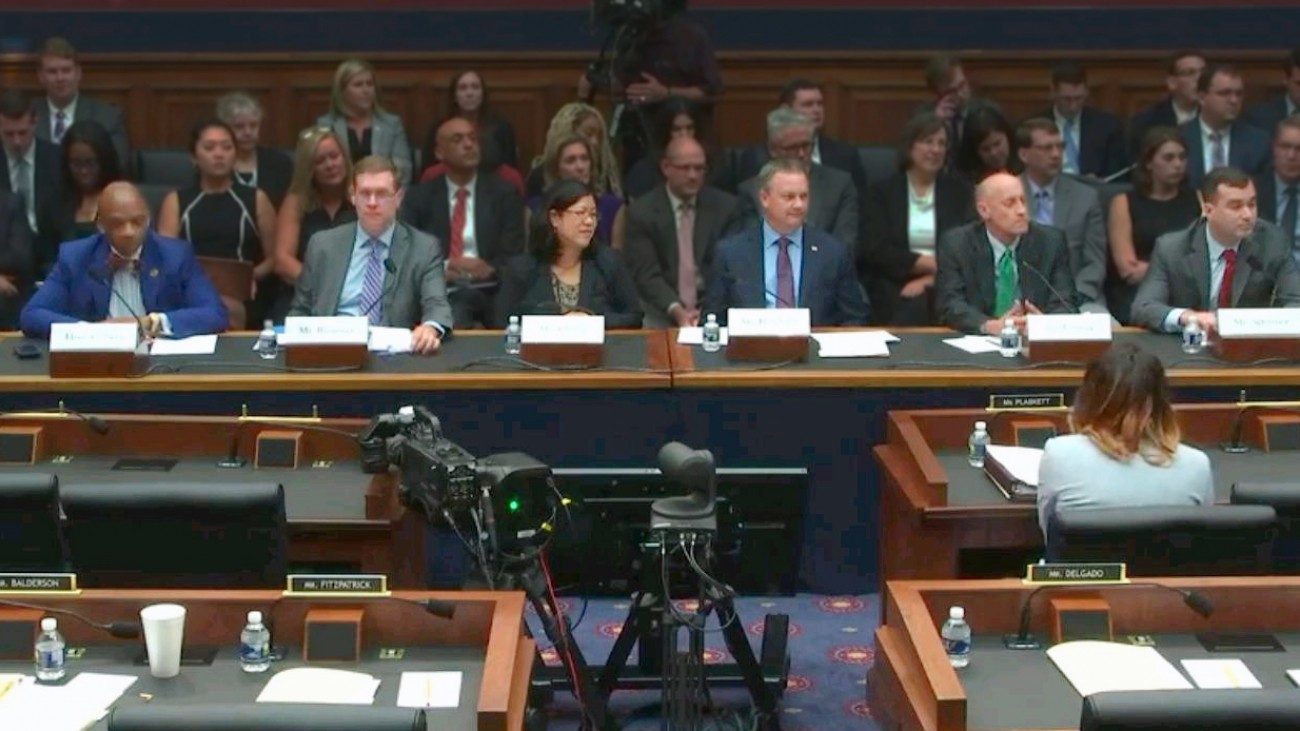 Transportation Authority Executive Director Tilly Chang this week briefed the House Subcommittee on Highways and Transit on San Francisco's growing challenges with traffic congestion. Testifying on behalf of ITS America and the Transportation Authority, Director Chang advocated for increased federal funding for congestion relief programs and maintaining federal pricing programs. She also reiterated ITS America's priorities that are outlined in the organization's FAST Act Reauthorization Platform: Moving People, Data and Freight.
Key points of her testimony: 
San Francisco has a growing congestion problem: In a typical year, commuters spend nearly 3 weeks of their time stuck in traffic. Congestion also impacts public health: As congestion has increased, so have severe and fatal crashes on our streets. In addition, particulate emissions are adversely impacting neighborhoods near our busiest streets and freeways. Congestion is also a major part of why the transportation sector is the largest component of greenhouse gas emissions in our city and state. 
We have taken many steps to reduce congestion: San Francisco has invested in our transit systems, built out bicycle and pedestrian infrastructure, approved more housing near transit—but these actions alone are not enough to address our congestion problems.
"Congestion in San Francisco has reached peak levels. In a typical year, commuters are estimated to spend 116 hours (almost 3 weeks) stuck in traffic." @tilly_chang @sfcta @TransportDems #THISisITS

— ITS America (@ITS_America) September 11, 2019
We need to do more: Director Chang emphasized the need for more long-term federal funding to continue to build out our transit systems. In the near term, San Francisco is studying how congestion pricing and incentives can dramatically and cost-effectively reduce traffic, improve public health, and increase equitable access for people who need to get around our city. 
The subject of the hearing was "Pricing and Technology Strategies to Address Congestion on and Financing of America's Roads." Other witnesses who testified included:
The Honorable Oliver Gilbert III, Mayor, City of Miami Gardens, Chairman, Miami-Dade Transportation Planning Organization
Mr. Travis Brouwer, Assistant Director for Public Affairs, Oregon Department of Transportation, Testimony
Mr. Darren D. Hawkins, President and Chief Executive Officer, YRC Worldwide Inc., On behalf of the American Trucking Associations
Mr. Timothy J. Lomax, Ph.D., PE, Regents Fellow, Texas A&M Transportation Institute
Mr. Marc Scribner, Senior Fellow, Competitive Enterprise Institute
Watch Director Chang's testimony (Starts at 46:12)
Read Director Chang's testimony (PDF)