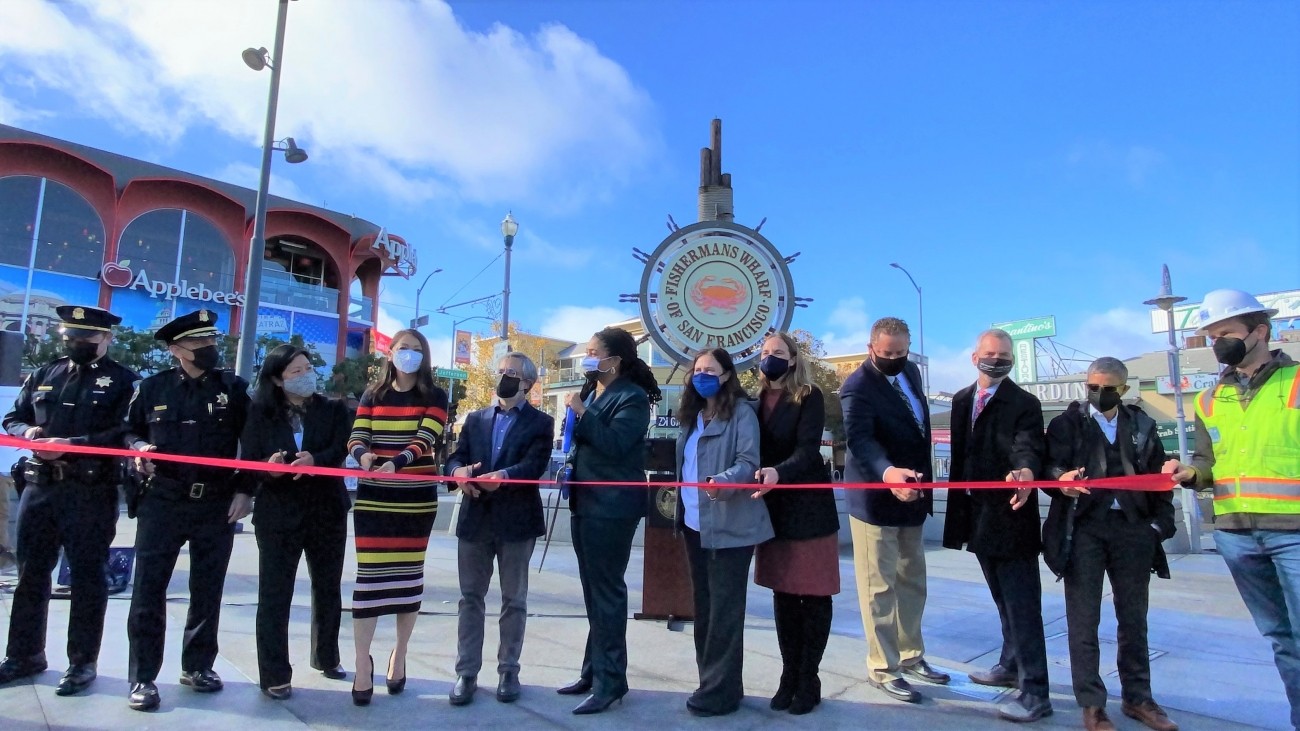 On October 22, Mayor London Breed, Transportation Authority Board Vice-Chair Aaron Peskin (District 3), transportation officials, and community members celebrated the completion of phase 2 of the Jefferson Streetscape Improvements Project.
Lined with shops and restaurants, Jefferson Street is the main thoroughfare of San Francisco's famous Fisherman's Wharf. Pre-pandemic, it served more than 18 million visitors a year, many that visited by transit, walking, and biking. Led by SF Public Works in coordination with SFMTA and the Port of San Francisco, phase 2 of this project renovated the area between Powell and Jones Street, completing the design developed from the Planning Department's 2010 Fisherman's Wharf Public Realm Plan. 
Key upgrades for the second phase include:
Widened sidewalks with new trees
Pedestrian-scale lighting
New public seating and bike parking
Narrowed streets with geometrically-patterned pavements
This project phase is part of a decade-long effort to support Fisherman's Wharf's economic and community vitality. These improvements combine street safety and beautification efforts to enhance the visitor experience and invigorate local businesses. Construction of the first phase of this project, which spanned from Hyde Street to Jones Street, was completed in 2013.
The Transportation Authority contributed over $8 million in funding to this project phase through the half-cent transportation sales tax and the State's Senate Bill 1 Local Partnership Program. This includes $200,000 in funding from our Neighborhood Program, at the request of Vice-Chair Peskin.
Resources
Jefferson Streetscape Improvements Project - Phase II (SF Public Works)
View on MyStreet