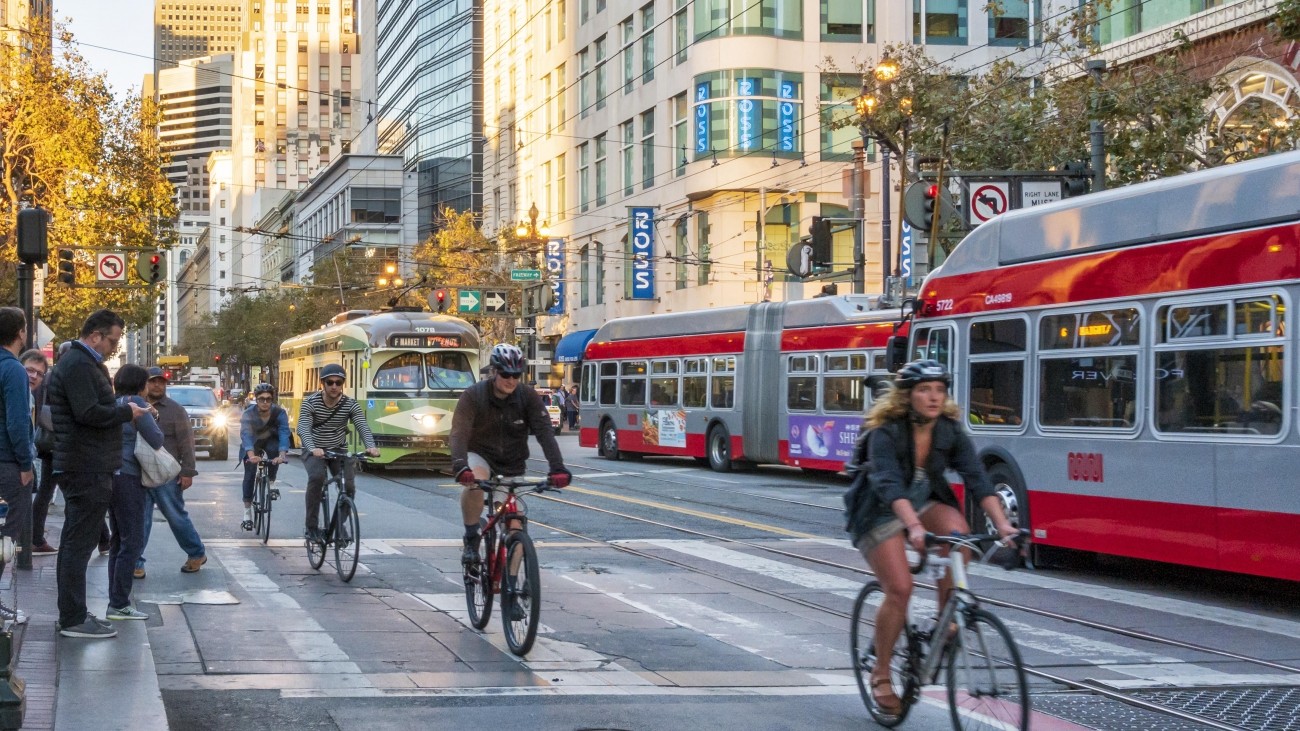 The Bay Area is working to reduce solo car trips by encouraging employees to commute by transit, bicycling, walking, carpooling/vanpooling, and telecommuting. The following programs were designed to make it easier for employees to commute by sustainable modes. 
Commuter Benefits
The San Francisco Commuter Benefits Ordinance requires employers to provide a commuter benefits program that supports and encourages their employees to bike, take transit, and carpool to work. The ordinance requires businesses to offer a pre-tax commuter benefit to pay for transit or vanpool expenses, a monthly subsidy for transit or vanpool expenses, or employer-paid transportation. 
Businesses are subject to the ordinance if they have both a location in San Francisco and 20 or more employees nationwide. 
The Transportation Authority supports this program with funding from San Francisco's Prop K transportation sales tax. 
Emergency Ride Home Program
When San Francisco commuters use a sustainable mode like walking, biking, taking transit, or carpooling, and experience a personal or family emergency while at work, the San Francisco Department of the Environment will reimburse the cost of a taxi or public transit ride (up to $150 per ride) through the Emergency Ride Home Program.
The Transportation Authority supports this program with funding from the Transportation Fund for Clean Air. 
Bay Area Vanpool Program
The Bay Area Vanpool Program provides qualified vanpools $350 off the monthly cost of a vanpool. It also helps commuters find vanpool seats, start vanpools, and keep vanpools on the road. A vanpool is a group of seven to 15 people commuting together with an unpaid driver. 
Vanpool vehicles can be rented through a third-party provider, such as Commute With Enterprise, be owned by an individual, or provided by an employer.
Tenant Bicycle Parking in Existing Commercial Buildings Ordinance
To encourage and accommodate commuting to work by bike, this ordinance requires commercial property owners to allow tenants to bring their bicycles into the building or provide a designated indoor, secure space for bicycle parking. The San Francisco Department of the Environment is responsible for implementing this ordinance and works with commercial property owners to come into compliance.
Tips to Improve Employee Commutes 
Here are some additional strategies employers can consider as they work to improve employee commutes. 
Make bicycling to work easier and more comfortable: Provide lockers, showers, changing rooms and secured bike parking. Consider partnering with a local bike shop to offer bike tune-ups and bike maintenance classes to your employees.
Offer flexible working hours to help employees with certain commute needs, such as the timing of carpool, bus, and ferry schedules. Allowing people to work at flexible times can lower congestion and support work-life balance for employees.
Make sustainable commuting a priority: If your business or building offers parking, charge for it and use the revenue to fund sustainable commute programs. 
Provide incentives for carpooling and vanpooling for employees who have limited access to transit and want to commute sustainably. Carpools and vanpools can also link employees from transit to office locations.
Enroll in the FordGo Bike Corporate Membership Program to offer bike share perks to your employees.
Promote a culture of sustainable commuting by participating in community events like Walk to Work Day, Bike to Work Day, and Transit Week.
Create a team of staff commuter champions to encourage sustainable commutes, keep updated on the latest commuter programs, and help new employees develop plans to get to and from work.
Resources 
Transportation Demand Management seeks to break down barriers to taking trips by transit, bicycling, walking, or carpooling and discourage drive-alone trips.
Replacing car travel with more sustainable modes will reduce greenhouse gas emissions and create a healthier environment for San Francisco residents, workers, and visitors.