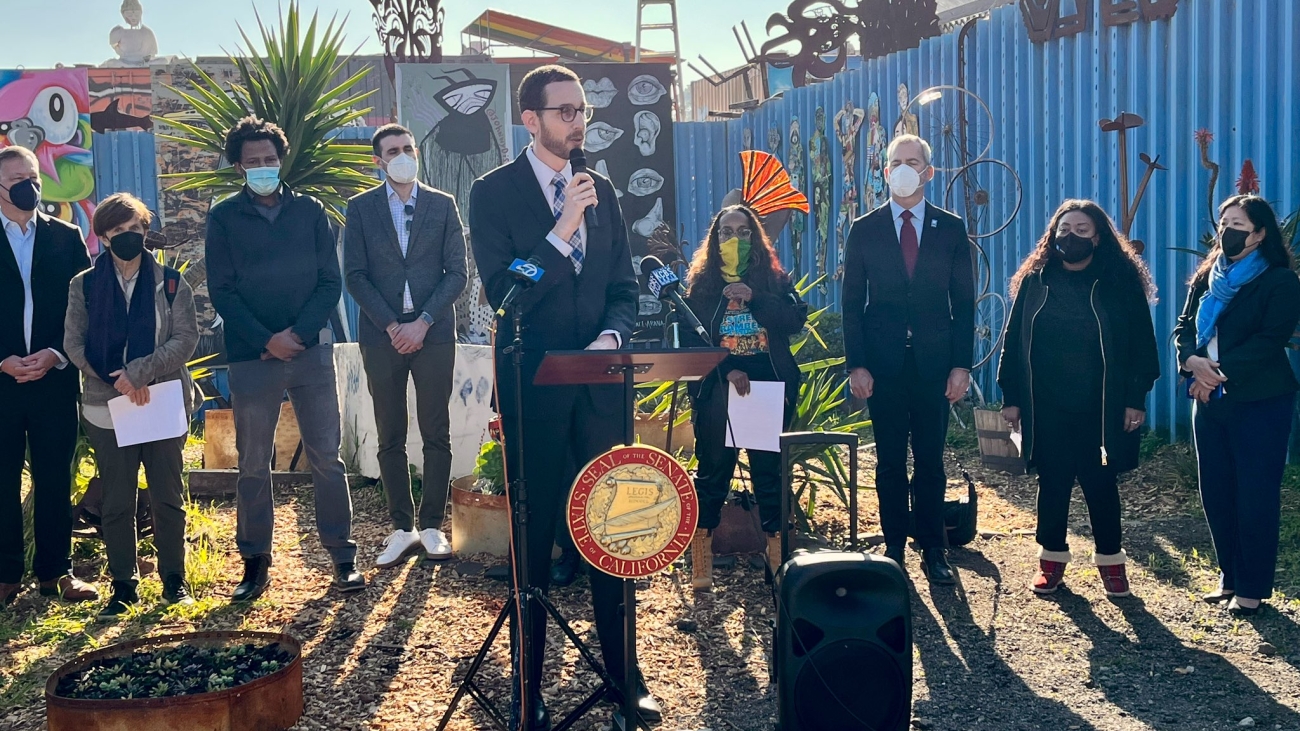 In February, we joined State Senator Scott Wiener, community leaders, and transit officials in the Bayview to announce his new bill to expedite sustainable transportation projects. The bill, Senate Bill 922, would accelerate the approval of climate-friendly transit, bike, and pedestrian projects by exempting them from the California Environmental Quality Act, or CEQA. 
CEQA is an environmental law that requires state and local agencies to evaluate and disclose the significant environmental impacts of projects and to mitigate those impacts if possible. The evaluation is the basis for many state and local approvals needed to deliver a sustainable transportation or public transit project and may sometimes result in lengthy processes that extend the timeline and increase costs for projects. 
SB922 makes permanent the CEQA exemption allowed under a 2020 bill, SB288. The SFMTA's Evans Avenue quick-build project, which improves safety and access along Evans Avenue in the Bayview, is an example of a project that has benefited from this CEQA exemption and is a project that the Transportation Authority helped fund. The Transportation Authority continues to provide support to plan, fund, and deliver transportation projects to improve sustainable travel choices throughout the city. 
Projects that apply for this CEQA exemption must meet one of the following requirements:
Make streets safer for walking and biking
Speed up bus service on streets
Make it possible to run bus service on highways
Expand carpooling options
Build new, or modernize old light rail stations
Support parking policies that reduce drive-alone trips and congestion
Improve wayfinding for people using transit, biking, or walking
Additionally, to ensure that the exemption is not misapplied to projects with detrimental impacts, these projects must also:
Be located in an existing public right of way
Must not add new auto capacity
Must not demolish affordable housing
Must use a skilled and trained workforce or have a project labor agreement in place
Sustainable transportation projects are key to advancing environmental goals and strategies, as outlined in San Francisco's 2021 Climate Action Plan.