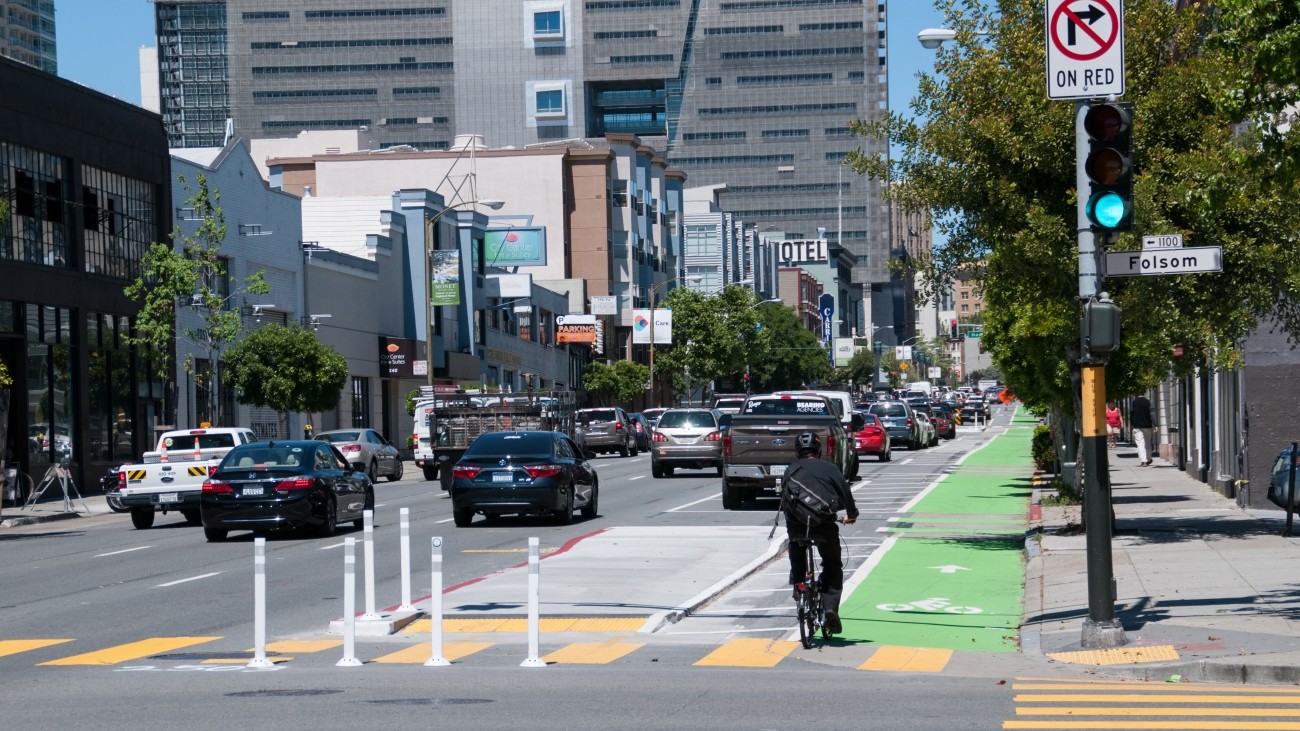 SFMTA's Folsom Streetscape Project will improve livability, bicycle and pedestrian safety, and transit reliability on Folsom Street between 2nd and 11th Streets. This segment of Folsom Street is on San Francisco's Vision Zero High Injury Network, the 13% of streets that account for 75% of the total severe and fatal traffic collisions in San Francisco. 
With $15 million funding approved this month from the Transportation Authority and regional agencies completing the project's $28 million funding plan, Folsom Street would be transformed to provide safer, easier access to key destinations, job centers, and community services, especially for people who rely on transit, walking, and bicycling.
Key improvements include:
A two-way protected bikeway
Upgraded bicycle and vehicle signals
Bulb-outs and raised crosswalks
New midblock crosswalk
A transit-only lane
Transit boarding islands
Improved loading improvements
Landscaped medians
Decorative pavement
Additional streetlights
The Transportation Authority Board recommended allocating over $3 million in federal Coronavirus Response and Relief Supplemental Appropriations Act of 2021 funds for the project which was approved by the Metropolitan Transportation Commission and California Transportation Commission this month. MTC this month also approved $5 million in Federal funds and the CTC has approved $7 million in regional Active Transportation Program funds previously prioritized by MTC.  With these approvals, the SFMTA plans to begin construction in early 2022. The project is expected to be open for use by June 2024. 
Resources
Folsom-Howard Streetscape Project (SFMTA)
May 25 Transportation Authority Board Memo (PDF)
Safe and Seamless Quick-Strike Program Memo (PDF)
MTC Regional Active Transportation Program Recommendations (PDF)