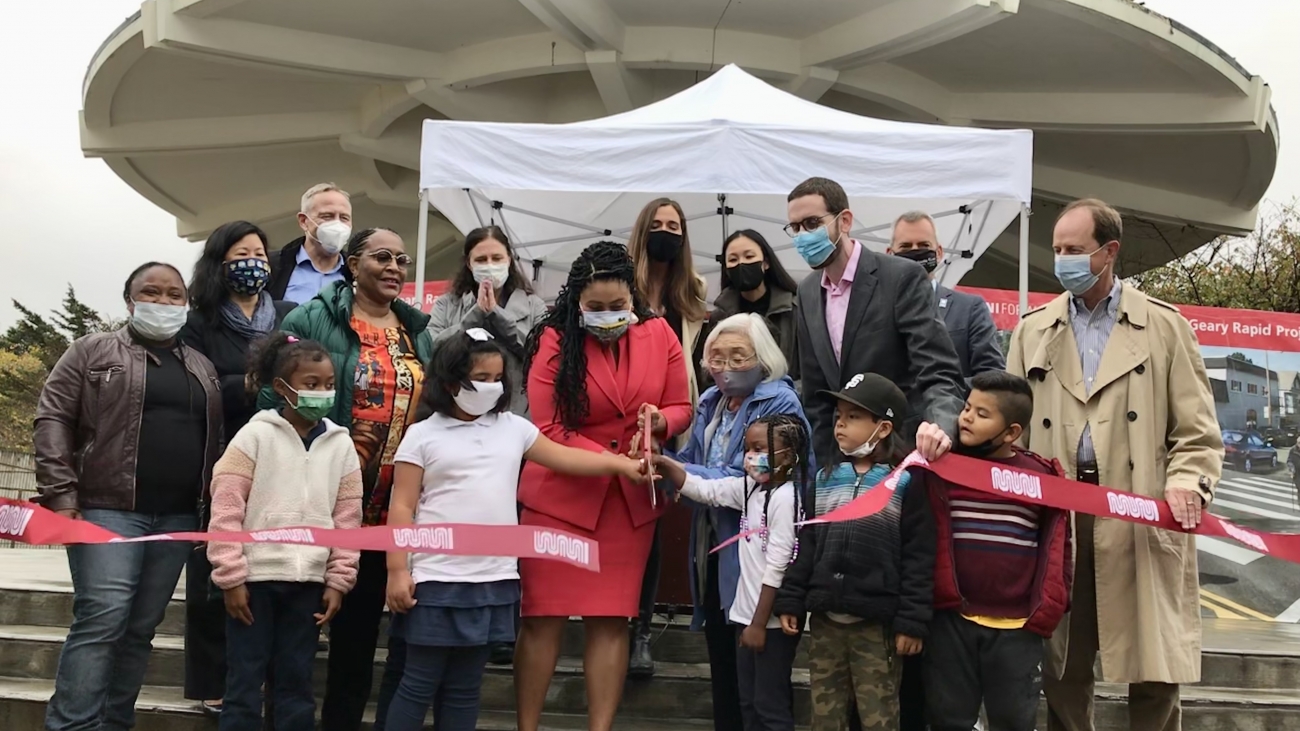 City leaders, transportation officials, and community members gathered to celebrate the completion of the first phase of SFMTA's Geary Rapid Project at Japantown's Peace Plaza. 
Geary is one of San Francisco's busiest corridors and pre-pandemic it served more than 54,000 daily riders on the 38 Geary and 38R Geary Rapid. The completion of this first phase brings much-needed safety improvements along this high-injury corridor, and more reliable bus service along Geary Boulevard between Stanyan Street and Market Street.
Key improvements: 
Dedicated bus lanes to get buses out of traffic congestion and reduce delays
New crosswalks at Buchanan and Webster Streets, and new signals at existing crosswalks
46 new transit bulb-outs, or sidewalk extensions to make it easier to get on and off the bus and to promote safer pedestrian crossings 
Traffic signal upgrades, including pedestrian countdown signals and accessible pedestrian signals
Travel lanes reduction from four to two general-purpose lanes and one bus-only lane in each direction
More reliable utilities with new water and sewer infrastructure
This first phase of the Geary Rapid Project was completed on time and on budget by the SFMTA in coordination with SF Public Works, SF Public Utilities Commission, and the Department of Technology. Early quick-build improvements including dedicated red transit lanes, bus stop optimization, and signal re-timing yielded a 20% travel time savings.
The Transportation Authority led the environmental planning phase in partnership with the SFMTA and provided over $13.6 million dollars in funding from the half-cent sales tax for transportation, Prop AA vehicle registration fee, and One Bay Area Grant regional funds to support the total $67 million cost of the first phase of this project. 
The next phase of work is underway through the Geary Boulevard Improvement Project to bring longer-term improvements west of Stanyan to 34th Avenue.
Resources