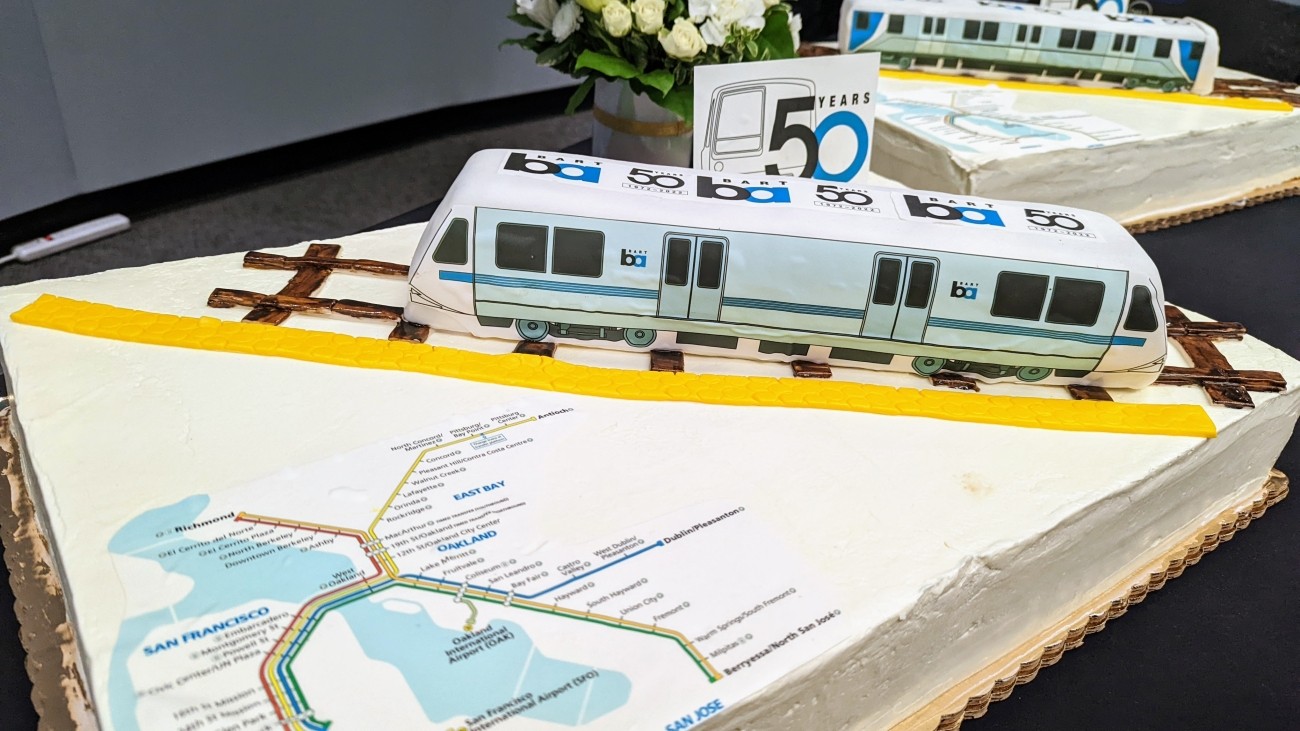 On September 10, Transportation Authority Board Chair Rafael Mandelman and staff members joined BART General Manager Bob Powers, members of the BART Board, BART staff and thousands from the community to celebrate its 50th birthday at Oakland's Lake Merritt Station and Plaza.
The event featured a silver time capsule unveiling from 1992 while speakers added new items to the capsule, a mini-train replica, educational booths, historical displays, free swag, cakes frosted to look like BART's fleet, and the crowd singing "Happy Birthday" to our region's rail system. BART has also been commemorating its first five decades with 50% off BART fares throughout September, video games at Powell Street Station and historical photos and videos.
Transit officials talked about the critical role BART has played in keeping San Francisco and the Bay Area connected to work, school, major events, venues and seeing family and friends. BART has been instrumental in San Francisco's and the Bay Area's development as an economic and cultural hub as well as ensuring access for essential trips during the pandemic.
The Bay Area's most popular rail system also plays a key role in the environment and turning a corner on climate change: BART now runs on 100 percent greenhouse gas-free electricity.
The Transportation Authority has been a strong supporter of BART. Since 1989, San Francisco has voted four times to support funding measures for BART, including passage of Propositions B and K (San Francisco half-cent sales tax programs), BART's RR bond and Regional Measure 3.
Through these and other San Francisco funding programs, the Transportation Authority has directed tens of millions of dollars to BART station modernization and access – elevators, escalators, canopies – bike lockers, and wayfinding at all eight San Francisco BART stations. We have also funded elevator attendants at downtown BART stations. In September the Transportation Authority Board recommended $22 million in additional projects to the Metropolitan Transportation Commission's (MTC) One Bay Area Grant program, including major elevator rehabilitation and upgrades to the fare gates at various stations.