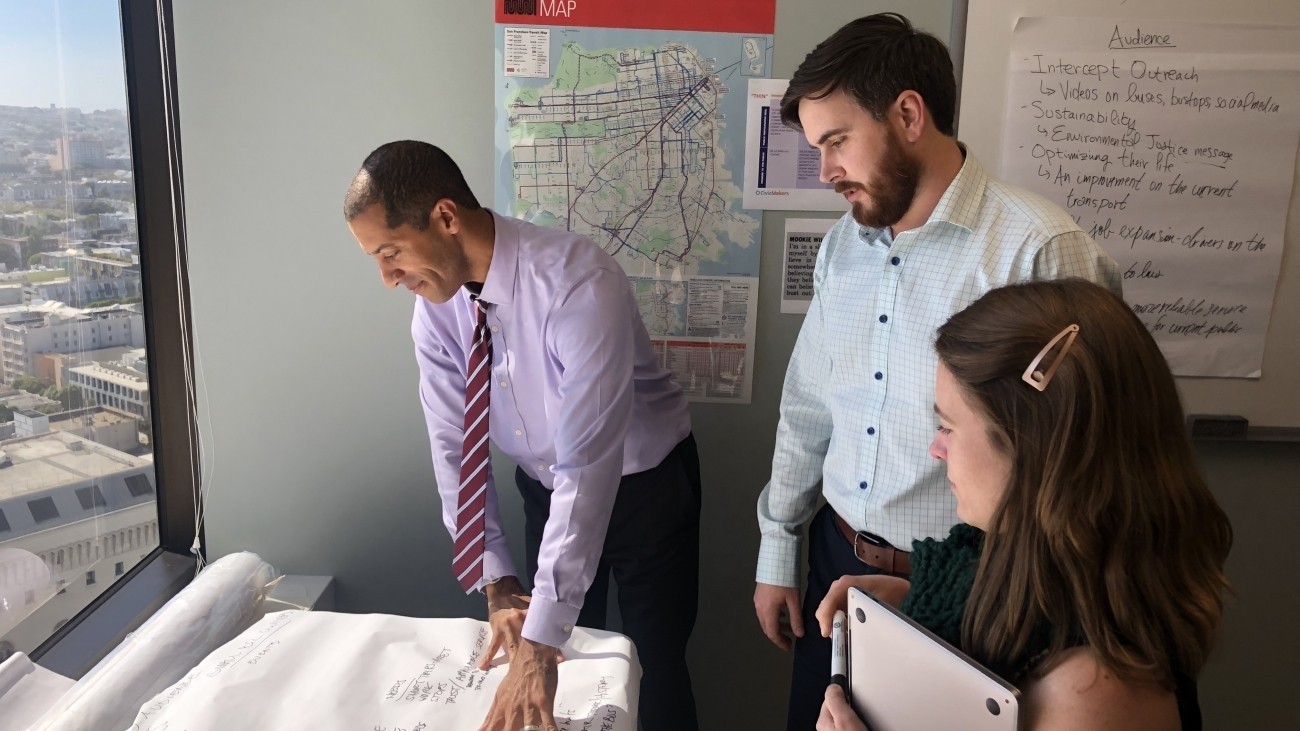 About Us
The Transportation Authority has paid internship positions for students who are self-motivated, detail-oriented, and excited about making a meaningful contribution to San Francisco's transportation system.
Due to the size of our agency and our dedication to learning from each other, interns will have the opportunity to interact with professionals at all levels within the Transportation Authority, from your peers to the senior managers. Our staff will work with each intern to develop a program that is tailored to individual strengths and interests, as well as the current needs of our teams. Internships can be combined with general research opportunities or research towards a thesis.
About The Role
The Transportation Authority communications team plans and implements agency-wide and project-specific communications and community engagement. We strive to approach our work from a foundation of equity as we partner with the public including low income communities, communities of color, seniors, and people with disabilities to shape San Francisco's transportation future. 
Employee Type: Intern/Temporary Employee
Work Requirements: This position will start out virtually and may require some days working from the agency's San Francisco, CA office and/or in-person participation in community events. Candidates should be available to work at least 20 hours per week during regular business hours, for at least a 12-week period. Preference will be given to applicants who are available full time (40 hours per week) for at least 6 months. Please note availability in your cover letter.
Compensation Range: Competitive salary based on experience
What You'll Learn
The Communications Internship is a unique opportunity to gain a variety of skills and experience  in the fields of communications and public outreach. In this role, you will contribute to equitable community engagement approaches while building project management, writing, and community relations skills. You will learn about transportation planning and funding and work cross-functionally with staff at all levels within our agency, from peers to the senior managers.
What You'll Get To Do 
Collaborate with staff to draft and develop content for our monthly newsletter
Take the lead on our agency's social media presence by drafting and developing content to drive growth and awareness
Track and report social media metrics and performance
Build and maintain our Salesforce database of contacts and community-based organizations 
Provide assistance with crafting email campaigns
Support community and stakeholder engagement at meetings, community events, and more
Skills You'll Bring
At least one year of experience writing for the public or conducting public outreach or community engagement
Proficiency with Google suite tools (gmail, calendar, docs, sheets, slides)
Excellent written and verbal communication skills
Attention to detail and a high motivation to learn
Proactive thinker with the ability to work in a fast-paced environment
Nice to Haves
Overall familiarity with San Francisco 
Interest in San Francisco's transportation system 
Experience with Salesforce, Drupal, Survey Monkey, and/or Mailchimp
Ability to speak, read, and/or write in Chinese or Spanish 
Enjoys organization and creative brainstorming
Experience with social media (Twitter, Facebook, Instagram, Linkedin)
Physical Demands and Work Environment
The physical demands and work environment are characteristic of modern office work and include moderate noise (examples: business office with computers and printers, light traffic), and are representative of those an employee encounters while performing the essential functions of this job. Travel may be required on occasion.
The above is intended to describe the general content of and requirements for the performance of this job. It is not to be construed as an exhaustive statement of duties, responsibilities or physical requirements. Nothing in this job description restricts management's right to assign or reassign duties and responsibilities to this job at any time. Reasonable accommodations may be made to enable individuals with disabilities to perform the essential functions.
How to Apply
Submit a resume, cover letter, and two samples of your work.
Resume
Cover letter: In your cover letter, please indicate where you saw this job posted, the earliest date you can start, and the number of hours a week you are available (minimum 20). Indicate the division you are applying for (Communications).
Two samples of your work: Samples of your work can include blog posts, talking points/speeches, outreach and engagement plans, PowerPoint presentations, work-related social media posts, videos, websites, brochures, fact sheets, and posters.
Submit your application via email jobs@sfcta.org or mail to:
San Francisco County Transportation Authority
Attn: Human Resources (Communications Internship)
1455 Market St., 22nd Floor
San Francisco, CA 94103
We do not sponsor visas for this position