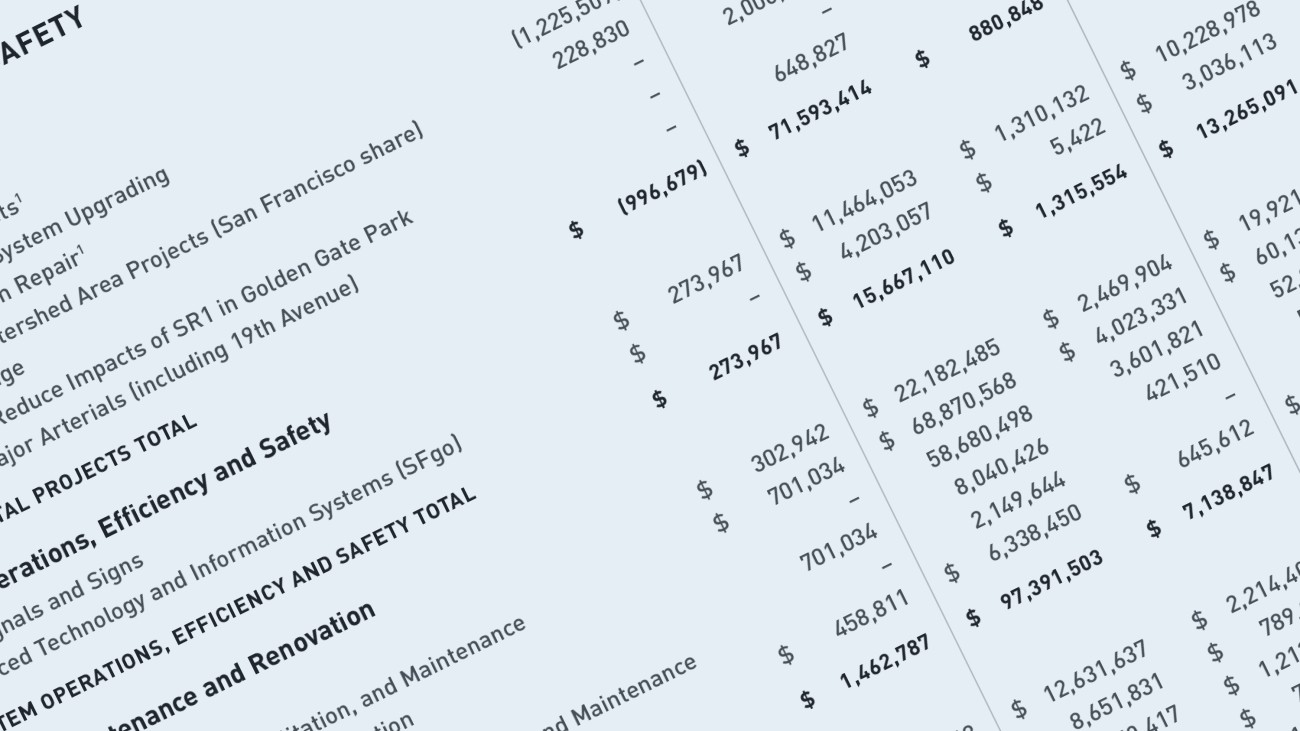 Staff Accountant, Finance and Administration Division
Interested individuals are encouraged to submit a letter of interest and résumé. This recruitment will remain opened until filled. First consideration will be given to individuals who respond by June 2, 2023.
Summary
The city of San Francisco is at the center of the evolution of local, regional, and global transportation systems, and the San Francisco County Transportation Authority is leading the way in crafting policy and investment solutions that address current and future needs, and ensuring that our transportation system works for all communities.
Do you…
✓  Have an eye for detail to ensure the information you work with is accurate at every stage?
✓  Exhibit excellent organizational skills to prioritize tasks and effectively manage your own time and that of your team, in order to continually meet deadlines?
✓  Want to work with different teams and different people?
✓  Get excited when solving problems?
If so, we invite you to apply to bring your skills and experience to our Finance and Administration team. We're looking for applicants with 1 year or more experience in accounts payable, payroll and/or general accounting.
Reports to: Controller                      
Exemption Status: Full-Time, Exempt
Supervisory Responsibilities
May supervise interns and external consultant teams.
Annual Compensation Range: $66,763 – $92,136
Salary dependent on experience, plus excellent benefits. The Transportation Authority offers an employer contribution to a retirement plan in lieu of Social Security. In addition, the Transportation Authority offers a generous cafeteria-style benefits package and flexible work arrangements including up to 3 days remote work per week.
Retirement: Up to 10.88% employer contribution
Insurance: Health, dental, life, short- and long-term disability and more. Medical and dependent care pre-tax reimbursement accounts.
Deferred Compensation (Section 457)
Vacation: Three (3) weeks of vacation per year during the first 5 years of service
Holidays: 12 holidays per year, plus 3 personal holidays   
Commuter Benefits: Up to $160 per month in Commuter Checks or a $20 per month bike benefit 
How to Apply
Send cover letter (indicating where you saw this job posted) and resume via email (jobs@sfcta.org) or mail:
RE: Staff Accountant, Finance and Administration Division
Attn: Human Resources
San Francisco County Transportation Authority
1455 Market St., 22nd Floor
San Francisco, CA 94103
We are an Equal Opportunity Employer
The San Francisco County Transportation Authority is an Equal Opportunity Employer. We believe diversity and inclusion strengthen our work, and we strive to ensure our staff represents the communities we serve. 
We are committed to fostering an environment of mutual respect. We want to employ and provide career advancement opportunities for people of any:
race and color
sexual orientation, gender identity, and expression
religion and belief
national, social, and ethnic origin
parental status, including pregnancy, childbirth, lactation, or related medical conditions
age
physical, mental, and sensory disabilities
HIV status
marital, civil union, and domestic partnership status
past and present military service
family medical history and genetic information
protected status 
If you need assistance or an accommodation due to a disability, please contact us at info@sfcta.org or 415-522-4800.