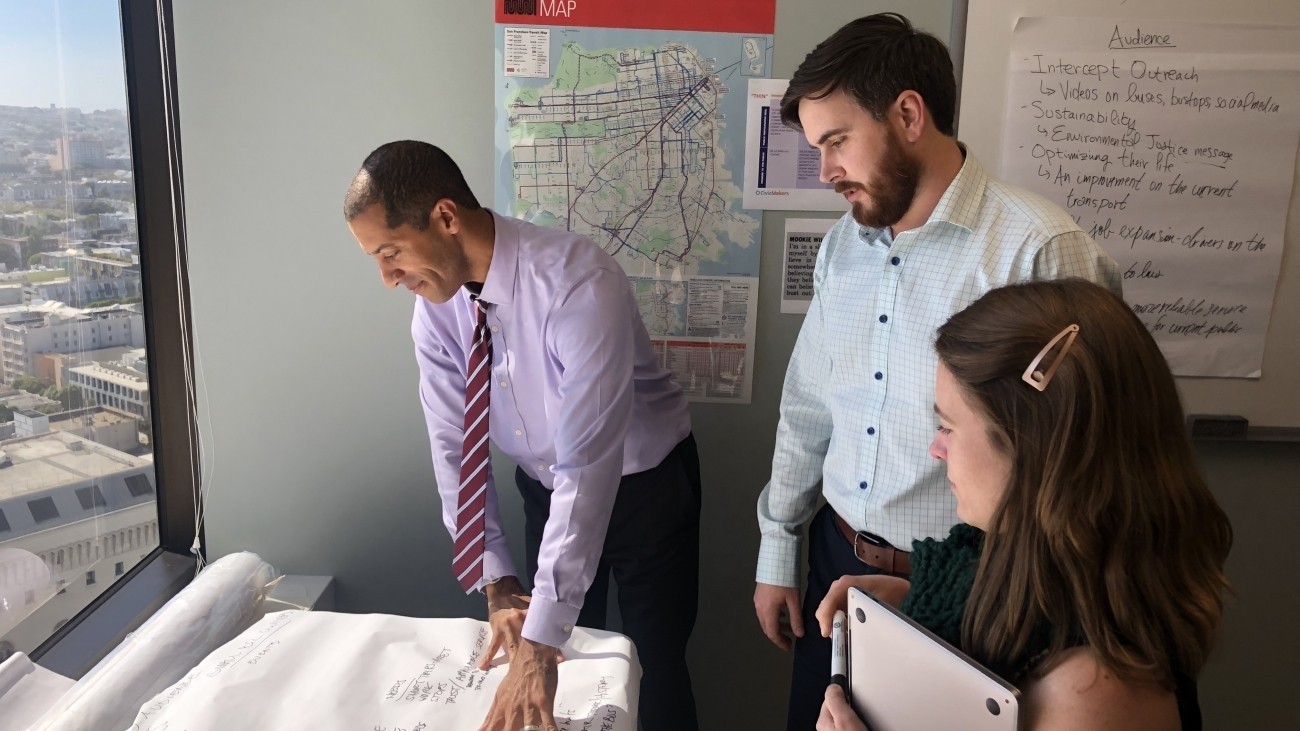 Communications Coordinator
Summary 
Do you…
✓  Want to help shape the future of transportation in San Francisco? 
✓  Have a passion for storytelling and community engagement? 
✓  Get excited when one of those new light rail vehicles rolls by? 
If so, we invite you to apply to bring your skills and experience to our communications team. 
We're looking for applicants with 1 year or more of experience in public outreach, public relations, and/or communications. As our Communications Coordinator, you will work on projects including Downtown Congestion Pricing, neighborhood-specific outreach planning, and more.
Reports to: Senior Communications Manager
Exemption status: Full-time, Exempt
We're looking for candidates who will bring:
Public engagement experience to help develop and implement outreach and engagement plans.
Project management skills to help organize community events.
Digital engagement experience to develop online engagement strategies, monitor our website and social media channels, and propose methods to increase engagement and grow our online audiences.
Excellent writing skills and attention to detail to create content for our website, social media, blog, email alerts, and our monthly newsletter. 
Interpersonal communication skills to build relationships and engage with members of the public, businesses, and other stakeholders.
A passion for creating a more equitable future and supporting the needs and priorities of people of color, people with low-income status, seniors, people with disabilities, and more.
New and creative ideas to involve the community in the planning process. 
Knowledge of San Francisco neighborhoods and proficiency in Spanish or Cantonese are a plus.
Supervisory Responsibilities 
May supervise external consultants.
Annual Compensation Range: $74,890 – $103,350
Salary is effectively higher since the Transportation Authority offers an employer contribution to a retirement plan in lieu of Social Security.
In addition, the Transportation Authority offers a generous cafeteria-style benefits package, which includes, but is not limited to:
Retirement: Up to 10.22% employer contribution
Insurance: Health, dental, life, and long-term disability. Medical and dependent care pre-tax reimbursement accounts.
Deferred Compensation (Section 457)
Vacation: Three (3) weeks of vacation per year during the first 5 years of service
Holidays: 11 holidays per year, plus 3 personal holidays   
Commuter Benefits: Up to $160 per month in Commuter Checks or a $20 per month bike benefit 
Submission 
This recruitment will remain open until filled. However, first consideration will be given to individuals who respond by July 3, 2020.  
Applications must include: 
Resume 
Cover letter (please indicate where you saw this job posted) 
3 samples of your work, which could include blog posts, talking points/speeches, outreach and engagement plans, PowerPoint presentations, work-related social media posts, videos, websites, brochures, fact sheets, and posters. 
Email your submission to jobs@sfcta.org.
We Are An Equal Opportunity Employer
The San Francisco County Transportation Authority is an Equal Opportunity Employer. We believe diversity and inclusion strengthen our work, and we strive to ensure our staff represents the communities we serve. 
We are committed to fostering an environment of mutual respect. We want to employ and provide career advancement opportunities for people of any:
race and color
sexual orientation, gender identity, and expression
religion and belief
national, social, and ethnic origin
parental status, including pregnancy, childbirth, lactation, or related medical conditions
age
physical, mental, and sensory disabilities
HIV status
marital, civil union, and domestic partnership status
past and present military service
family medical history and genetic information
protected status 
If you need assistance or an accommodation due to a disability, please contact us at info@sfcta.org or 415-522-4800.